Short-term investors more likely to invest in alternative assets like cryptocurrency and collectibles
CHICAGO – JANUARY 5, 2022 – Investors who have reached financial freedom[1] are more likely to apply long-term oriented, investment strategies to their portfolio than those who say they are in a state of financial survival[2], according to a new survey of over 2,000 US investors released today by M1 Finance, The Finance Super App.
Eighteen percent of long-term investors[3] say they are financially free, while only 8% of short-term investors[4] say the same. Half of those in a state of financial survival report trading more frequently than they did one year ago, compared to 39% of those who have reached financial freedom.
The top investing strategies of those who have reached financial freedom are long-term oriented: growth investing (45% vs 31% for those in financial survival), diversification (44% vs 22%), buy and hold (40% vs 22%) and dividend investing (37% vs 22%).
Those in a state of financial survival are more likely to invest in alternative assets, including more volatile asset classes like cryptocurrency. Seventy-three percent of those in financial survival plan to invest in some form of alternative asset in the next 12 months, compared to only 54% of the financially free. Those in a state of financial survival are twice as likely to invest in art or collectibles (20%) in the next 12 months as the financially free (10%).
Younger investors, short-term investors and investors in a state of financial survival are most likely to turn to social media for financial guidance, with over half of all Gen-Z and Millennials stating that they have taken an investment action as a result of social media.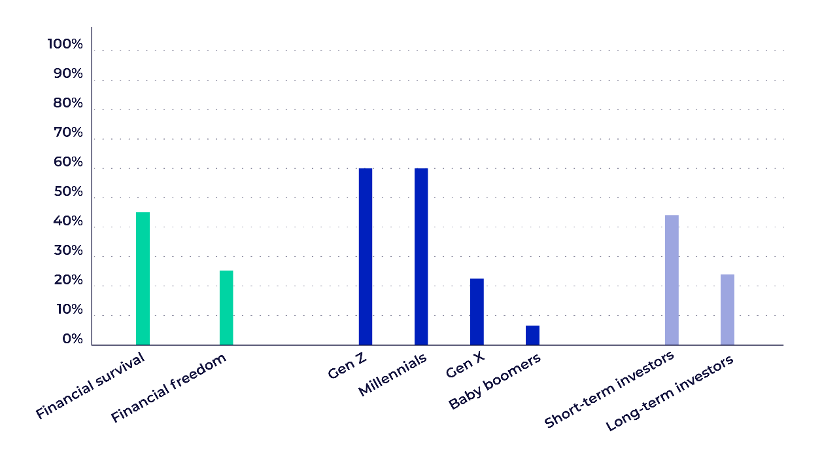 "It is almost impossible to scroll through social media or watch the news without hearing about someone hitting the jackpot through the latest meme stock or cryptocurrency. It might seem at times like we have entered a new era of instant gratification when it comes to money management. But we've found that people are still prioritizing investing with a long-term focus," said Brian Barnes, M1 Finance's CEO and Founder. "The road to financial freedom is paved with many small decisions and positive habits developed over time, rather than one impulsive moment."
Pinpointing Crypto Investors Among the Crypto Curious
Short-term investors and those in a state of financial survival were more likely to have made a cryptocurrency investment over the past year than their financially free and long-term investor counterparts. Over 60% of Gen Z and Millennial investors report making an investment in cryptocurrency at some point in the past 12 months.
Nearly a third (29% and 31%) of long-term and financially free investors are planning an investment in cryptocurrency over the next 12 months. The next-highest alternative asset class for both groups is real estate, at 27% and 24%, respectively.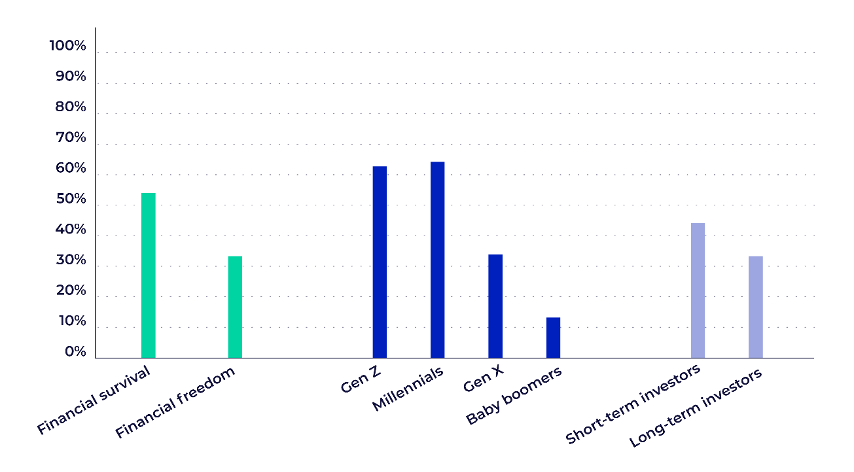 Investors in Financial Survival Mode Remain Optimistic on Path to Financial Freedom
Despite currently facing financial challenges, those in financial survival mode have outsized optimism about reaching financial freedom in the future. Most investors (75%) in this state are optimistic that they will achieve financial freedom within their lifetime. However, only 51% of Baby Boomers state they have achieved financial freedom despite being closest to retirement of the generations surveyed.
Those in financial survival mode are more intensely optimistic than the average respondent about their ability to reach financial freedom in their lifetime. Across all respondents, 27% strongly agree they will reach financial freedom in their lifetime. Among those who are currently in a state of financial survival, 45% strongly agree.
Backed by this research, M1 has launched a free, educational challenge to help clients in their journey towards financial freedom and improved financial well-being. The challenge starts on January 5, 2022 and runs through March 31, 2022. You can learn more about the challenge at M1Finance.com/financial-wellness-challenge.
Methodology
This M1 Finance survey was conducted by ENGINE Caravan among retail investors in the United States with at least $10,000 USD in investable assets. A diverse group of over 2,000 investors were surveyed for the report, fielded throughout November 2021. For further details on survey methodology, please contact a M1 Finance media representative.
About M1 Finance
M1 Finance, The Finance Super App, helps people manage and grow their money with control and automation – for free. With over $5 billion in assets under management, M1 has empowered over hundreds of thousands of investors to open accounts and improve their financial well-being through investing, digital checking, and portfolio lines of credit. M1 was named 2021 Best for Low Costs and 2021 Best for Sophisticated Investors by Investopedia.
To learn more about M1 Finance, visit www.m1finance.com.
Media Contact
For press inquiries please contact pr@m1finance.com