Brokerage Accounts
Automated, commission-free investing
Flexible, customizable, and automated. It's your money, intelligently invested the way you want, commission-free. For complete list of fees, visit M1 Fee Schedule.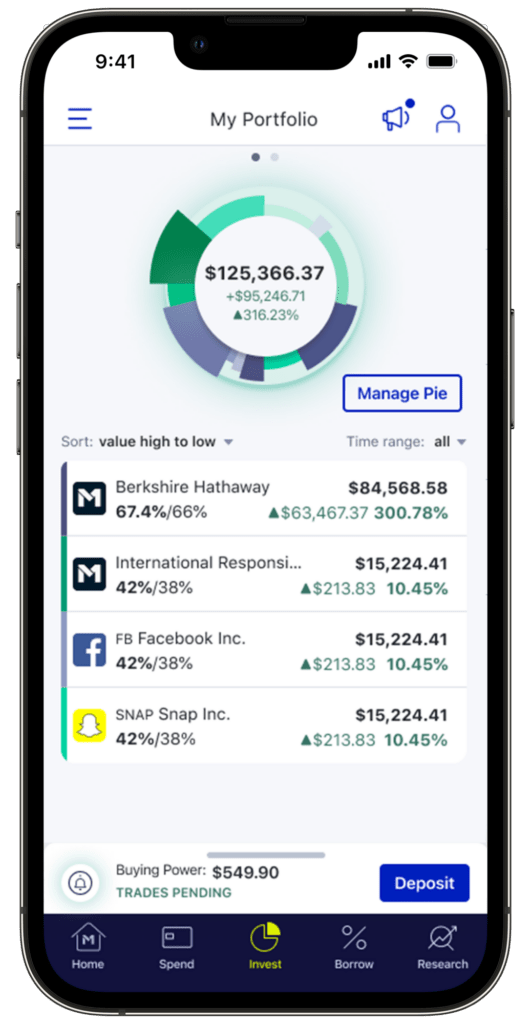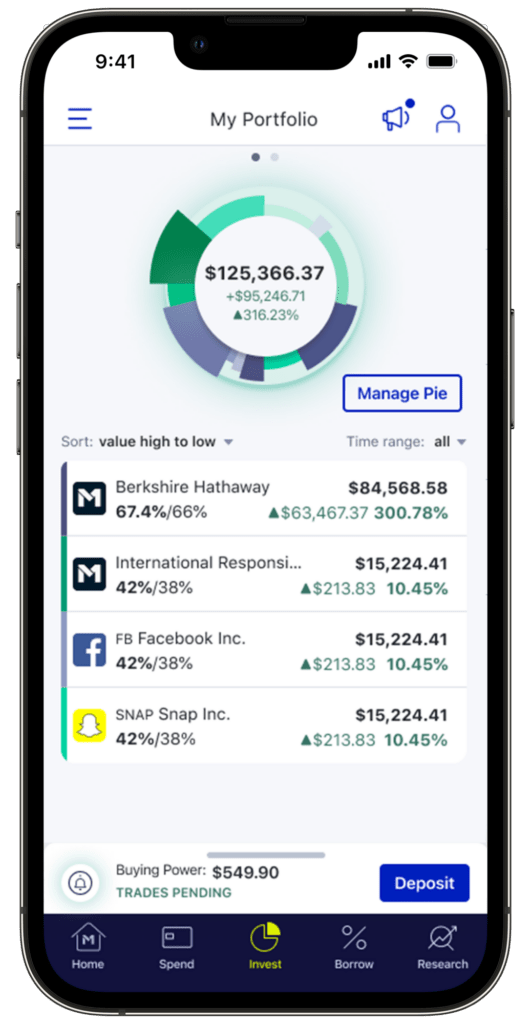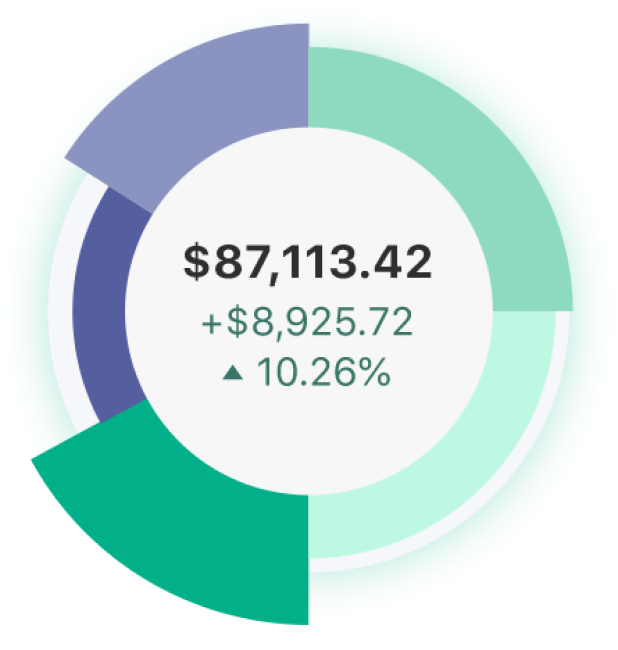 Customize your Pie
Add your securities as slices of your Pie or build a Pie and use it as a smaller part of your overall Pie to organize your portfolio with ease.
Dig into an Expert Pie
We've put together over 60 curated Pies for a variety of investing styles or goals. From responsible investing, to dividend earners, to cannabis companies and so much more.
Build long-term wealth your way
Our tools help you develop the right strategy for your time horizon, risk tolerance, and goals. Then, powerful automation helps you execute and maintain it over the long term.
Customization
Build a custom portfolio of the stocks and funds you want or choose from an expert portfolio that speaks to you.
Automation
Schedule contributions, automatically invest, and dynamically rebalance every time you buy into your portfolio.
Fractional shares5
Buy as little as $1 worth of a security, regardless of price, to fine-tune your strategy. Diversify with ease and make sure you're always fully invested.
1 Your free trial (a $31.25 value) begins the date you enroll in the M1 Plus subscription, and ends 90 days after (Free Trial). Upon expiry of the Free Trial, your account is automatically billed an annual subscription fee of $125.00 unless you cancel under your Membership details in the M1 Platform.
2 M1 Borrow available on margin accounts with a balance of at least $2,000. Not available for retirement and custodial accounts. Rates may vary.
3 No minimum balance to open account or to obtain APY (annual percentage yield). APY valid from account opening. Fees may reduce earnings. Rates may vary. National average is 0.03% APY as of April, 2021. Obtained from the FDIC.
4 The Owner's Rewards Card by M1 is Powered by Deserve and issued by Celtic Bank, a Utah-Chartered Industrial Bank, Member FDIC. Review Cardholder Agreement for more details. 1.5%-10% credit card cash back rewards earned on eligible purchases subject to a maximum of $200 cash back per calendar month.
5 If you choose to transfer your account to another broker-dealer, only the full shares are guaranteed to transfer. Fractional shares may need to be liquidated and transferred as cash.