M1 Individual Brokerage ACCOUNT
The marathon toward long-term wealth starts here
Push your financial strategy further with digital tools tailored for self-directed investors. Automatically invest in a custom portfolio of stocks and ETFs, commission-free. Commission-free trading of stocks and ETFs refers to $0 commissions charged by M1 Finance LLC for self-directed brokerage accounts. Other fees may apply such as regulatory, M1 Plus membership, account closures, and ADR fees. For complete list of fees, visit m1.com/legal/disclosures/misc-fees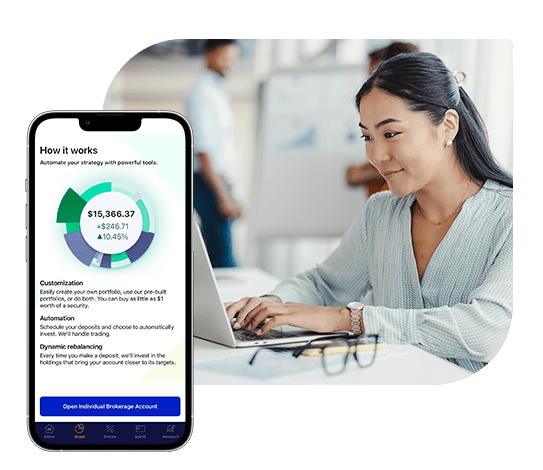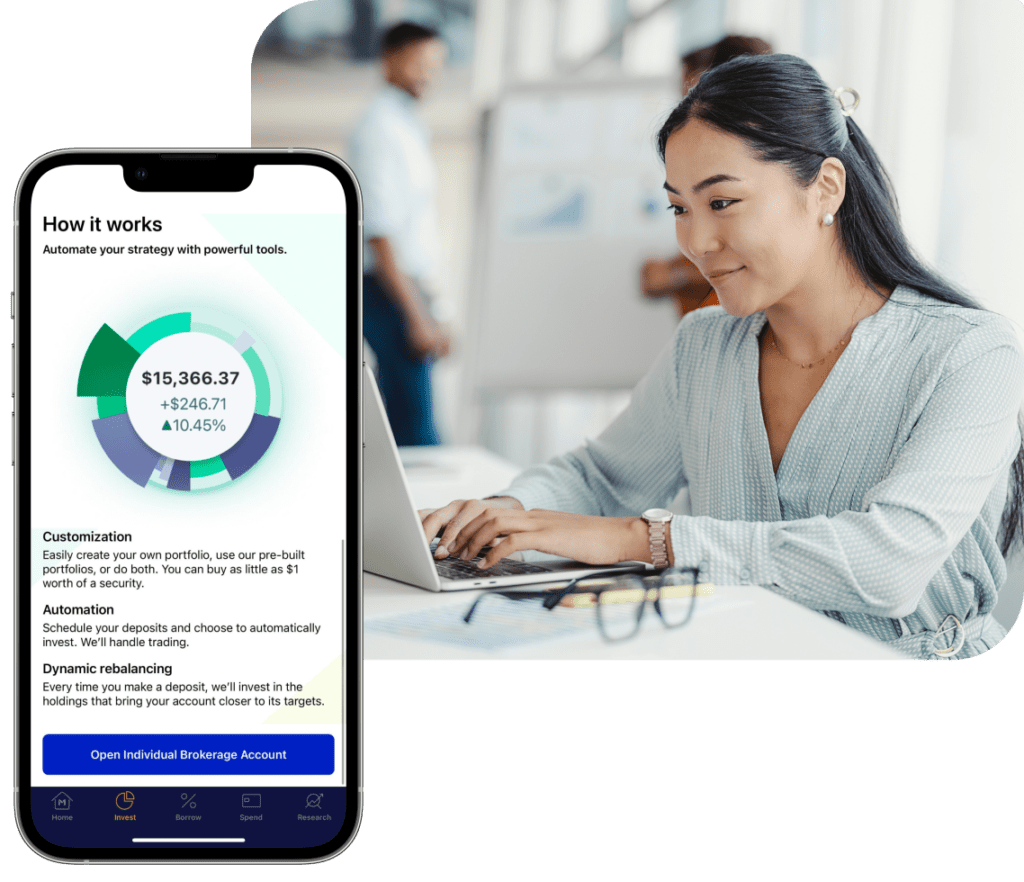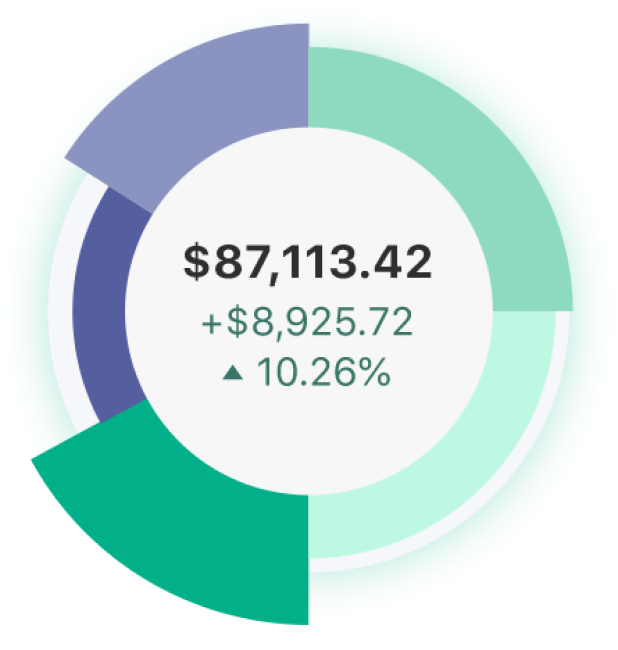 Invest with Pies
Start thinking of your investing strategy like a Pie, with slices of different securities making up the whole.
Creating a custom Pie lets you fine-tune the proportions of different stocks and ETFs in your strategy.
You can create a Pie from scratch or add slices of Expert Pies we've curated around different goals.

When it's time to invest, your funds will be allocated in proportion to the slices in your Pie.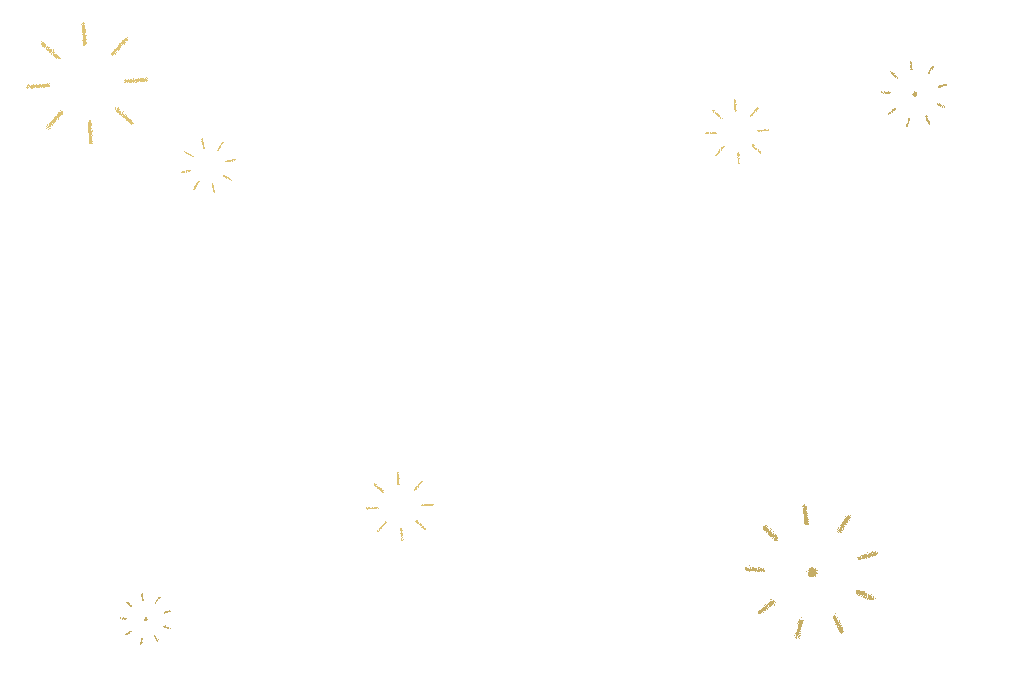 Our biggest bonus ever is back
Get up to $15,000 to invest when you transfer your brokerage account to M1 by November 15, 2023. Earn our best investment bonus before it's gone.
Promotional T&Cs apply.
Research at
your fingertips
Review trading info, pricing, fundamentals, risk-related data points, performance charts, news feed, and more.
Access a flexible line of credit
Borrow against your portfolio from 7.25%–8.75%1 to increase your buying power, gain liquidity, or pay for other large expenses.
Use Dynamic Rebalancing to keep your investments perfectly allocated to your goals.
Open specialized accounts
After you've opened your first account with M1, you'll have access to other account types like Custodial Accounts and IRAs.

M1 Plus members
get more
The M1 Plus membership unlocks more features and better rates to help enhance your long-term wealth strategy.
Set your preferred trade window
Our lowest margin lending rates
M1 joint Brokerage ACCOUNTS
Work toward
long-term goals, together
Joint Brokerage Accounts allow two people to access and control the same account. Ideal for couples, friends, and family members with shared financial goals.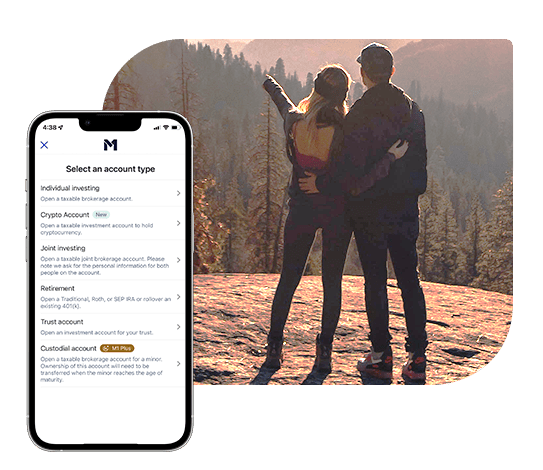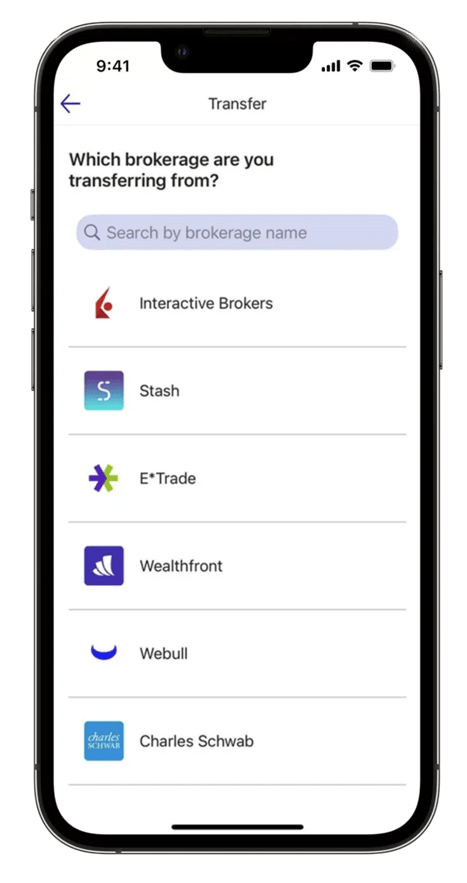 Transfer to M1, hassle free.
Investing with another brokerage? It's easy to move securities to M1 using our Transfer Wizard.3
Total control, total automation for your wealth today and tomorrow.
1M1 Margin Loans are available on margin accounts with at least $2,000 invested per account. Not all securities are available for M1 Margin Loans and the amount that may be borrowed against a security is subject to change without notice. Available margin amount(s) of M1 Margin Loans may require greater than $2,000 per Brokerage Account. Not available for Retirement and Custodial accounts. Margin rates may vary.
2Participate in both trade windows when you have $25,000 or more equity to comply with pattern-day trading regulations.
3If you choose to transfer your account to another broker-dealer, only the full shares are guaranteed to transfer. Fractional shares may need to be liquidated and transferred as cash.