M1 Custodial Accounts
Someday,
they'll thank you
With many years ahead to build wealth, adults are in a great position to set children in their lives up for financial success. That's where M1 Custodial Accounts come in—exclusive to M1 Plus.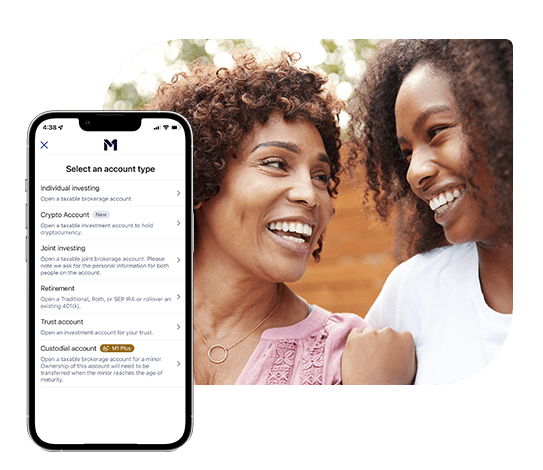 Give a child a strong start
A financial gift
UTMA/UGMA accounts allow you to invest on a child's behalf and help prepare for future financial needs. These funds can be used for anything benefiting the child.
There when they need it
As a custodian to the account, you control the investment strategy until its beneficiary comes of age (age 18 to 25, depending on your state).
Time is on their side
Investing early on a child's behalf helps give them a financial advantage compared to those who begin investing in adulthood.
Open an M1 Custodial Account

M1 Plus
lets you do more
Custodial Accounts are just the beginning.
As a member of M1 Plus, you would have access to our best rates and exclusive features to supercharge your wealth strategy.
What you need to know
Custodial Accounts

1M1 Margin Loans are available on margin accounts with at least $2,000 invested per account. Not all securities are available for M1 Margin Loans and the amount that may be borrowed against a security is subject to change without notice. Available margin amount(s) of M1 Margin Loans may require greater than $2,000 per Brokerage Account. Not available for Retirement and Custodial accounts. Margin rates may vary.
2Obtaining stated APY (annual percentage yield) or opening a savings account does not require a minimum account balance. Stated APY is valid from date of account opening. Account fees may reduce earnings. Higher APY rate subject to paid M1 Plus subscription. Rates are subject to change.
3Participate in both trade windows when you have $25,000 or more equity to comply with pattern-day trading regulations.