M1: The Finance Super AppTM
Invest, borrow, and spend on one intuitive platform. Customize your strategies, automate the big picture, and let The Finance Super App® take care of the day-to-day—commission-free. Commission-free trading of stocks and ETFs refers to $0 commissions charged by M1 Finance LLC for self-directed brokerage accounts. Other fees may apply such as regulatory, M1 Plus membership, account closures, and ADR fees. For complete list of fees, visit m1.com/legal/disclosures/misc-fees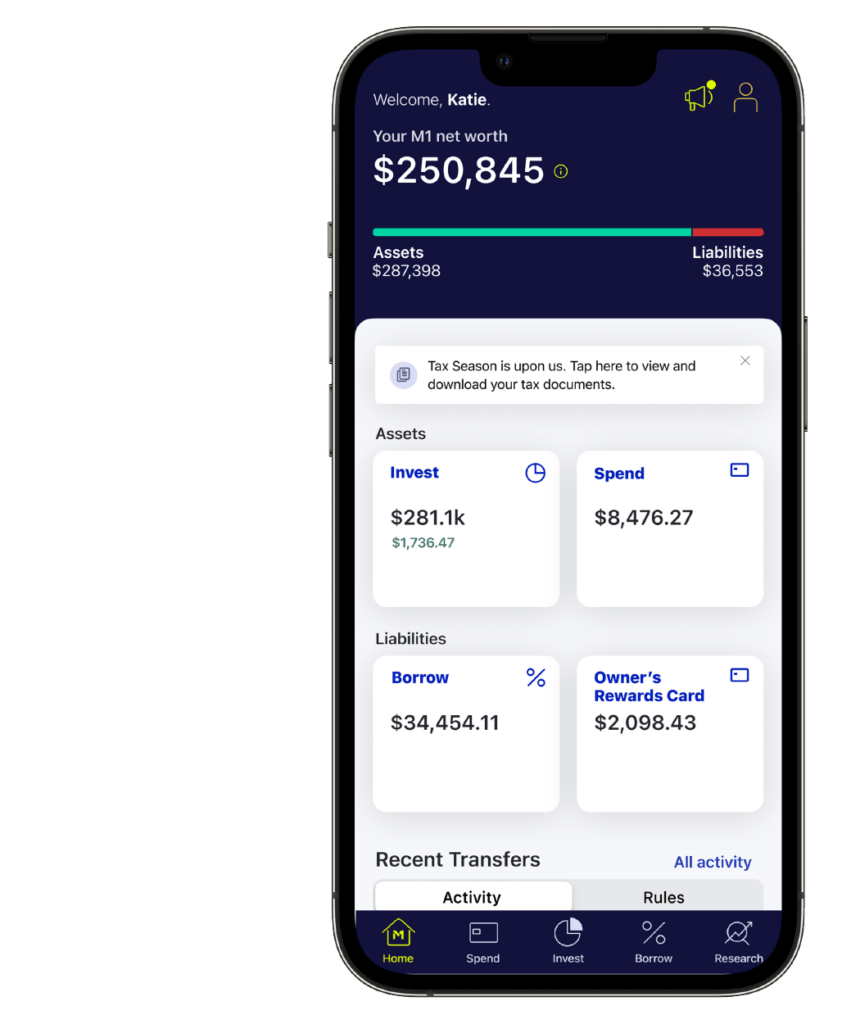 Unified financial tools to help you build wealth
How we stack up
M1 provides greater automation, better checking, lower margin rates, and more flexibility to manage your finances how you like.
Automation
Dynamic Rebalancing, Investing schedules, Smart Transfers
7
Vanguard
Yes, and only with Digital Advisor and associated fees and minimum investments
Schwab
Only available with Intelligent Portfolios®
Fidelity
Only available with hybrid robo advisor
Merrill Lynch
Only available with advisor
Fractional Shares
Schwab
Yes, only on S&P 500 stocks®, minimum $5 investment
Fidelity
Yes, only available on mobile app
Margin Rates
Merrill Lynch
Must call Merrill Lynch for current rates 
Fees
Commission-free,
Commission-free trading of stocks and ETFs refers to $0 commissions charged by M1 Finance LLC for self-directed brokerage accounts. Other fees may apply such as regulatory, M1 Plus membership, account closures, and ADR fees. For complete list of fees, visit m1.com/legal/disclosures/misc-fees
M1 Plus is $125 /Year
Vanguard
Commission-free, but some options carry fees
Schwab
Commission-free, but some options carry fees
Fidelity
Commission-free, but some options carry fees
Merrill Lynch
Commission-free, but advisory services carry annual fees.
Thousands of clients have brought assets to M1 to the tune of $2.1 billion.
M1 rates are current as of March 2023. Information on competing brokerages was accessed from each brokerage's website in March 2023.

M1 Plus:
Add more to your M1
Premium members earn more and access exclusive features across the platform.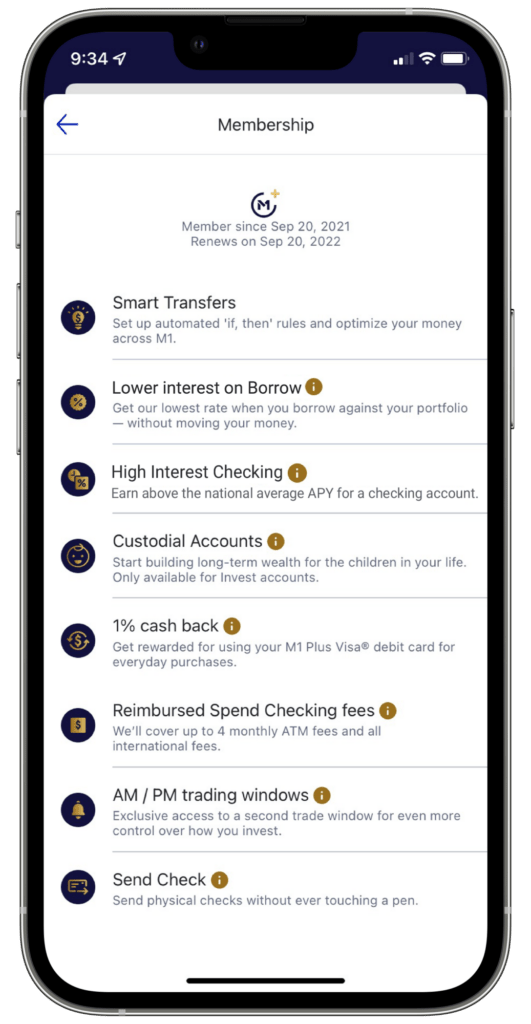 How we protect
your accounts

Member of SIPC. Securities in your account protected up to $500,000. For details, please see www.sipc.org.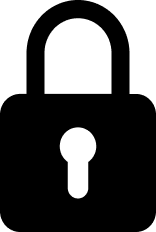 We are a technology-first company that utilizes the latest in information security.
Recognized and celebrated
1 Source: https://apps.apple.com/us/app/m1-finance/id1071915644
2Source: https://play.google.com/store/apps/details?id=com.m1finance.android&hl=en_US&gl=US
3 M1 Margin Loans are available on margin accounts with at least $2,000 invested per account. Not all securities are available for M1 Margin Loans and the amount that may be borrowed against a security is subject to change without notice. Available margin amount(s) of M1 Margin Loans may require greater than $2,000 per Brokerage Account. Not available for Retirement and Custodial accounts. Margin rates may vary.
4 M1 is not a bank. M1 Spend checking accounts furnished by Lincoln Savings Bank, Member FDIC. M1 Visa® Debit Card is issued by Lincoln Savings Bank, Member FDIC.
5 No minimum balance to open account or to obtain APY (annual percentage yield). APY valid from account opening. Fees may reduce earnings. Rates may vary. National average is 0.% APY as of , . Obtained from the FDIC.
6 1.5%-10% credit card cash back rewards earned on eligible purchases subject to a maximum of $200 cash back per calendar month. APR ranges from 19.49% – 29.49% based on creditworthiness of the applicant. APR will vary with the market based on the Prime Rate. There is no Annual Fee for the Owner's Rewards Card. Rates as of March 1, 2023.
7 Smart Transfers feature is only available with M1 Plus.
8 If you choose to transfer your account to another broker-dealer, only the full shares are guaranteed to transfer. Fractional shares may need to be liquidated and transferred as cash. M1 is not a bank.
9 Debit card purchases are when the card is swiped, or its 16-digit number is entered online. Any fund transfers, including via card transactions such as P2P or third party processors, are not eligible for cash back.
10 Lowest fixed rates available to M1 Plus members only, subject to credit history, income, term of loan, and other factors. Rates are not guaranteed and are subject to change. Not all applicants qualify for the lowest available rate.