CAREERS
Ours to build
At M1, we're rethinking what's possible with personal finance. Our impressive product is the direct result of our excellent team and strong work culture.
We keep the best company
Because we aim to give every employee the support they need to thrive, create a collaborative environment, and encourage personal ownership in every aspect of M1, we're proudly a 2022 Inc. Best Workplaces Winner.
How we do it: Our values
We know that financial well-being has a dramatic impact on an individual's quality of life. We are passionate about helping people in this domain.
We are responsible for the results to our clients, teammates, and shareholders. We own everything in our domain that affects these results.
Thinking small is a self-fulfilling prophecy. Thinking big inspire results. We would rather fail at the meaningful than succeed at the trivial.
We want to do more than we possibly can. We are disciplined with the use of our precious people, time and money. That means saying no to a lot of good ideas so we can focus on the most important thing.
Our clients and partners rely on us to do the right thing. This trust must never be broken.
We do what's needed to deliver the intended results. Whether that requires disciplined process or scrappy implementation, we find a way.
We work collaboratively to achieve more. We respect, trust, and support one another.
We use simple and clear communication to share information so that people have the context to make good decisions.
Something is better than nothing. We make incremental improvements on our path towards perfection. Crawl, walk, run, and then sprint.
We understand that any big goal comes with ambiguity, change, and setbacks. We adapt and keep going.
Our commitment to diversity, equality, and inclusion
M1 is proud to be an equal opportunity employer. We celebrate different experiences and we're committed to diversity, equity, and inclusion (DEI) at all levels of the company. Women, minorities, veterans, members of the LGBTQIA+ community, and individuals with disabilities are strongly encouraged to apply. Our employees and leaders set aside company time to tackle DEI projects and achieve goals every quarter through Employee Resource Groups (ERGs) including:
Mental Health at M1
Pride at M1
Black at M1
SomosM1
Women at M1
As well as DEI Task Forces like:
Internal education
Recruiting
Community involvement
Competitive salary and stock options
Unlimited PTO
Comprehensive health, dental, vision, disability, and life insurance
Stock options for all employees
Retirement benefit with employer match
$500 to spend on home office equipment while working from home
Team outings, celebrations, and events
Transparent and open communication
Office in the Loop with a Game Room and Gym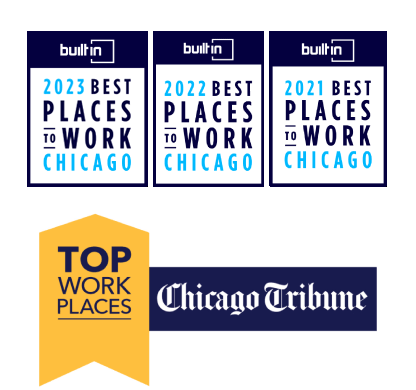 Best places to work in Chicago