High-Yield Savings Interest Calculator
See how much interest you could earn with your money in an M1 High-Yield Savings Account as an M1 Plus member. Use the slider to see the effect of compound interest on 5.00% APY1 compared to the decimal dust big banks give you.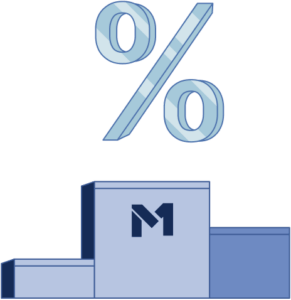 See what M1 Plus members can earn with our High-Yield Savings Account
$
For illustrative purposes only. M1 rate current as of May 2023. Information on competing banks accessed from each bank's website in May 2023. National average APY accessed at https://www.fdic.gov/resources/bankers/national-rates/ in April 2023. Stated APY is for M1 Plus members. Calculations based on stated APY assuming no change to interest rates.
Don't miss a second of savings
FDIC-insured, no minimum deposit and the interest you deserve.
1Obtaining stated APY (annual percentage yield) or opening a savings account does not require a minimum account balance. Stated APY is valid from date of account opening. Account fees may reduce earnings. Higher APY rate subject to paid M1 Plus subscription. Rates are subject to change.

M1 is not a bank. M1 Spend is a wholly-owned operating subsidiary of M1 Holdings Inc. M1 Savings Accounts are furnished by B2 Bank, NA, Member FDIC.
All examples above are hypothetical, do not reflect any specific investments, are for informational purposes only, and should not be considered an offer to buy or sell any products. M1 does not provide any financial advice.