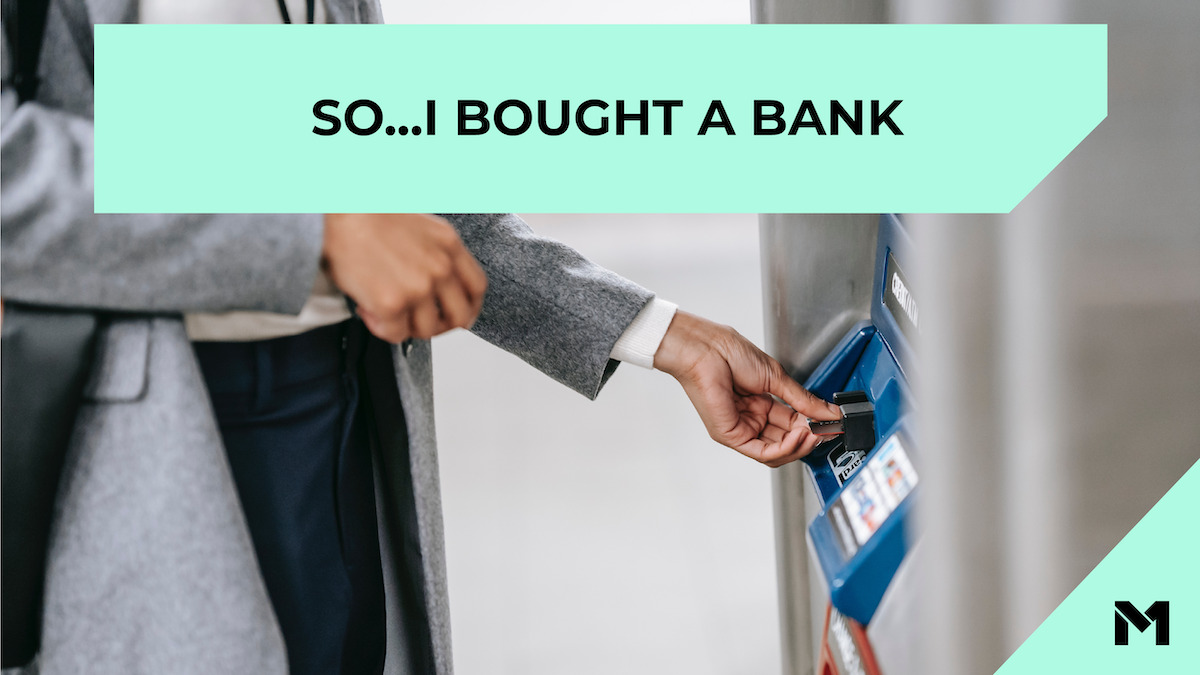 Most of our financial institutions are decades, if not centuries old. As with any dated institution, they are bureaucratic, charge unnecessary fees, use obsolete technology, and offer products that don't serve their customers as well as they could. Banks need modernizing.
So, I bought the First National Bank of Buhl. No, I'm not changing my focus from M1—I'm increasing it. Let me explain why.
Consumer applications outside of finance have gone through a renaissance. The same needs to happen within finance. Try as they may, legacy incumbents are not going to drive actual change. In ten years, people will use a personal finance account significantly better than what is offered today. M1 intends to lead the charge towards this future.
M1 is working to build a modern financial institution, one using the advantages of today's technology. This lets us offer products that are easier, more enjoyable, and at lower cost while allowing for as much personalization as you feel comfortable having. With M1, every dollar that comes onto the platform is automatically and intelligently allocated according to your customized plan, all to help improve your financial well-being.
All financial services companies are regulated, as they should be. In the self-directed investing realm, that's a broker-dealer. In the deposits, payments, and lending space, that's a bank. M1 will ideally own a bank in the future but has work to do before it's ready to become a bank holding company. Until then, M1 is reliant on bank partners to support its banking products.
---
The First National Bank of Buhl
A unique opportunity presented itself for me to buy an already running, nationally chartered bank. I seized the opportunity and purchased The First National Bank of Buhl. It is one of the smallest nationally chartered banks in the country and run by a phenomenal, albeit lean, team.
As mentioned above, M1 has work to do before it can be a bank holding company, so I purchased the bank as an individual. Still, it signals both M1's and my commitment to incorporating banking products into M1 to create a holistic personal finance platform.
As owner of the bank, I have two plans:
I have committed to supporting the bank in its current locale to serve the local community better.
I will be investing in the bank's capabilities to become the premier banking as a service (BaaS) bank, primarily serving fintech clients such as M1.
Purchasing this bank provides M1 with another partner bank for its next banking product launch. While these companies are wholly separate, they intend to forge a partnership to change the future of finance.
---
Christine Larsen joins M1's board
I am also excited to announce that M1 appointed respected banking veteran Christine Larsen to M1's board.
Christine's illustrious career in banking includes executive leadership roles at First Data, JPMorgan Chase, and Citi. She currently serves on the boards of CIBC, one of Canada's largest banks, Alloy, an identity decisioning platform that helps banks outmaneuver fraud, and Paya, a payment processing service.
Christine's expertise will help M1 develop the strategy, vision, partnership, and direction of our future banking services and technology.
---
Partnering with Temenos
In addition to my bank purchase and M1's newest board member, we continue to invest in technologies that help us innovate at scale. We recently partnered with Temenos, a company with over 27 years of experience in banking software. They serve thousands of financial institutions and 1.3 billion people all around the world.
This strategic partnership with Temenos will help us build a stronger, faster, more secure cloud banking platform that makes your M1 experience even better. While cloud technology is behind the scenes, it will result in smoother processes, more time for us to build new features, and even more banking services.
For the engineers and technical members of our community, we're integrating several smart open APIs and better cloud technology that will allow us to scale faster.
---
What this means for M1
For now, your experience on M1 will remain the same. However, over time, we will enhance current offerings and launch new, best-in-class banking products. These critical developments will support M1 in our mission to create a genuinely holistic personal finance platform and empower your financial well-being.
P.S. I am looking for talented individuals to help build the BaaS bank of the future. If you're interested, check out our open roles.
---
M1 refers to M1 Holdings Inc and its affiliates, M1 Spend LLC and M1 Finance LLC. M1 is not affiliated with or endorsed by the First National Bank of Buhl, First Data, JPMorgan Chase, Citi, Alloy, Paya, Temenos, or the CIBC. This announcement is provided for informational purposes only.
---