July's jobs report, Inflation Reduction Act highlights, and more 
The Senate passed the Inflation Reduction Act of 2022 this week, and July saw over 500,000 new jobs added. In this edition, see what's in the bill and how a strong labor market may impact inflation.
You'll also find: 
Why so many jobs are appearing 
Consumers new inflation expectations
News on Pfizer, SoftBank, and property insurance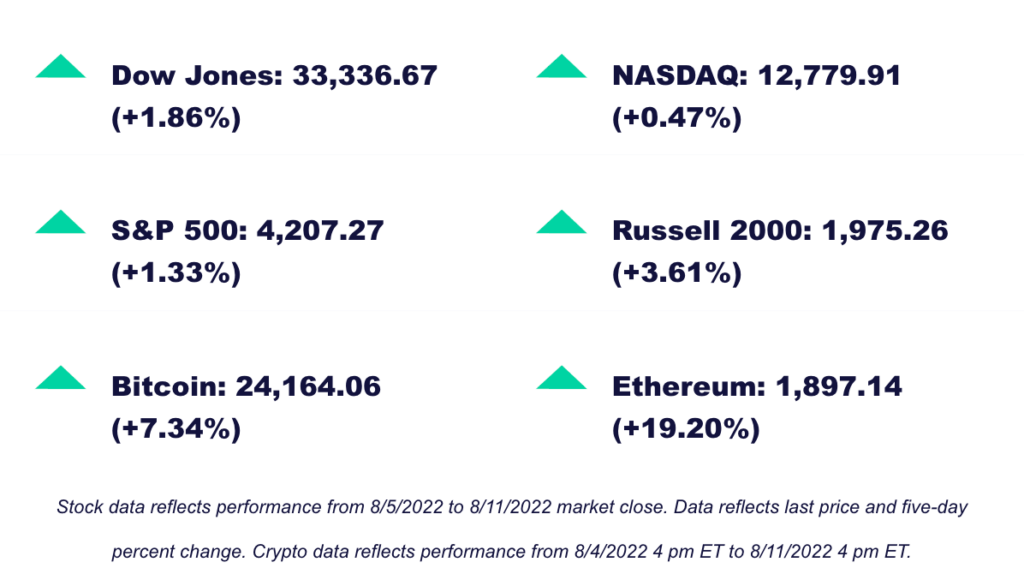 New bill focused on climate, healthcare, and taxes
The Inflation Reduction Act is heading to the House after a year of rocky negotiations. The bill, backed by President Biden, will allocate around $600 billion to healthcare and climate programs while increasing taxes for large, profitable companies.
It addresses key issues for voters during the midterms, including:
A $7,500 per vehicle consumer tax credit for purchase of electric vehicles. Companies now must comply with new battery and mineral sourcing requirements to be eligible for the credits. 
Tax credits for companies focusing on renewable energy, such as solar power and hydrogen and fuel cell companies. This includes a $30 billion production tax credit for nuclear power providers. 
Boosts existing tax credit for carbon capture, benefiting oil and gas companies through mandating more federal oil and gas lease sales.  
Three-year extended subsidies for many middle-income individuals on Obamacare. It also caps out-of-pocket costs at $2,000 per year for seniors' prescription drugs. 
$80 billion for the Internal Revenue Service to expand audit capability and upgrade technology systems. 
Want more details? Read the full text of the bill.
Job market heating up
The U.S. added 528,000 jobs this past July as unemployment fell to pre-pandemic levels. Many economists polled by the Wall Street Journal had forecasted 258,000 new jobs.
This jump in jobs comes after the Federal Reserve raised interest rates and the U.S. economy experienced two consecutive quarters of GDP contraction.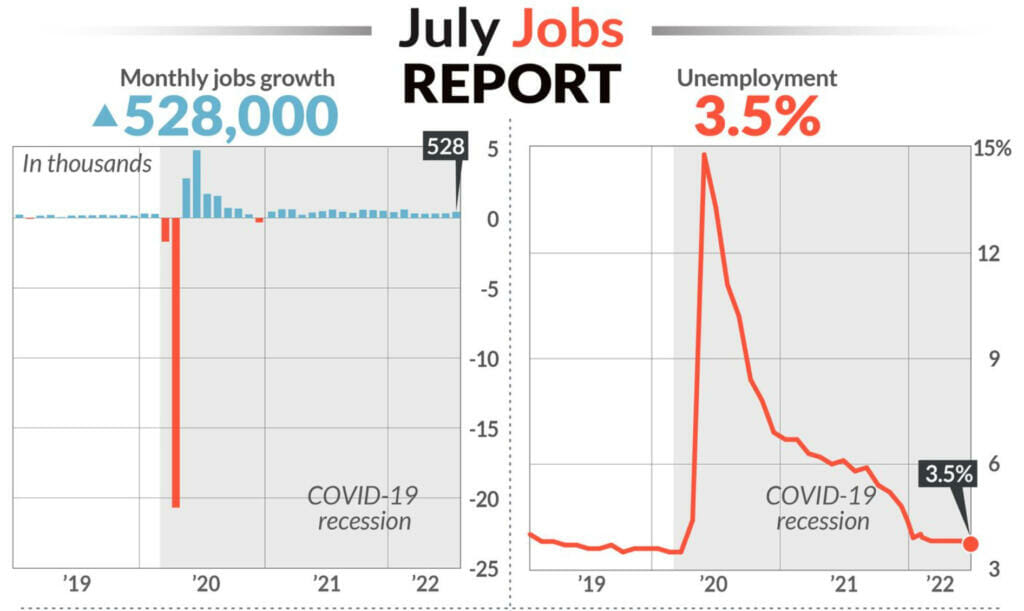 Key points from the report include:
The hospitality business added 96,000 jobs
Healthcare employment increased by 70,000 people
Professional businesses created 89,000 jobs
Construction firms hired 32,000 people
Despite the hot job market, hiring is easier for employers previously crippled by worker shortages. Hospitality, retail, and healthcare are experiencing smoother recruiting and less turnover.
Workers are also accepting jobs more quickly, staying at their companies longer, and even coming back to positions they had previously left. According to Nick Bunker, an economist at Indeed, "For the people who are looking for work right now, they're very willing to take it, and that's why you're seeing high levels of payroll growth."
Low employment rates seem like a win for the economy. But American's rate of participation in the labor market fell to 62.1% in July, a full point below pre-pandemic levels. This labor shortage may spur faster wage growth and add to heightened inflation.
Consumers expect less inflation
A survey conducted by the New York Federal Reserve in July showed respondents expected inflation to average around a 6.2% rate over the next year and a 3.2% rate for the next three years. This may seem high, but it's a decrease from June's results of 6.8% and 3.6%.
Gas prices dropped by around $0.67 per gallon from this year's historic highs, and home prices are expected to rise only 3.5% this month—a projected gain lower than any since November 2020.  
 
The Fed has aggressively raised interest rates by 2.25% to combat inflation, which sits at a 41-year high. The changing expectation for inflation is a win for the Fed after months of economic troubles, but it will still take work to curb its impact and prevent another spike. 
Quick hits
Make a plan for your money
Budgeting is a fundamental part of managing your money, but it involves more than a monthly breakdown of income and expenses.
In our budgeting guide, you'll learn:
Myths that prevent people from budgeting
Simple methods to track monthly expenses
Steps to build a budget that works for you
This week in finance history
August 9, 1995
At just 16 months old, Netscape Communications Corp. goes public for $28 per share. But none of Netscape's initial buyers are willing to sell. The opening price is raised to $71 per share to encourage trading.
Leading tech analyst Lise Buyer of T. Rowe Price says, "I don't know how to put a value on it…You pick a price you're willing to pay and you find a way to rationalize it." By market close, the stock is $58.25.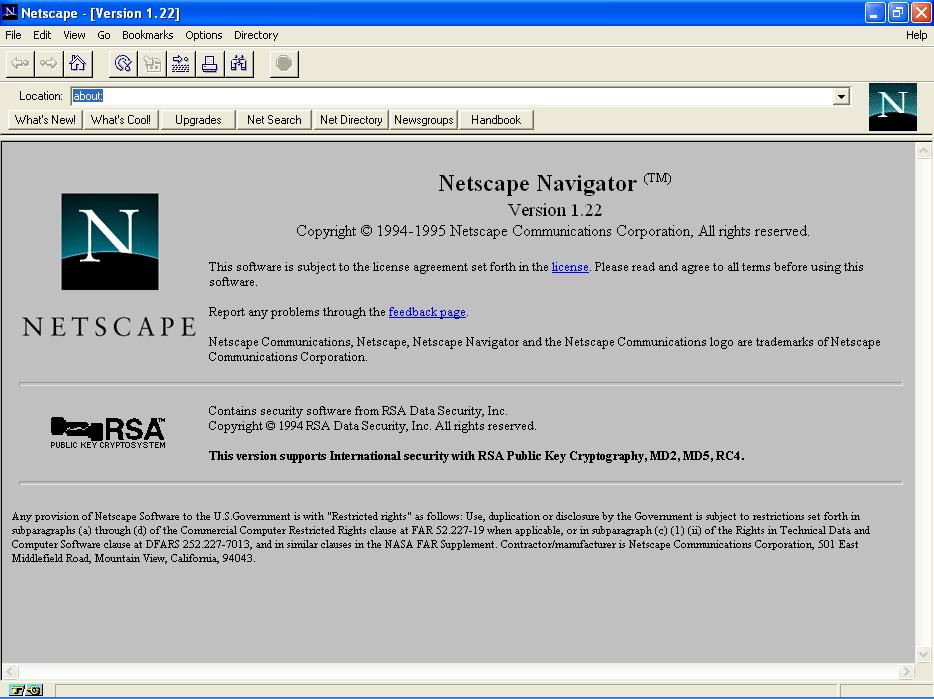 Sign up for M1 to receive market insights and financial wellness tips in your inbox.