12 smart personal finance books to add to your reading list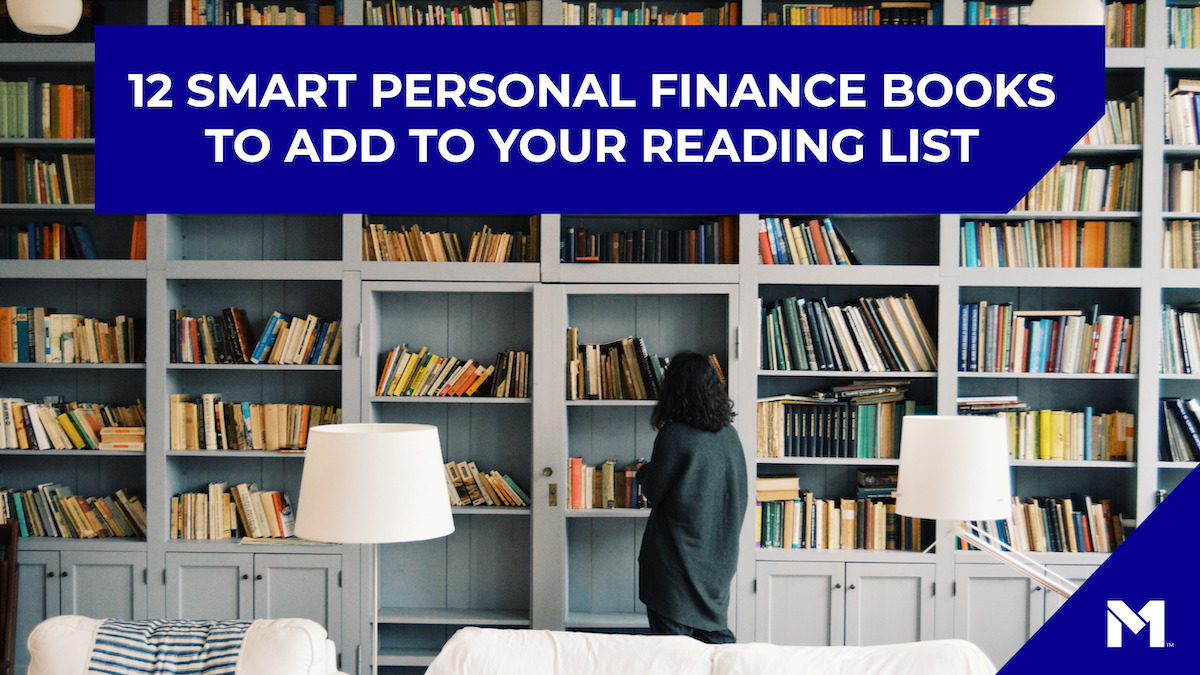 It's easy to find finance courses in college and grad school—personal finance, not so much. So how do the rest of us non-MBAs, non-advisors, non-financial analysts get the knowledge we need to grow our wealth?
Books.
But we don't mean the boring, overly complicated textbook kind. We mean the interesting kind, the kind that helps you develop your unique investment strategy, think critically about your approach to building wealth, and teaches you smart financial habits.
And, of course, we care deeply about financial education and wellness. Your money powers almost every aspect of your overall well-being and future, including healthcare, freedom, and retirement.
A smart investor's mindset is a growth mindset, and a growth mindset means you're open to learning how to build an even brighter financial future for yourself and your family.
So, back to the books. Knowing where to begin with personal finance books can be daunting. There's a lot of information out there, and not all of it aligns with the long-term mindset.
We spent the last few months reading dozens of personal finance books and identified 11 standouts for smart investors who want to improve their financial well-being.
No matter which one you begin with, know that it's been road-tested by discerning readers, reviewers – and in the case of our first pick, several legendary investors. Plus, we've enjoyed reading these on the M1 team.
Here are 11 personal finance books to add to your reading list:
---
1. The Intelligent Investor: The Definitive Book on Value Investing by Benjamin Graham
Billionaires Warren Buffett and Charles Brandes credit Benjamin Graham's investing philosophies with making their fortunes possible.
Buffett, who studied under Graham in 1951 at Columbia Business School, has called The Intelligent Investor "by far the best book on investing ever written." He also said Graham influenced 85 percent of his investment style.
In the book, Graham teaches the art of finding undervalued stocks and buying them at low prices. In his trademark cheeky way, Buffett has compared Graham's strategy to snapping up hamburger meat on sale. He also writes the preface and appendix of this edition.
---
2) Women with Money: The Judgment-Free Guide to Creating the Joyful, Less Stressed, Purposeful (and, Yes, Rich) Life You Deserve by Jean Chatzky
The CEO and co-founder of HerMoney, Jean Chatzky, has a well-deserved reputation for telegraphing no-nonsense clarity and wisdom through many channels, including the HerMoney podcast and the Today Show (where she's been the financial editor for 26 years).
This 2019 book explores a theme that makes Chatzky a personal finance go-to: "Anyone who tells you women don't need financial advice specifically for them is wrong. Women, whether they're the caretakers, the breadwinners, or both, face a unique set of financial challenges."
---
Part of the multi-book "Badass" series, the Making Money volume concentrates on the attitudinal side of earning and personal finance. Once readers take an inventory of their roadblocks and mental blocks, Sincero invites them to develop abundance from the inside out.
Part of this lies in changing the self-talk script; much of it stems from learning to laugh at yourself. Sincero, who still lived in a converted garage at age 40, puts it like this: "If my broke ass can get rich, you can too."
---
4) Zero Debt: The Ultimate Guide to Financial Freedom by Lynnette Khalfani-Cox
This volume by Khalfani-Cox, a personal finance author with more than a dozen books to her credit, is a New York Times bestseller that packs a powerful punch because it shares a fantastic story. Once $100,000 in credit card debt, Khalfani-Cox dug out — and here shares the strategies she used to wipe out the debt.
The message couldn't come at a better time, as four in five Americans deal with some form of debt. Khalfani-Cox contends that getting free of debt, among other things, frees up income to invest and build generational wealth.
---
Though Clason penned this finance classic just three years before the Wall Street Crash of 1929, its lessons have endured nearly for nearly a century.
Dave Ramsey counts himself a fan of "Babylon," set 4,000 years in the past and told through a series of parables. It's incredible how powerfully its lessons apply to 21st Century Wall Street ("gold flees from the man who would force it to impossible earnings") and personal finance.
6) Rich Habits: The Daily Success Habits of Wealthy Individuals by Thomas Corley, CPA
Rich Habits results from Corley's self-styled, five-year study on wealthy people, including his clients. It's all distilled into ten principles that a majority of them follow. But before you dive in, you might want to ask yourself what's on your to-do list.
Corley found that four in five rich people keep such lists in rich detail, with two-thirds of them completing 70% or more of their daily tasks.
Also: Only 23% of the wealthy watch more than an hour of TV a day, which leaves them more time to pursue other activities that broaden their financial horizons – such as, yes, reading.
Behavioral finance is a fast-growing topic of interest, as academics and financial experts examine why investors do all sorts of irrational and dumb things. Yet properly applied, psychology can make a positive impact on investment management.
Crosby should know: He's an asset manager, Chief Behavioral Officer at Brinker Capital, and a psychologist with a doctorate. The Behavioral Investor outlines the primary psychological tendencies that impact financial behavior and provides practical exercises for overcoming self-defeating practices.
---
8) The Automatic Millionaire: A Powerful One-Step Plan to Live and Finish Rich by David Bach
If you can get past the cheesy jacket photo of two chairs on a sunny beach (never judge a book by its cover, right?) then you're about to learn some bedrock wisdom that can make millionaires of us all. Bach recalls the story of an everyday working couple he met while teaching investment in his mid-20s.
Using a combination of passive income strategies, a "pay yourself first" philosophy, and spending well within their means, the couple amassed a net worth of more than $2 million. More than four in five readers on Amazon.com have given The Automatic Millionaire a five-star rating.
---
This 2009 bestseller draws on Sethi's experiences as a personal finance advisor, entrepreneur, and founder of GrowthLab, helping people turn their niche skills into viable businesses. The book invites readers to follow a "no B.S." six-week program covering topics ranging from automatic investing to the finer points of rebalancing a portfolio.
Our favorite part? The book opens with photos and testimonials of 18 people who applied its teachings. It also stresses that a rich life truly begins when someone leaves behind what Sethi calls "the Victim Culture."
---
10) Tiny Habits: The Small Changes That Change Everything by B.J. Fogg, Ph.D.
If you want to know what Sethi reads when he's not teaching people to be rich, consider his endorsement of Tiny Habits: "I can't recommend this book highly enough."
The inspiration for two M1 blogs in September, Tiny Habits describes how incremental, small actions over time easily sidestep the anxiety and all-or-nothing thinking that too often freeze us in our tracks. Nor do you need grandiose epiphanies to start your journey.
The founder of Stanford's Behavior Design Lab, Dr. Fogg offers a revolutionary message: Where desirable habits are concerned, you don't need motivation. So long as we start small, change becomes painless, effortless, and a prelude to long-term transformation. Applied to our financial lives, Tiny Habits offers enormous possibilities.
---
11) The Psychology of Money: Timeless lessons on wealth, greed, and happiness by Morgan Housel
Though just released in September, Morgan Housel's latest book is well on its way to becoming a classic. Of the 4,000 reviews on Amazon.com, four of five give The Psychology of Money five stars—and James Clear, author of the million-copy bestseller, Atomic Habits, calls it "essential reading for anyone interested in being better with money."
Here, Housel collects 19 short stories exploring the strange ways people think about money and focuses them into actionable advice that draws on his award-winning experience as a columnist for the Wall Street Journal and Motley Fool.
---
12) Atomic Habits: An Easy & Proven Way to Build Good Habits & Break Bad Ones by James Clear
Like Housel and Dr. Fogg, James Clear leans into psychology to help people build smart, sustainable habits that don't rely on motivation. While this book doesn't exactly dive into the specifics of personal finance, it sets you up with a strong framework of how you can consistently work towards your goals (without a lot of extra effort).
At M1, we're big fans of James Clear. We're strong believers that the path to better financial wellness is filled with smart, easy habits. And they're not just tied to making regular contributions to your retirement account!
If you're looking to improve your financial wellness (we imagine you are if you're here), reading books is a great habit to build. They can give you a new perspective, teach you helpful information, and even recount real-life lessons.
Have you read any of these personal finance books? Reach out to us on social media and let us know what you thought.
Haven't read any of them? Tell us which one you're most excited to read.
P.S. M1 Finance is not affiliated with any of the authors or books listed here, and we don't endorse anything as financial advice. We're just fans.
---