Everyone is trying to make the most of their money. Automation is the new wave in personal finance, and we don't disagree. In fact, we believe it's your #1 advantage.
At the least, financially responsible people:
Live below their means.
Build an emergency savings fund.
Pay off high-interest loans.
Contribute to a retirement account.
Contribute to a well-diversified long-term portfolio.
But these steps are separate and often clunky.
Wouldn't you rather spend your time and energy on something else?
Many personal finance platforms let you automate (to a certain extent). You may even do this now with a recurring transfer or two on M1.
And while automating your money on a schedule can be helpful for your financial strategy, we thought it was time to take it to a new level.
---
Introducing Smart Transfers: the M1 Plus-exclusive automated system that keeps your money moving how you want:
---
---
How Smart Transfers work
If you're an M1 Plus member, Smart Transfers let you set threshold-based rules in your various M1 accounts. No need to wait for a certain date on the calendar or that reminder on your phone.
For example: you know how much you'll need in your M1 Spend Plus checking account each month to cover basic living expenses. You're making regular contributions to your account, but there's no need to over contribute. So, you set up a Smart Transfer to keep that minimum balance in your M1 Spend Plus checking account and invest the rest.
---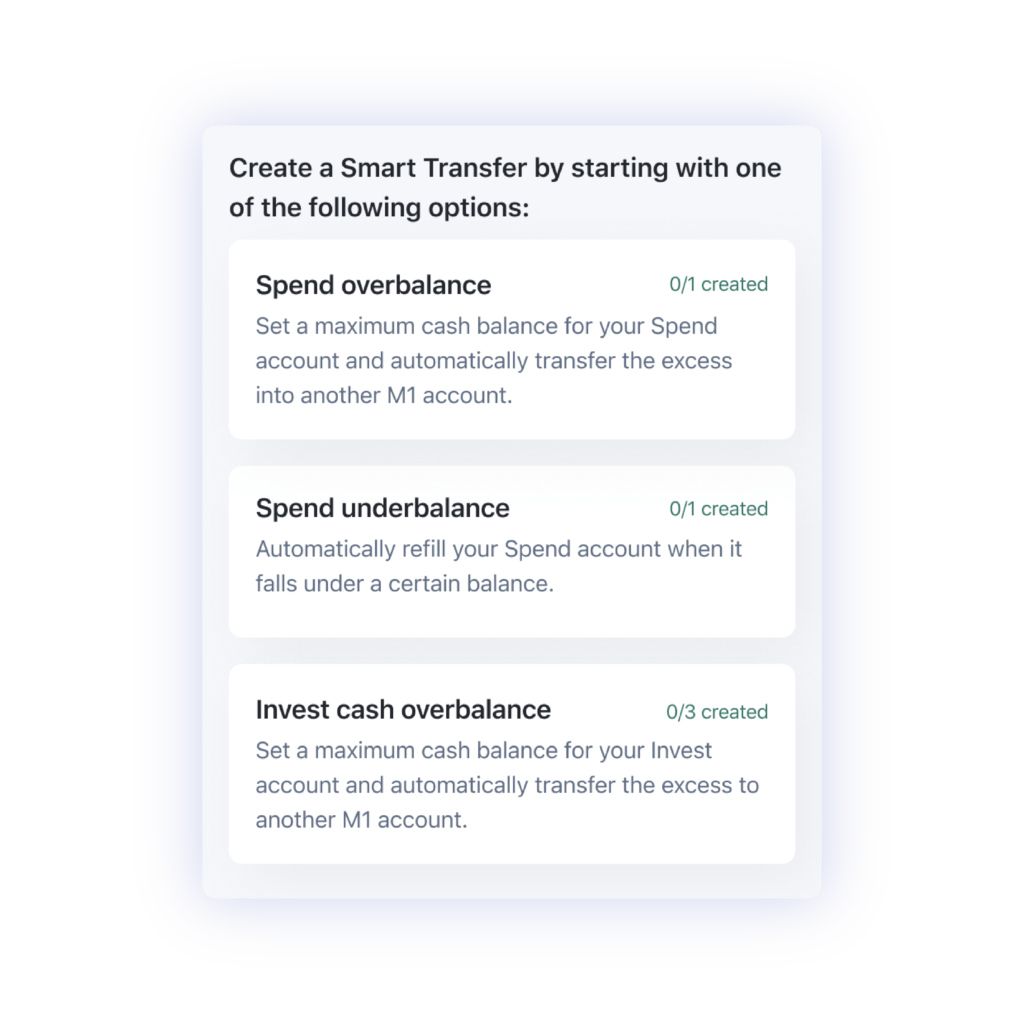 ---
But you're not limited to one Smart Transfer. You could set another rule that automatically taps into M1 Borrow (if eligible)* to refill your checking account if your balance drops too low.
Or you can set up several Smart Transfers to work between your M1 Spend Plus checking account, IRA, and taxable portfolio.
---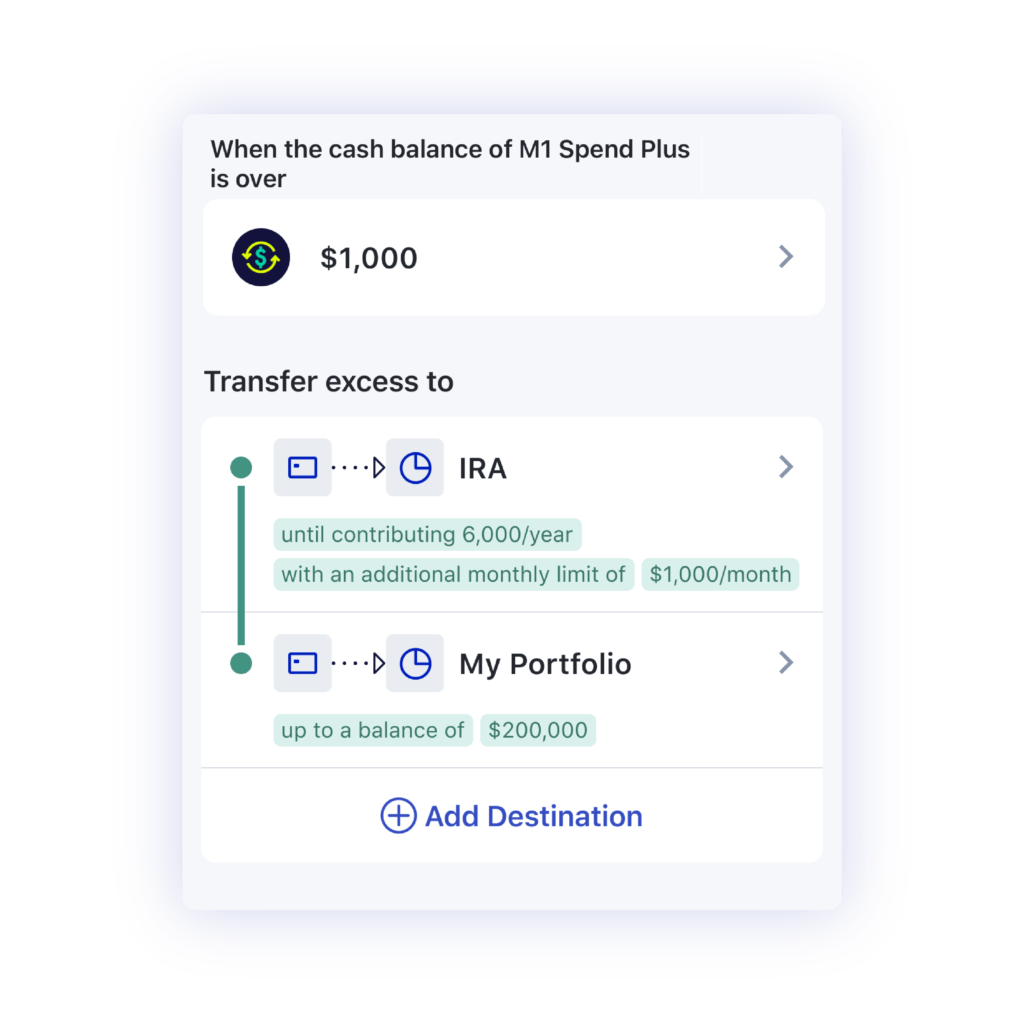 ---
The Smart Transfer above will trigger any time a contribution to this person's M1 Spend Plus checking account puts their Spend balance over $1,000. Extra money will be automatically swept into their IRA — until the IRA maxes out at $6,000 for the year.
---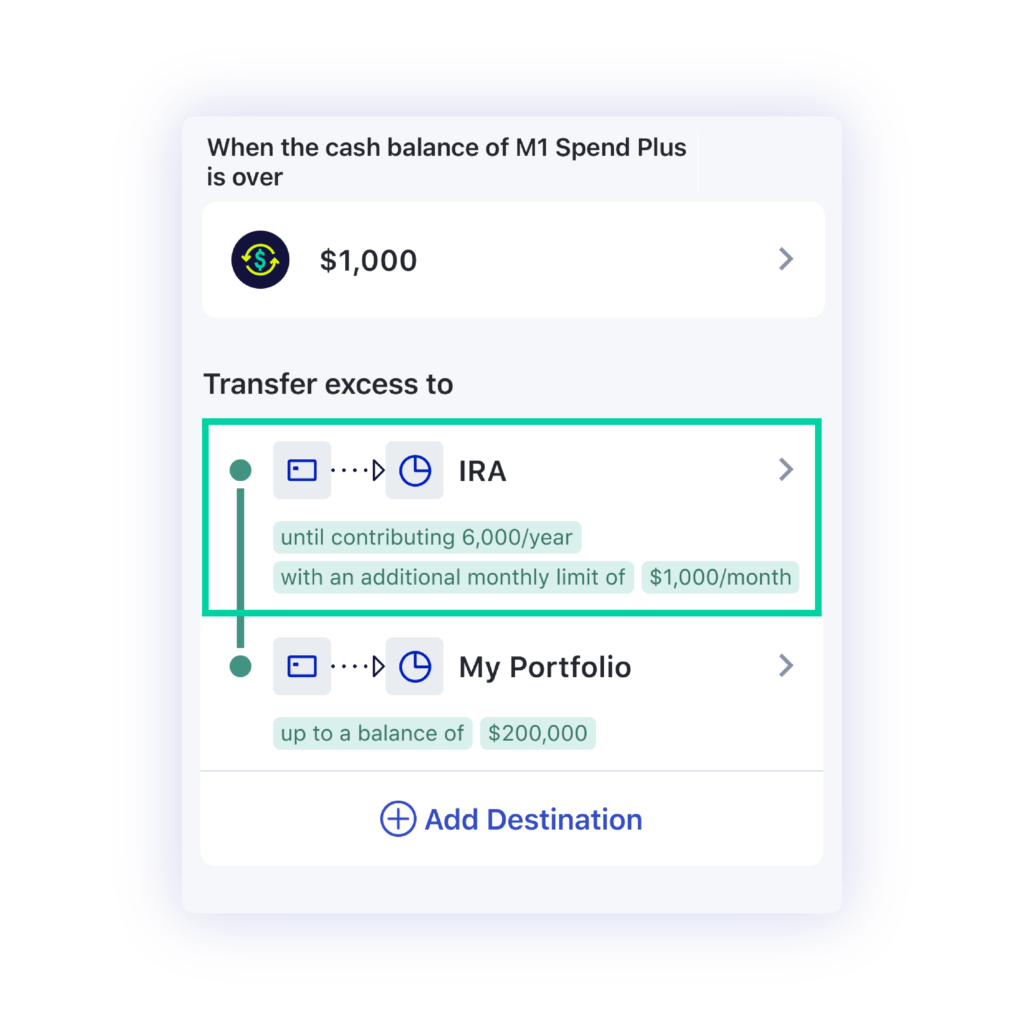 ---
Once that IRA limit is reached (or they've contributed more than $1,000 to their IRA that month), Smart Transfers will contribute any extra money to their taxable portfolio.
---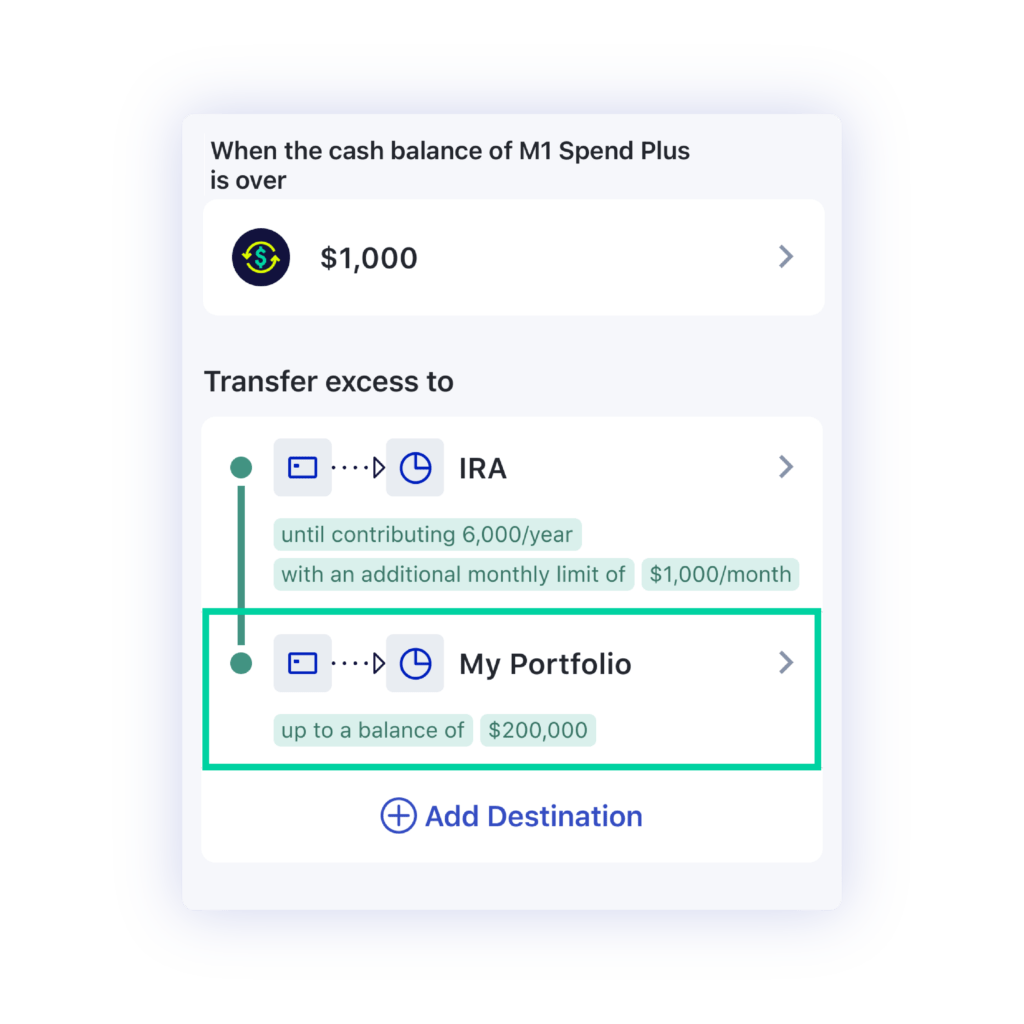 ---
Smart Transfers do the hard work. All you have to do is contribute.
---
Your financial goals, your way
Smart Transfers doesn't just work between M1 accounts. They work between M1 Pies (in different M1 Invest accounts) too!
Maybe you're saving up for a dream house or a rainy day. You can make a Pie specific to that goal, no matter what it is.
---
---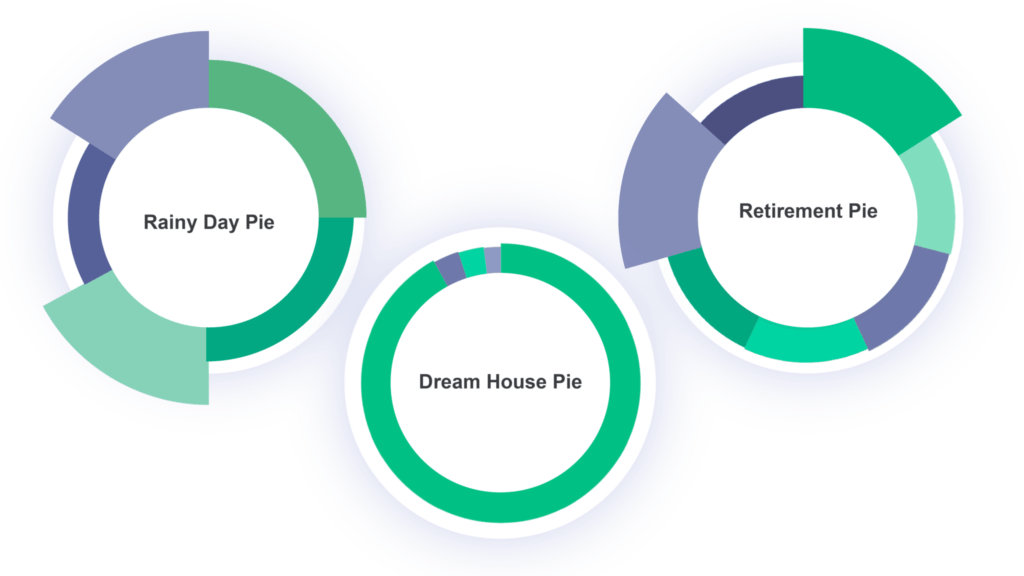 ---
With Smart Transfers, you can set maximum or minimum balances to keep each Pie on track.
For example: if you only need a specific amount in your Rainy Day Pie, you can set a Smart Transfer to automatically sweep any extra contributions to another Pie, like the one for your dream house or retirement.
The Smart Transfers you set will always be on and will continue working until you stop or change them.
Now you can put every available dollar to work according to your financial goals, without lifting a finger.
---
Get started with Smart Transfers
Here's the thing: Smart Transfers are an exclusive M1 Plus perk.
If you're already an M1 Plus member, you can get started with your Smart Transfer today! Just click on the Move Money tab in your M1 account.
If you're not already an M1 Plus member, what are you waiting for? Upgrade the way you build your financial future for just $125.
Then you can start with Smart Transfers too.
---
*M1 Borrow available on margin accounts with a balance of at least $10,000. Does not apply to retirement accounts.
Terms and conditions apply.
---