Two factors that played into the Dow's fall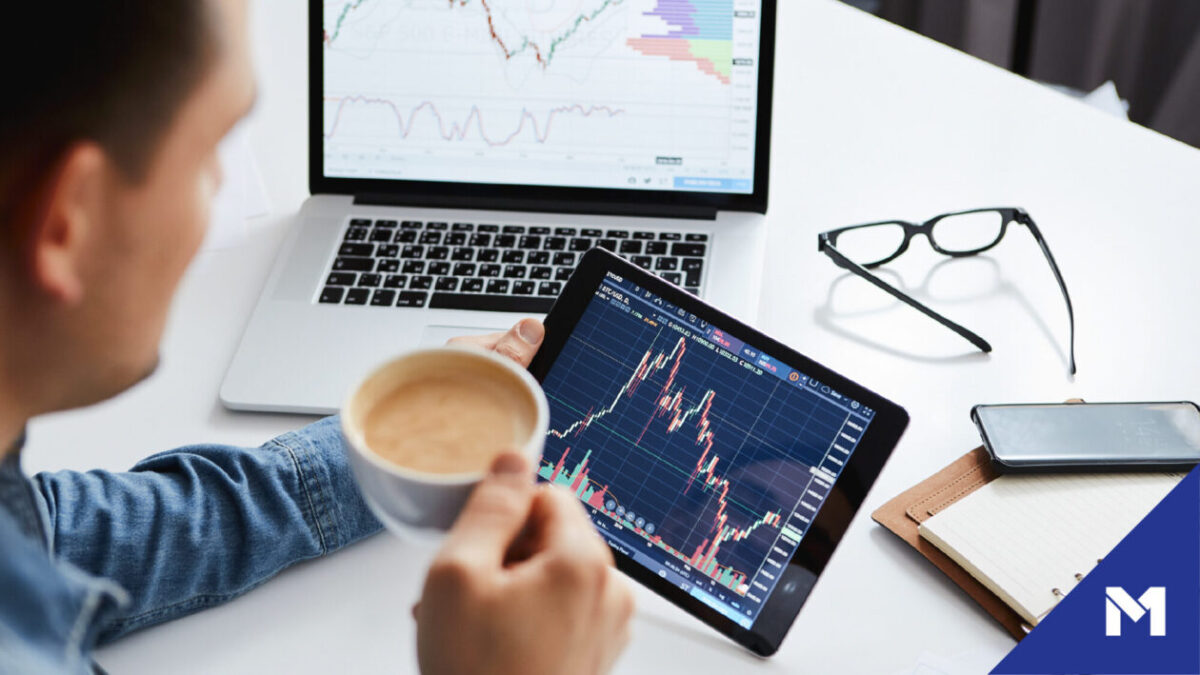 We hope you enjoyed this past holiday weekend. Today, we're discussing the important stories that you may have missed while celebrating.
In this edition:
What led to the Dow's fall
An update on oil
The direction of the housing market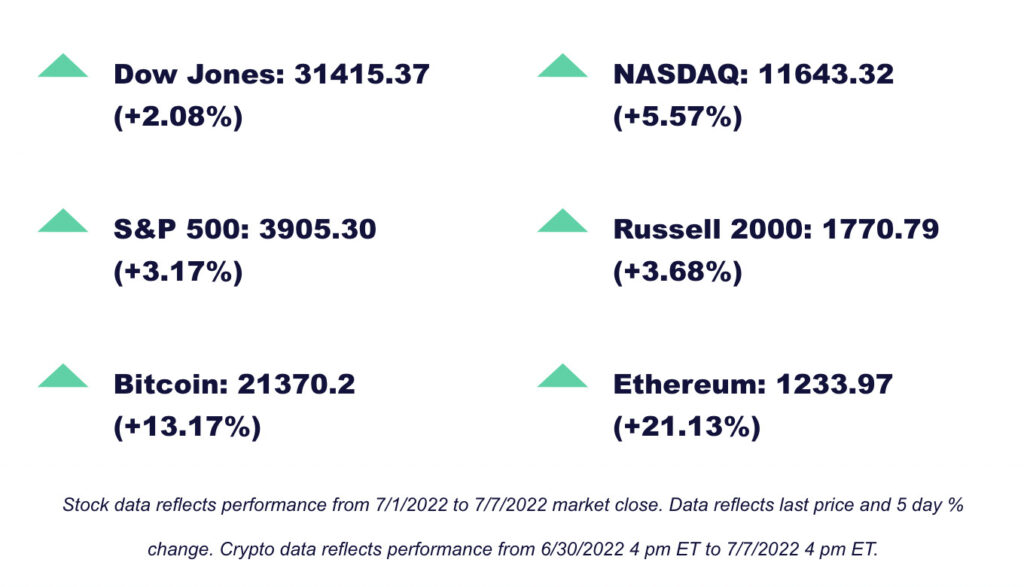 The DOW's deep dive
On Tuesday, the Dow Jones Industrial Average (DJIA), dropped by 1.68% to 30,608 — a plunge of almost 500 points. The Nasdaq Composite (COMP) was up 0.5% to 11,179, due to the positive performance of the tech sector. However, stocks overall ended last week with large losses. The S&P 500 logged its worst half-year performance in over 50 years.
Analysts claim two driving factors for the direction of the markets:
Collapsing oil prices (we'll discuss this below).
A surge in the dollar's value against the euro (EURUSD).
Graph of Index Performance from beginning of 2022-present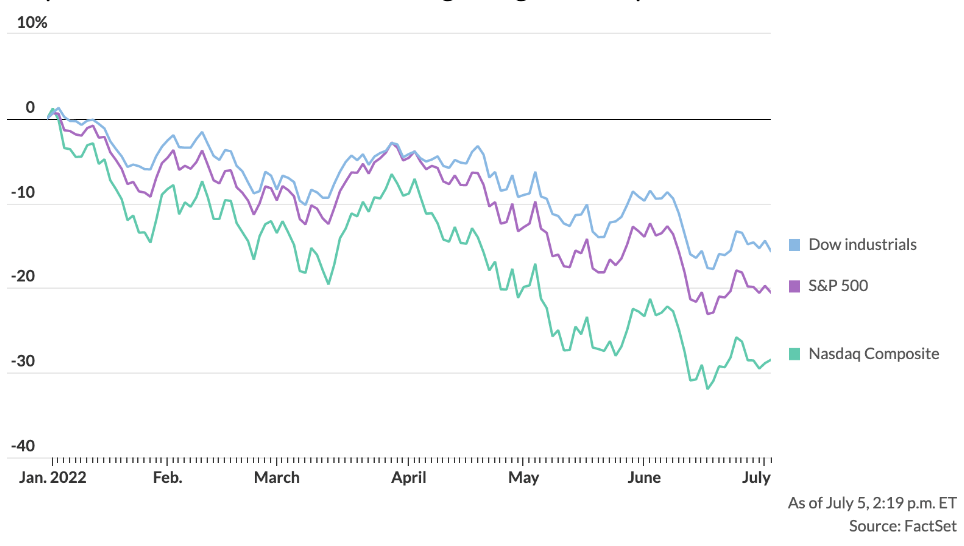 Recession fears put oil on ice
Fears of a looming recession have outweighed a tight oil supply market, leading to oil's worst trading day in a little under three months.
Liquidity in crude oil has been drying up, as traders were quick to exit after Russia's invasion of Ukraine. In general, crude has been prone to violent swings. On Tuesday, West Texas Intermediate crude futures dropped around 8%, this recent plunge came hand in hand with a surge in the dollar and equities continual fall.
Due to escalating fears over an economic slowdown, central banks have aggressively raised interest rates, leading to a tumble in oil prices over the past month. When these rates are raised, it slows economic growth, which can lead to lower oil prices in the long term.
"A growing number of analysts are expecting that many of the world's leading economies will suffer negative growth in the next few months, and this will drag the US into a recession." said Fawad Razaqzada, market analyst at City Index. Currently, the national average for gas is now standing at $4.80 a gallon, a small drop from the average $5 a gallon prices in mid-June.
Home sellers beware
Many are now realizing in the rapidly changing housing market; it is no longer a sellers' market. This is a drastic change from the beginning of the year, where real estate saw many sellers in the driver's seat.
According to Redfin, "an estimated 6.1% of homes for sale during the four weeks leading to June 19, asked for a price drop – a record high as far back as the data goes, through the start of 2015." Mortgage rates are approaching 6%, an increase of over 2.3% from the beginning of this year.
Buyers' budgets aren't stretching as far as they used to, and this is something sellers will have to consider. Liz Hoeffer, owner and mortgage broker at Cross Country Mortgage LLC described the market, "In the last three years, sellers have been able to get basically whatever they want for their house. We're just not in a market like that right now."
Quick hits
Own all your favorite stocks with fractional shares
Check out one of our favorite features on M1: Fractional shares
Why invest in fractional shares:
1. You can diversify your portfolio at a lower cost.
2. Your capital allocation plan stays on track.
3. You can get the most out of every dollar.
Learn more about the benefits of fractional shares and how to buy them >>
This week in finance history
July 5, 1784
The Bank of Massachusetts is founded by a group of leading businessmen, including John Hancock and James Bowdoin. The bank is open year-round except for one day, Commencement Day at Harvard College. It also prints its own currency and is the ancestor to FleetBoston Financial, now owned by Bank of America.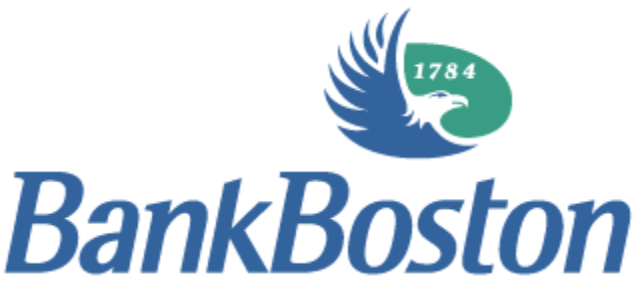 Image courtesy of Wikipedia
Sign up for M1 and receive the Weekly Wrap Up newsletter every Friday.