Why we're launching investing in crypto on M1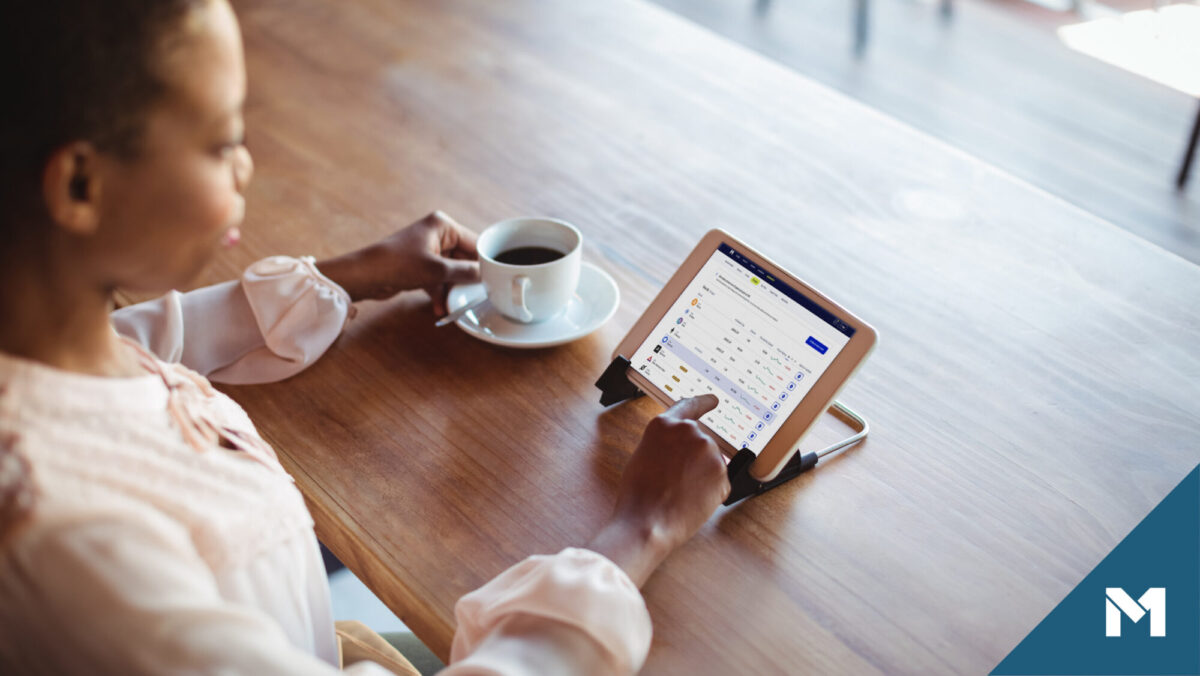 We'd like to let you know that crypto is coming to M1. As of today, you can start researching crypto and building crypto Pies. In the coming weeks, you'll be able to invest in your personalized crypto portfolio, and we welcome your feedback on the experience.
We strive to give you the best tools to manage your money exactly as you see fit. With investing, that's your money invested in exactly what you want, in exactly the proportion you want, with low cost and ease. We believe in investing over trading, maintaining a diversified portfolio, and thinking long term rather than reacting to the whims of the market. These are the principles we brought to our crypto product.
The crypto market is still young and volatile; Bitcoin emerged just 13 years ago. Cryptocurrencies are a roughly trillion-dollar asset class that over 20% of Americans have invested in, traded, or used. It has been the most requested asset addition, with roughly half of our surveyed users wanting to use M1 to invest in crypto. Adding it to the platform gives you the choice to make this burgeoning asset class a part of your long-term investment strategy, if it matches your risk tolerance and long-term perspective.
So, I'm here to talk about how we designed crypto at M1 and what that means for you, the investors.
Investing in crypto on M1
Starting today, July 11, 2022, all M1 clients can start exploring crypto research. If you have a funded Invest account, you can request early access so that you can build crypto Pies to be ready when investing becomes available.
Sign up for early access to M1 Crypto >>
In a few weeks, clients with early access will be able to open their Crypto Accounts, invest in the Pies, and try new trading features. Ultimately, this is just one part of our ongoing process to offer new asset classes, products, and ways to invest so please share your feedback.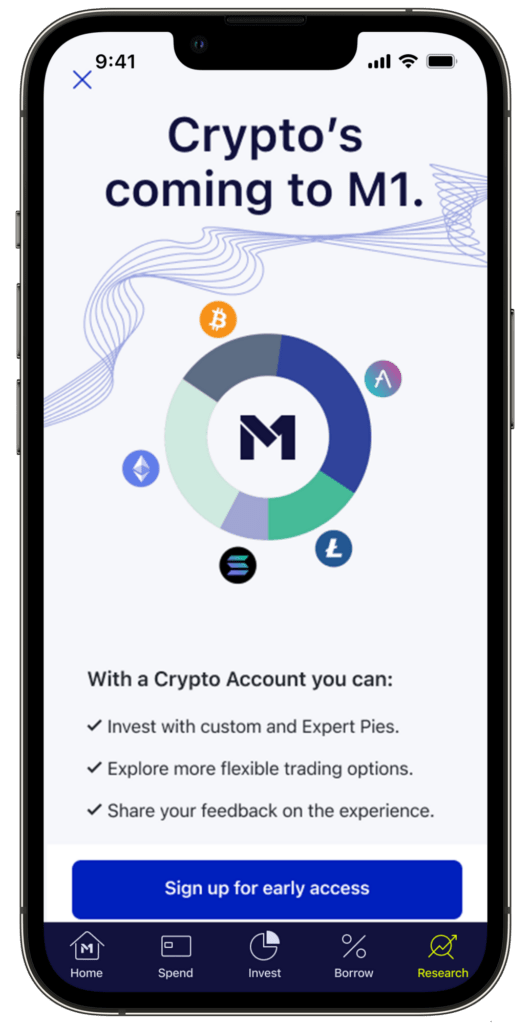 Taking a client-first approach to crypto
Client requests made it clear we needed to create a seamless way to invest in crypto assets within their portfolios. So, we integrated popular M1 features into Crypto Accounts, including custom Pies and automated portfolio management to keep target allocations on track.
When selecting crypto assets, our team looked at a variety of factors with clients in mind. We decided to initially offer up to 10 coins, including Bitcoin (BTC), Ethereum (ETH), and other large-cap liquid crypto assets. We want to provide access to a wide array of assets, so we'll continue adding to and updating our crypto offerings over time.
Designing for automation, ease of use, and cost
The core features of M1 — ease of use, automation, and low cost — are also a part of our crypto product. If you make a crypto investment with M1, we have several features for managing your assets.
Create custom and expert-built crypto Pies.
Create a crypto portfolio that fits your financial goals and risk tolerance. You can build custom crypto Pies or use Expert Pies, which are pre-built using thematic strategies such as DeFi, Web3, and large-cap crypto. This makes it easier to consolidate all your investments into one platform — and invest in an automated, customizable way that mirrors how you already use M1.
Set target allocation based on your strategy.
Decide what percentage allocation makes sense for your overall portfolio based on your investment thesis. Then, set target allocations for each crypto asset and change them as needed over time.
Stay aligned with dynamic rebalancing.
As the prices of cryptocurrencies change over time, your initial target allocations may shift. If this happens, your portfolio may no longer align with your investing strategy. Dynamic rebalancing reallocates your funds with every recurring deposit and investment to realign your portfolio with your financial goals.
Set up an investing schedule using recurring deposits.
Recurring deposits make it easier to automate how much money you put into your account. If you follow long-term investing strategies like dollar-cost averaging, recurring deposits help you consistently invest in your chosen crypto assets.
Automate trades with auto-invest.
The M1 auto-invest tool makes sure your cash is automatically invested so you don't have to manage it day to day. The trading happens once you have a balance of at least $25, and you can set a minimum cash balance to keep uninvested.
For instance, if your set minimum is $1,000, trading will happen when your cash balance is $1,025. This will invest $25, while the $1,000 will stay in your account. Your cash balance includes all deposits and dividends, and any withdrawals come from your cash balance first.
Continue to invest commission-free.
As always, investing in crypto on M1 is commission-free. You'll be able to set and automate your strategies the same way you currently do with stocks and ETFs on M1, but you'll hold crypto assets in a separate, secure custodial wallet powered by Apex Crypto. Your crypto assets will not be loaned or pledged.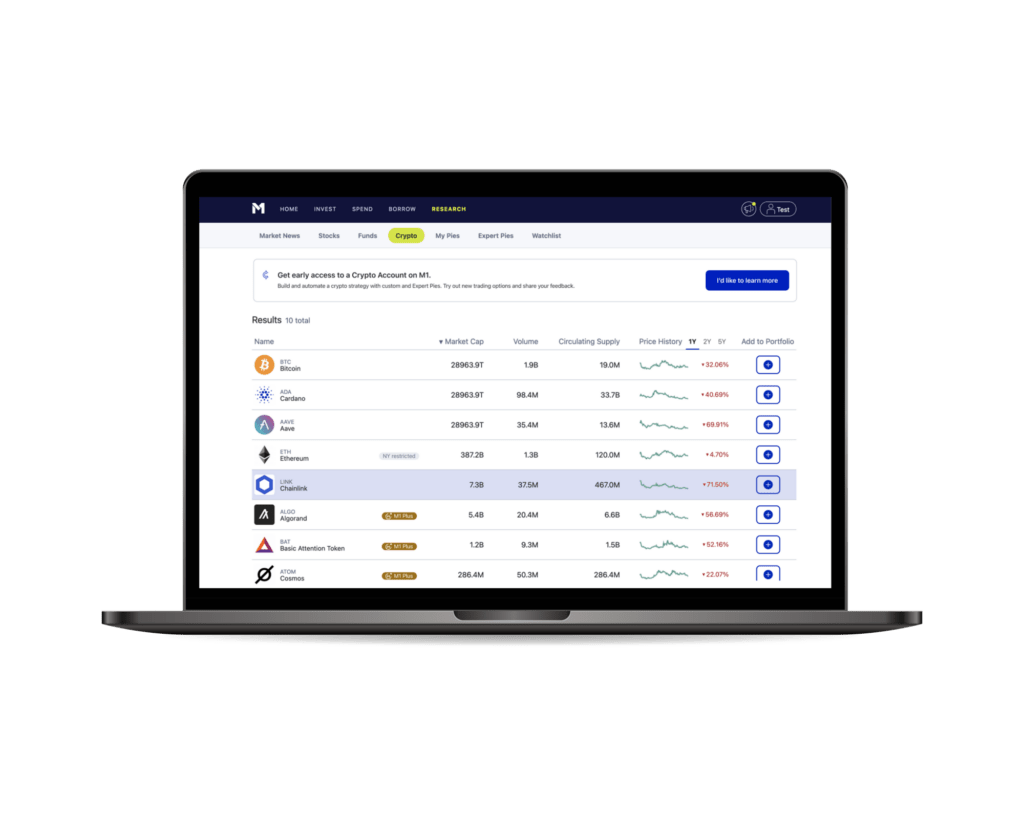 Who could crypto be right for?
Crypto is a new asset class with heightened volatility, so it's important to learn more about the pros, cons, and different ways to invest before making any decisions.
Investing in crypto may be appropriate for you if:
Your investment plan already includes crypto, and you want to consolidate your investments onto one platform.
Your investment strategy includes allocating capital to a high-risk investment, and you have a clear crypto investment thesis. This includes understanding your risk/reward ratio, as speculative assets have the potential for high returns with significant volatility.
You believe in the long-term viability of crypto, blockchain technology, and digital assets.
These factors are not all-inclusive. Like all investments, crypto comes with risks that you want to factor into your financial situation. This includes volatility, loss of principal, and a difference in regulation compared to equity, option, or futures investing.
Ultimately, investing in crypto for the long term must make sense for you and your financial goals.
The future of crypto on M1
Crypto is capturing more mindshare as it becomes mainstream. While many retail, professional, and institutional investors are increasingly deploying capital to crypto, other highly intelligent capital allocators are ignoring crypto altogether. As an informed investor, it's important to know that crypto can be a viable option to diversify your portfolio, explore alternative investments, and invest in emerging technology.
After months of developing Crypto Accounts, we're eager to see how our clients decide to integrate it into their portfolios. Soon, clients will be able to allocate capital to cryptocurrencies according to their risk tolerance and use automation to make sure their targets stay on track.
For now, we plan to collect feedback and continue working to provide an all-in-one financial solution to build your financial future.
Interested in trying M1 Crypto? Request early access >>
Disclosures:
Investing in cryptocurrency comes with significant risk and may not be suitable for everyone. Based on your specific situation and financial condition, carefully consider whether investing in cryptocurrencies is suitable for you. For relevant disclosures and risks, visit m1.com/crypto-disclosures.

M1 Digital LLC is a wholly separate affiliate of M1 Finance LLC, and neither are involved with the execution or custody of cryptocurrencies. Cryptocurrencies are not FDIC or SIPC insured.