Clients come first: M1's revamped Client Success efforts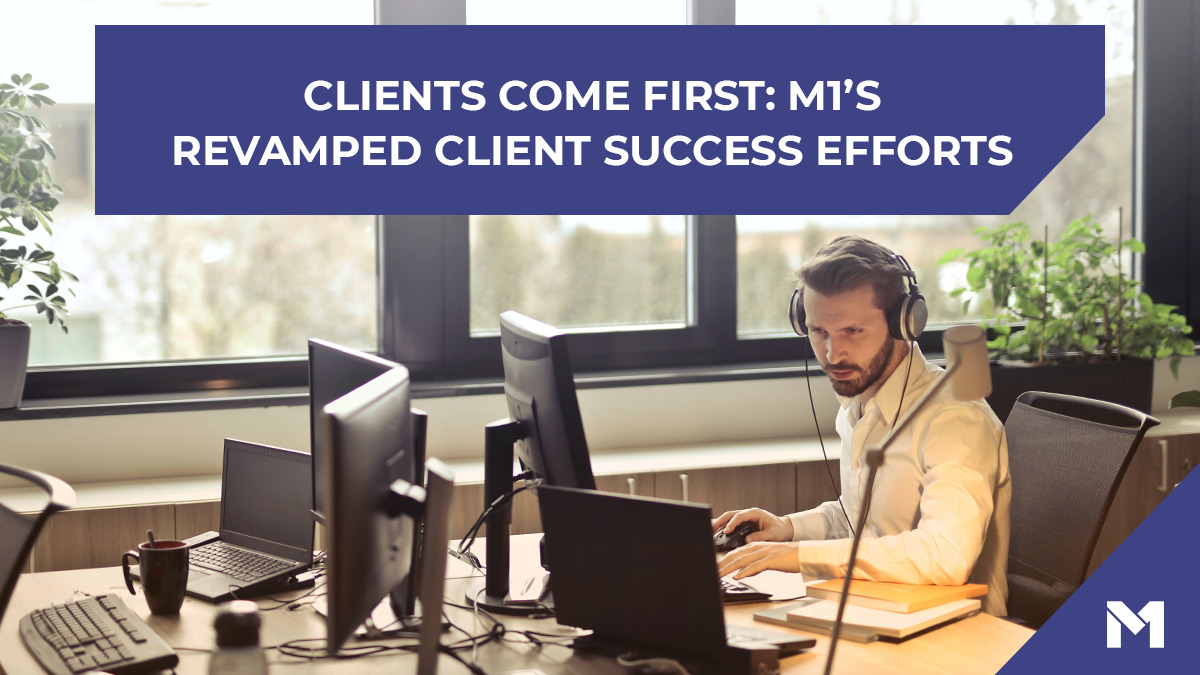 Christine LaFrance is the Head of Client Success at M1. Christine joins M1 after advising clients in investments and capital markets, and leading client relationships, at J.P. Morgan's Private Bank and Fidelity Investments. Outside of work, Christine is an avid downhill skier and marathoner, an aspiring golfer and sommelier, and enjoys mentoring early-stage startups.
We stand for extreme ownership, a growth mindset, and integrity. To live up to these values in Client Success, we start with listening. We heard time and time again that you needed more support. Our Client Success team needed to match M1's growth over the past year.
That's why I'm excited to share the significant investments we've made in Client Success. This includes nearly tripling the size of the team, launching our 24/7 Instant Help chatbot, and completely overhauling our Help Center.
These steps are just the beginning, but let's go over these changes, why we made them, and how they'll improve your experience.
Why we needed the changes
We're focused on consistently delivering a top-of-line experience to you. To deliver that experience, we needed to improve our flexibility as a department and provide more tools for support.
In a market-driven business, market volatility really shines a light on Client Success. We need to be ready to ramp up and ramp down in an instant.
Market events, like what happened earlier this year with GameStop and AMC, are a great example. We saw a record 245% increase in questions submitted to our team around this time. This affirmed that the initiatives we were working on would be vital to your experience in these moments.
You're a hands-on, self-directed investor – and we want your interactions with the M1 team to be reflective of that. This means providing clear, concise information in our app and Help Center – and making it easy to get in touch when you have questions.
We're always listening closely to learn what you need. To do this we:
Talk to clients on the phone and email all day – we like to hear feedback from you!
Identify and escalate data-driven trends.
Send surveys at the end of each client interaction.
This data informed the following updates to our client experience.
The changes we made
We're focused on getting you the advice and help you need as quickly as possible while never sacrificing the human touch. This took shape in several ways, but the most extensive overhaul was with our Help Center.
A new approach to the Help Center
When we began this project, one thing was apparent: articles were difficult to understand, especially for new investors.
That's why we took the time to re-write and re-vamp every single article in our Help Center. There were a few main priorities in mind while taking on this project.
1. Remove all financial jargon from the articles.
In everyday conversation, you rarely hear someone say, "imperative regulatory measure" or "esteemed partner institution," so we made sure you don't hear anything like that on our Help Center either.
Not only is that kind of language robotic, but it's also unclear. We use human language because we want everyone to be able to improve their financial well-being without the jargon-induced headache.
2. Incorporate more visuals
We commonly heard that you wanted more visuals throughout the Help Center.
Whether it's step-by-step screenshots for sending a check or GIFs that illustrate how M1 trades, you will now find helpful visuals within most articles.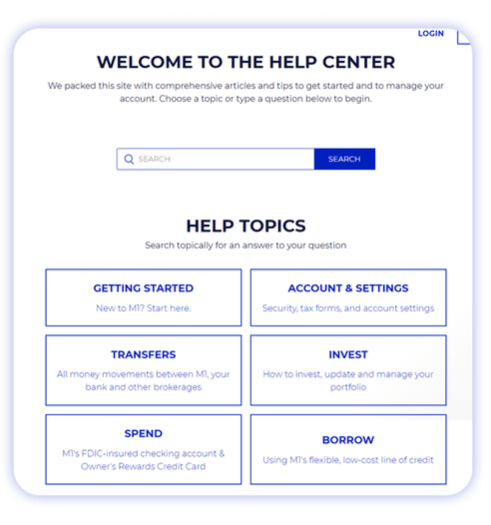 3. Improve the design
The search bar now lives at the top of the page for quicker access to browse the Help Center. Additionally, the new design removed the clutter and will reduce the time it takes to find answers.
Launched Instant Help, M1's 24/7 chatbot
Previously, you could only get a hold of M1 during market hours. Now, even when the market is closed, we're here for you with Instant Help, M1's fully-trained AI chatbot.
We'll never replace the human component of M1, but adding Instant Help bolsters the real-time support our clients need and resolves 50% of questions it's asked.
Hired (more) great people
Over the past year, we've almost tripled the size of our team. We didn't just hire more team members; we bolstered training programs and education to ensure the highest levels of client experience.
Improving your experience
It takes a village to build a seamless client experience – we're always working with partners across M1's business (product, operations, engineering, analytics, marketing) to deliver improvements. At M1, the client-centric mentality is infused in everything we do.
Customer success isn't only the job of the Client Success team. It's a puzzle that involves moving pieces from many other teams.
As a Client Success team, we're committed to being the voice of the customer, and along with our colleagues, building an integrated client experience.
Our ongoing mission to provide you the best support
These changes are aimed at helping you make M1 your own. We believe that managing money shouldn't be complicated, so we want to ensure you have the right tools and instructions to have a seamless experience with our platform.
This is far and away the most considerable investment M1 has made in its client experience – in terms of time (we've been at it for a year), cross-functional effort (many teams involved), and dollars.
Rather than thinking of this as a one-time push, think of it as a step in our journey for continuous improvement.
The M1 Client Success team is committed to helping you achieve personal financial well-being and being there whenever you need us.
We want to hear from you! We are open to your ideas and listen closely to feedback from clients. The journey is just beginning, and we have lots of exciting things in store for our client base.