A day in the life of an M1 Acquisition Marketing Specialist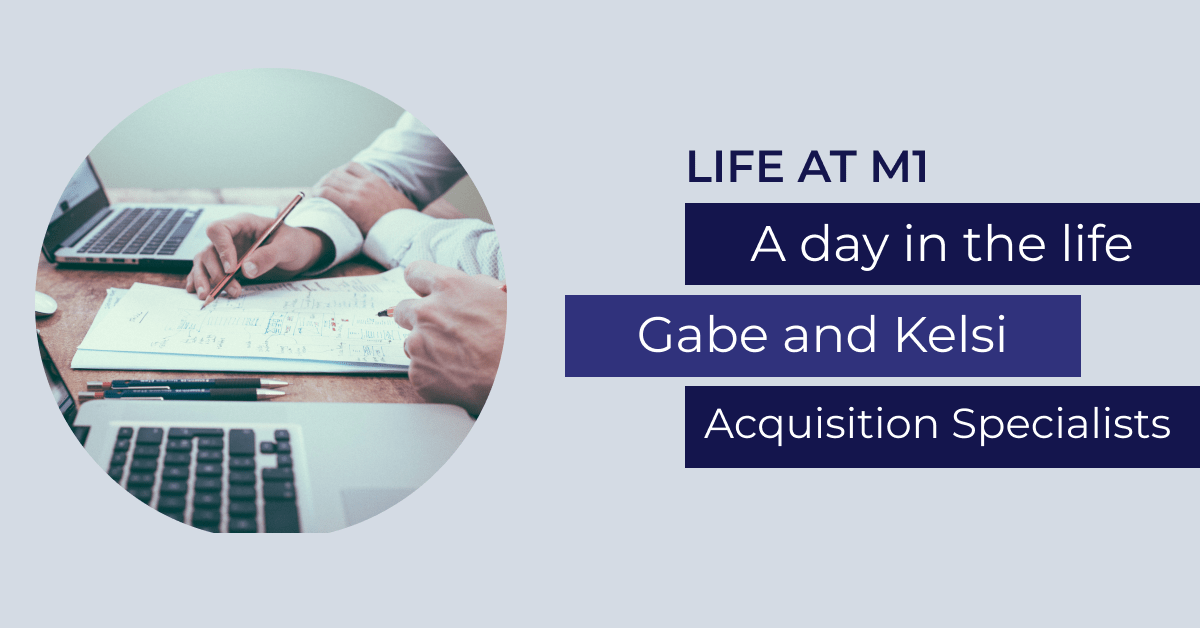 Integrity and transparency are a major part of our company culture at M1. So, we want to give you a behind-the-scenes look at what it's like to be a part of our team and build a career at M1.
In this post, you'll see how two of our wonderful Acquisition Marketing Specialists, Kelsi Snyder and Gabe Partain, spend their days. You may be wondering, what is acquisition marketing, and what does a marketing specialist do?
Our Acquisition team identifies and works with external partners, manages our paid media campaigns, and would likely win the class clown superlative within M1. Anytime you see M1 in the news or on a YouTube pre-roll ad, you can bet Acquisition had something to do with it.
Here's a typical day in the lives of Kelsi and Gabe.
What's your morning routine as an acquisition marketer?
Kelsi Snyder, Acquisition Marketing Specialist (Invest)
Before the workday starts, I always take my dog out for a walk around the block to wake up. This is the time I like to try out new playlists or podcasts. I'm also really into making different coffee recipes, so I usually make coffee to get in an energized headspace before I get online. Then, it's time to start the day.
8 am: Review what's on my plate today.
Create a to-do list that includes my top three priorities for the day.
Review our affiliate network to make sure things are tracking as they should. If we have any partners who are doing exceptionally well, I may reach out to them.
Answer new emails. Staying off Slack for the first hour of the day helps me organize my time before jumping right into things!
9 am: Typically, I have team meetings to go over projects I'm working on.
10 am-1 pm: This is when I make one-one-one affiliate calls to meet with different M1 influencers and potential partners.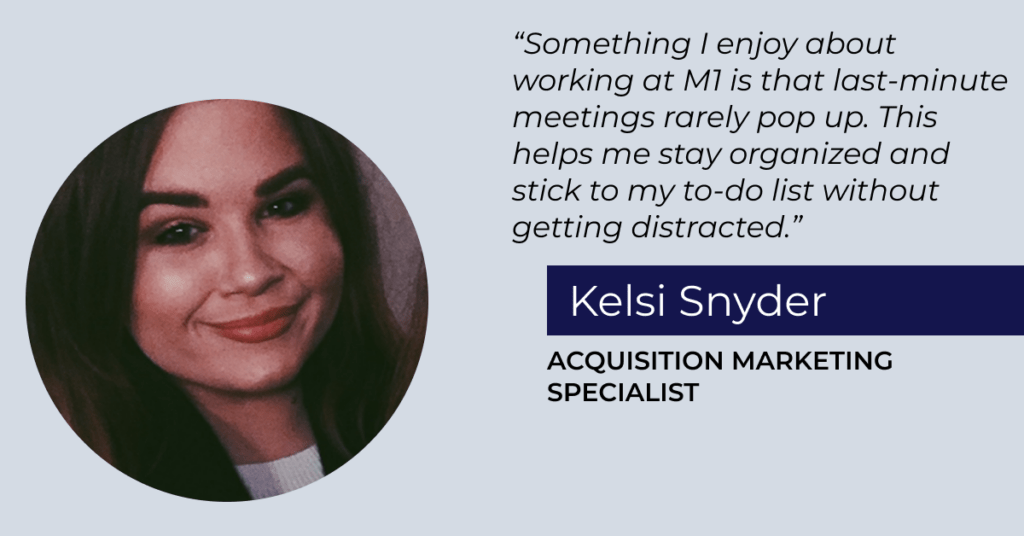 Gabe Partain, Acquisition Marketing Specialist (Paid Media)
7:15 am: I start my morning by walking my dog Roy, a one-year-old mini Bernedoodle. After that, it's immediately coffee time. I have an espresso machine and a coffee maker, so I'll make a cup of that day's flavor for myself and my wife.
8 am: Before diving into work, I savor my delicious coffee and read a newsletter. Right now, I like Morning Brew and Search Engine Journal. After that, I'll check Slack and emails.
9 am: I have a meeting with the entire Marketing or Acquisition team most mornings. This is a quick sync on the status of projects and performance. I'll snag another cup of coffee after the meeting—that's two cups for the day.
10 am: I'll check on the performance across M1's paid media channels to ensure our pacing for performance and spending is on track. I like to focus this time before lunch on deep work related to projects. Recently, I've been prepping the launch of podcast ads.
What do acquisition marketers do in the afternoon?
Kelsi S.
Music is a big part of my afternoons. I always have music playing in the background, unless I'm in a meeting. Nine times out of 10, it's a playlist of '90s or early '00s rock. This helps me focus on the solo tasks that I tackle in the afternoons.
2 pm: If I don't have calls with partners, I typically reserve my afternoons to review and work on cross-departmental projects. I might create new content for an upcoming promo, review edits from our legal or compliance teams, and work through anything else on my plate.
3 pm: Review M1 partners in our affiliate network again. This is when I do deeper dives on our top partners, look at what is and isn't working, and reach out to optimize. Oftentimes, I give them information they can use to better their promotional efforts. We have a lot of partners for the M1 YouTube channel, so I look at their content to ensure they're representing us properly.
4 pm: I do an overview of the next day and see if I missed anything on my to-do list that needs to be finished up or moved to the following day. I also prepare for any external meetings with partners.
5 pm: As the day wraps up, I usually finish it by answering more emails. I don't feel "done" if I have open notifications on anything. So, I reply to emails or organize the ones that need a deeper dive in a folder for the next day.
Something I really enjoy about working at M1 is that while we have set meetings every week, it's very rare that a last-minute meeting pops up. This helps me stay organized day-to-day because I can set up a to-do list and stick to it without getting distracted.
Gabe P.
12 pm: In the afternoon, I'll take my dog out for another walk. I typically don't eat lunch and instead use that time to step back from the day.
I usually:
Go for a walk.
Check Twitter for any trending stories.
Check new messages about upcoming projects.
12:30 pm: I have meetings scheduled throughout the afternoon with both internal teams and external partners to review paid media performance. My afternoons are often full, so I might snag another cup of coffee (number three) or a LaCroix.
3 pm: I spend time analyzing channel performance and managing paid media channels. That includes checking the performance of A/B tests we're running.
5 pm: I try to leave 5 pm and later clear of meetings, if possible. That lets me close out the day by completing any pending tasks and responding to messages that came in during the day.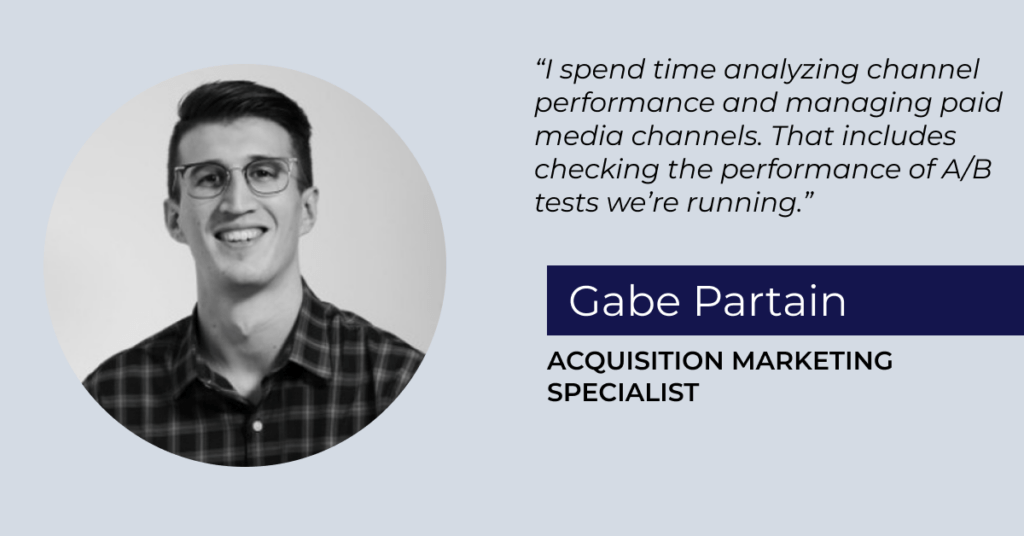 What do acquisition marketers do after work?
Kelsi S.
I have a Peloton, so I typically unwind with a fun ride before dinner. Afterwards, I watch a few episodes of whatever show I'm binging and then read a few chapters of a book before heading to bed.
Gabe P.
I like to do something active after work. I'm in an indoor soccer league, but if it's not a game night, then I'll work out at the gym.
After dinner, I'll take Roy out for his last walk and unwind from the day with a TV show. Right now, I'm watching Succession.
Building a career at M1
We hope that Kelsi and Gabe gave you a better sense of what an acquisition marketing career at M1 Finance looks like day-to-day.
We'll continue to share profiles of our team so you can learn about M1 and discover why it's a great place to grow your career. But don't just take our word for it, see why the Chicago Tribune and Built In named us one of the top companies to work for in Chicago.
Interested in learning more? Check out our job openings, or discover the company values that guide our work.