Why M1 launched Employee Resource Groups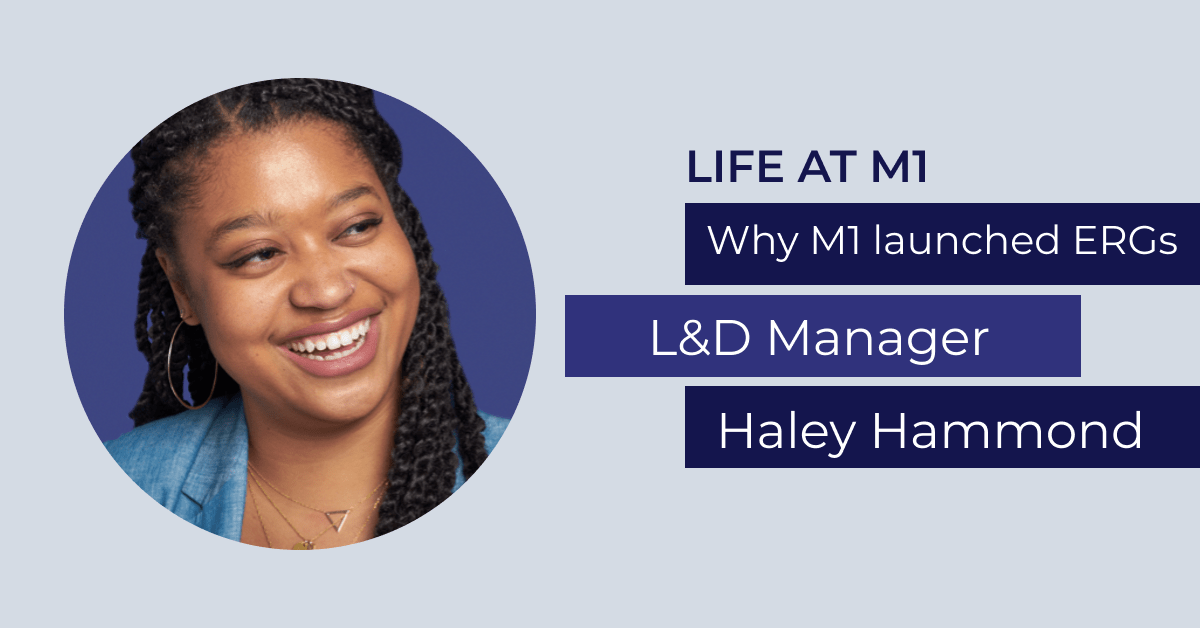 Employee Resource Groups (ERGs) are a fantastic way to open the dialogue and provide a community at work. These employee-led groups help build community and foster inclusivity by bringing together teammates who share similar characteristics and interests. From gender identity, ethnicity, and affiliations to socioeconomic status, demographics, or interests, ERGs help support communities within a company and create a space to support one another.
At M1, we acknowledge that ERGs help with retention and engagement — but it's much more than that. We see the groups as an investment that we hope will enrich our employees' lives and allow them to feel supported and included at work.
Our Learning and Development team recently launched several ERGs at M1, so we want to share what sparked that decision and what types of groups are available.
In this post, we'll walk through:
The history of ERGs
Why the timing was right to launch ERGs at M1
The wonderful M1 ERGs and recent events
The rich history of Employee Resource Groups
The history of ERGs is closely tied with the civil rights movement in America. Workplace affinity groups began forming in the 1960s as a direct response to racial inequity. Joseph Wilson, the former Xerox CEO, launched the National Black Employees Caucus in 1970 to assist Black employees in finding community in their experiences and fight for change, both within and outside the walls of Xerox. This group laid the foundation for what ERGs are today.
As the decade went on, other major companies tried to figure out how to replicate the community Xerox had created. HP launched the first-ever LGBTQ+ group, Gay and Lesbian Employee Network (GLEN), in 1978. AT&T founded LEAGUE almost a decade later, a group that still empowers the queer community to this day.
According to a study done by Sequoia Consulting Group, 40% of companies offer Employee Resource Groups. Additionally, 70% of companies have launched new DEI programming with the intent of creating an inclusive workplace.
ERGs have come a long way since Xerox in the '70s. And while we've taken meaningful steps to create an inclusive, diverse, and equitable culture, we needed to be even more intentional about our DEI efforts.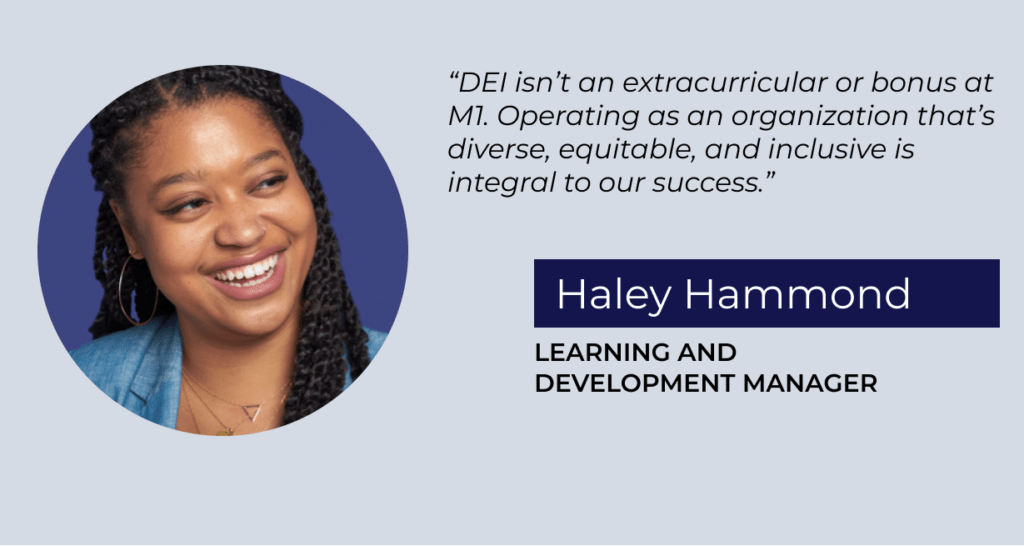 Increasing our investment in DEI
So, why was now the right time for M1 to launch ERGs? Above all else, it's about enriching our employees' experience at work. But there are also factors in today's world that influenced the decision.
1. Addressing the current climate of isolation
The COVID-19 pandemic continues to present many challenges across the world, and workplaces aren't immune to its isolating effects.
Workplace loneliness is at an all-time high.
Many of us at M1 were accustomed to more human interaction throughout the day. Co-workers within arm's reach at your desk, lunches and happy hours with teammates, and even bumping into teammates on a commute. With most of our team working remotely over the last two years, we've also seen an increase in loneliness. ERGs are just one way we're building a strong hybrid community.
To help people build strong work relationships and create a sense of community, we offer:
Monthly M1xers: Games and have breakout rooms so folks can meet teammtes from across the company.
Remote lunches: To welcome new employees and celebrate growing teams.
Cohort Captains: A group of 15 M1ers who welcome all new employees and help them navigate their first few weeks.
2. Empowering people to bring their full selves to work
You can't bring your full self to work if you don't feel supported. We want to make sure our team, and potential teammates, always know their identities are valued and there's a supportive community for everyone.
It's important to note our ERGs are not one size fits all, but each one is focuses on the following pillars.
Community
We seek to create a space where employees can come together to form close-knit communities based on shared experiences, learning, celebration and support.
Belonging
We aim to foster a group culture where every employee feels they have a place at the table and their unique experience is welcomed and valued.
Growth
We want to encourage employees to learn and grow from the perspectives of others while practicing empathy and respect.
3. Supporting employees is about more than business
Of course, ERGs help with retention and recruiting, but the core of these groups is rooted in the M1 value of integrity.
"We do the right thing. When we make mistakes, we own and correct them. We'd be proud of our actions are shared with our family, friends, and strangers. Everyone can count on us to act according to our values. This trust must never be broken."
Last year, our team was in a phase of hyper-growth and was about to double in size. We needed to be intentional in our actions and not only maintain community but improve it.
To ramp up our efforts, I came on as our Learning and Development Manager to help accomplish this goal. I brought along lessons that I learned in previous roles as a leader in the DEI space.
Chief among those principles is that DEI is not an extracurricular or bonus at M1. Operating as an organization that is diverse, equitable, and inclusive is integral to our success.
Employee Resource Groups at M1
A huge part of the diversity, equity, and inclusion (DEI) mission we're on revolves around ERGs. Each ERG has two or three co-leads who belong to the communities that their ERG supports. So, let's quickly highlight their amazing work:
Black at M1 – Recently hosted a fireside chat with Deneen Donnley, M1's first Black board member. Attendees were able to submit questions and hear directly from Deneen.
SomosM1 – Regularly hosts guest speakers from Latine folks around the company. This time is used to open the doors to discussions about different roles as well as their shared community.
Pride at M1 – This ERG does a great job of providing community for LGBTQIA+ M1ers, spotlighting business leaders, and hosting fun events like drag queen bingo.
Women at M1 – The most recent ERG meeting focused on performance reviews and strategies for tackling the unique challenges that women face during the feedback process.
Mental health at M1 – This ERG hosted a company-wide mental health training that focused on breaking the stigma of mental illness at work and providing helpful strategies for mental health challenges.
Recently, we've added members of our leadership team to each ERG to act as executive sponsors. This provides support for the members and increases visibility at the top level of M1.
What's next for ERGs at M1?
Our internal response to ERGs has been overwhelmingly positive. We've seen encouraging involvement and will continue to support all employees to make sure they're seen and heard regardless of their identities or communities.
We'll use inclusion survey data to help us monitor our progress, but the data is just a jumping-off point. Our DEI progress will always be centered around our people: not just their needs but also what will help them thrive. That's why we'll routinely host what we like to call ERG Week—a week full of events and development opportunities to bring awareness to our groups and celebrate the people who make them happen.
Can you imagine building a career at M1? Explore our openings today to see how we empower people to be their full and best selves at work.