TD Ameritrade clients: Don't settle for Schwab. Come to M1 and get rewarded!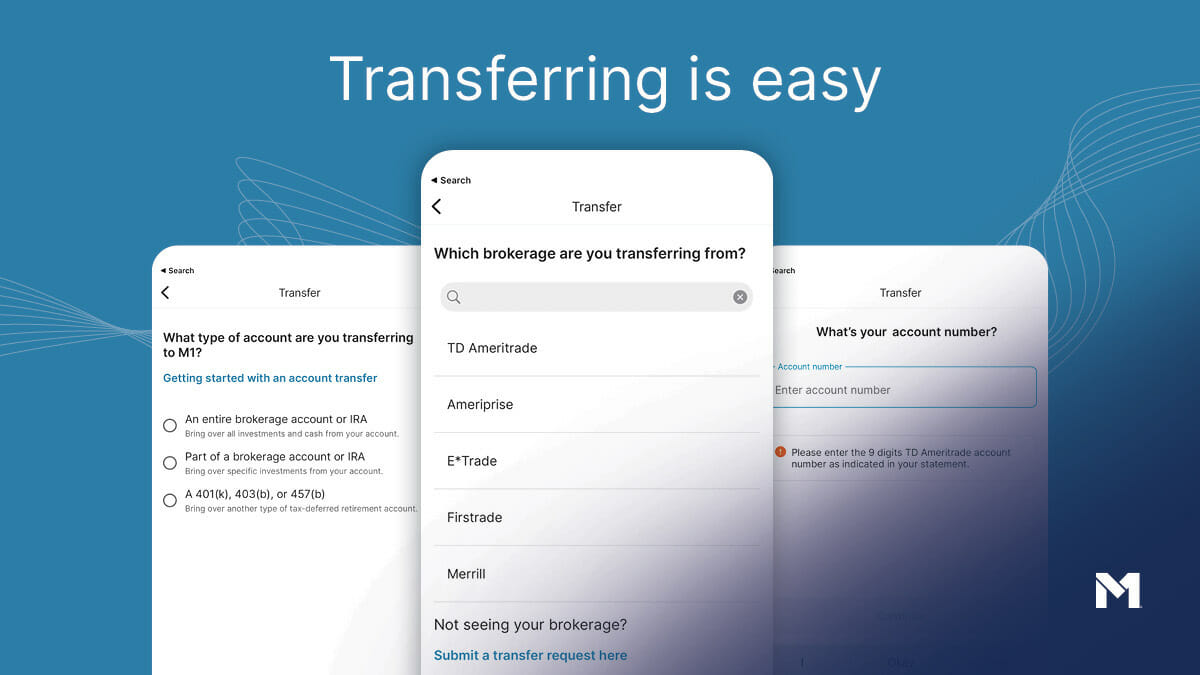 As a TD Ameritrade client, you can expect your account to be moved to Charles Schwab sometime in 2023. This means you'll have to learn how to use a completely new product and platform.
Now is a good time to explore your options instead of being forced to a new platform you didn't choose.
M1 is one such option. We've built a financial platform offering personalized portfolios that you can manage with intelligent automation, some of the best rates, and complete control over your finances – similar to having your own digital private bank. Switching is easy and can be set up in just a few clicks. We'll even reward you with an investing bonus.
And now there's even more reason to switch with launch of the M1 High-Yield Savings Account with 5.00% APY1 and FDIC insurance up to $5 million2 in coverage for M1 Plus members.
Switch to M1 and get an investing bonus
We are offering up to a $15,000 investing bonus for those moving to M1. That's a lot more than the nothing you'll get from Schwab. While the automatic switchover from TD Ameritrade to Schwab is happening this year, you don't need to wait to switch to M1 now3.
Maximize your money with an automated platform
M1 believes you should make your own decisions about how you invest, including where you move your account. Our platform offers a wide range of financial products that can help you invest, borrow, spend, and save money in ways that are tailored to your unique financial goals and needs.
Whether you're saving for retirement, looking to buy a home, or simply want to grow and protect your wealth, M1 can help you make the most of your money.
Auto-Invest
With Auto-Invest, M1 intelligently allocates money from every deposit to keep your portfolio balanced to the percentages you initially set. That means you can invest cash into your Pie and maintain your investment targets automatically without any manual calculations.
Customization
We offer extensive portfolio customization designed for experienced investors who want to automate their strategy while still aligning with their personal preferences, risk tolerance, and diversification goals.
Fractional shares4
Unlike Schwab, which limits fractional shares to S&P 500 stocks, M1 lets you buy fractional shares for all stocks and ETFs so you can diversify your portfolio with ease and invest as much or as little as you want. Fractional shares allow you to buy into higher-priced stocks, so you get most of the benefits from owning blue-chip stocks without having to commit a ton of money.
Low margin rates
Borrow against your investments without the extra paperwork at some of the lowest rates on the market. We're currently offering 7.25% APR, two to three times lower than our competitors' rates.
M1 is built on independence
Across the industry, consolidation is forcing investors to make unplanned changes to their financial arrangements. While consolidation may make financial sense for large firms, it doesn't necessarily mean improvements or better choices for their customers.
M1 was founded to disrupt big banks and their more exclusive private banks. We know that a digital private banking experience can benefit more people.
Private banks have traditionally been reserved for high-net-worth individuals, but digital private banks can provide many of the same products and services at a lower cost. These services include access to lower borrowing rates, higher saving accounts rates, and cash back on checking all at zero to low fees.
Additionally, digital private banking allows for greater control and customization over investments, and the use of automation tools can make managing finances more efficient.
You can be fully invested at M1 based on your own strategy and preference with no commission fees3 and without someone else making decisions on your behalf.
As M1 is quick to innovate and institutions are slower to adapt, digital private banking can offer a cost-effective alternative to traditional private banking options.
We've made it easy for you to transfer from TD Ameritrade to M1
Transferring your brokerage account from TD Ameritrade to M1 is a simple process. First, open an account on M1. You can do this from the same screen you are initiating the account transfer from.
Next, log in to your M1 account and navigate to the "Move Money" tab on the Home page. Click "Transfer from another brokerage" and select "An entire brokerage account or IRA" or "A 401(k), 403(b), or 457(b)". Choose TD Ameritrade as the brokerage you are transferring from and input the account number of your TD Ameritrade account. Select the receiving M1 Invest Account and review the disclosures.
Click "Continue" to submit your transfer request and you will receive a confirmation email once it has been submitted. The transfer should take about five to seven business days. It's that easy!
Make the move to M1
Your TD Ameritrade account will be transferred to Charles Schwab later this year. Consider moving your account to M1 so you can take control of your finances, and start investing, borrowing, spending, and saving today.
Join other TD Ameritrade clients who have already transferred over $240 million to M1 as of January 2023. Your money can be next and you'll get rewarded to do it.
Make the move to an M1 Invest Account in 3 easy steps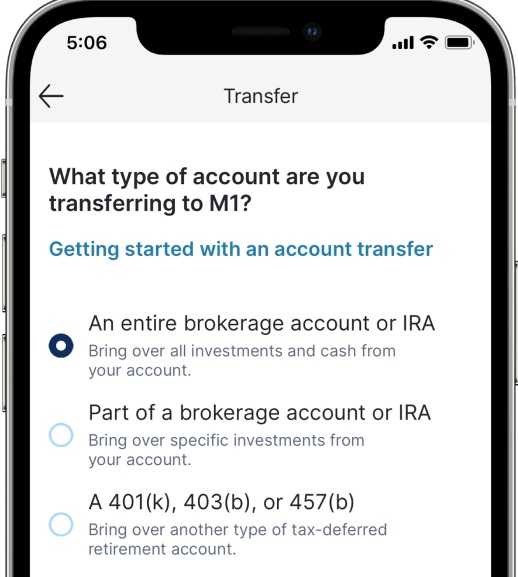 Choose the type of account you want to transfer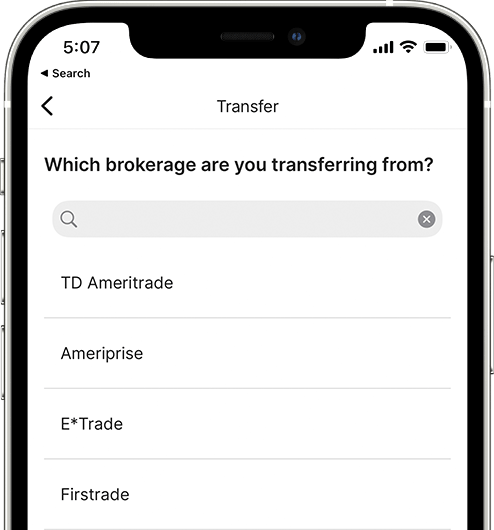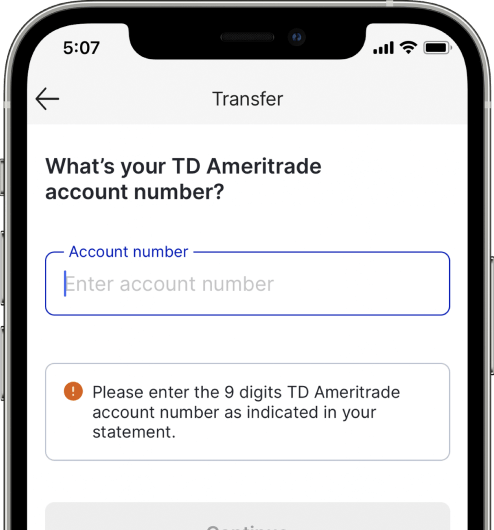 Enter your account number and our team will take care of the rest
Choose the type of account you want to transfer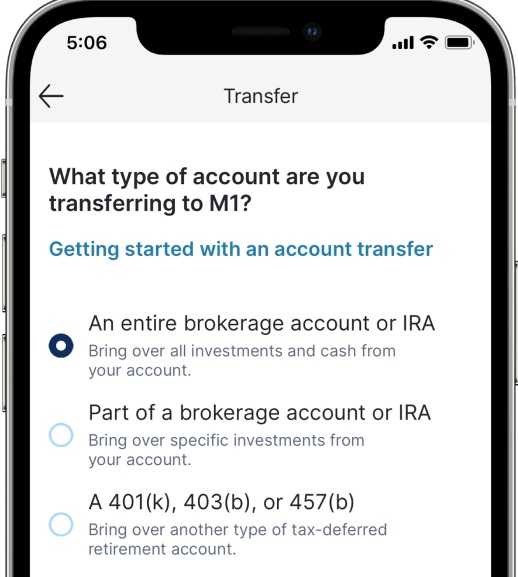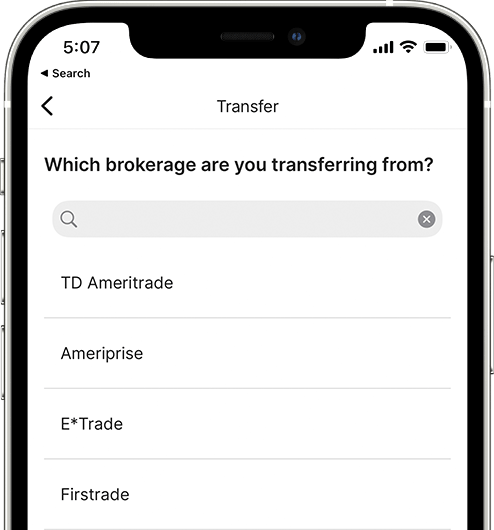 Enter your account number and our team will take care of the rest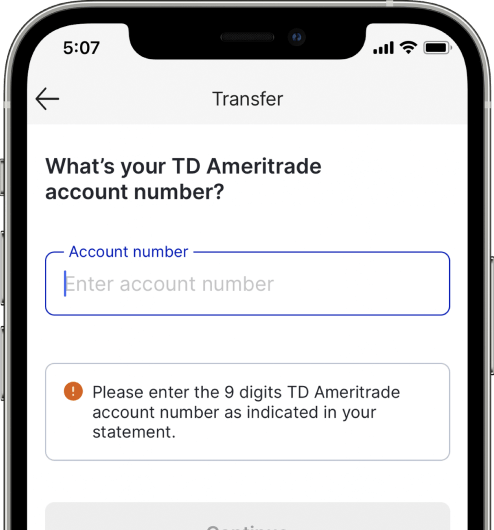 20230901-3090555-9805972
Disclosures:
1Obtaining stated APY (annual percentage yield) or opening a savings account does not require a minimum account balance. Stated APY is valid from date of account opening. Account fees may reduce earnings. Higher APY rate subject to paid M1 Plus subscription. Rates are subject to change.
2B2 Bank is a member FDIC institution and does not itself provide more than $250,000 of FDIC insurance per legal category of account ownership as described in FDIC regulations. Additional FDIC insurance coverage is provided through B2's Insured Deposit Network Program involving other FDIC insured depository institutions. Deposits may be insured up to $5,000,000 through B2's Insured Deposit Network Program. Full terms of the Program can be found at m1.com/legal/agreements/hysa_agreement and a complete list of participating banks in the program can be found at m1.com/legal/agreements/depositnetwork
3Terms and conditions apply and can be found here: https://m1.com/rollover-promo/
4If you choose to transfer your account to another broker-dealer, only the full shares are guaranteed to transfer. Fractional shares may need to be liquidated and transferred as cash.
5Commission-free trading of stocks and ETFs refers to $0 commissions charged by M1 Finance LLC for self-directed brokerage accounts. Other fees may apply such as regulatory, M1 Plus membership, account closures and ADR fees. For complete list of fees, visit M1 Fee Schedule.
M1 is not a bank. M1 Spend is a wholly-owned operating subsidiary of M1 Holdings Inc. M1 Savings Accounts are furnished by B2 Bank, NA, Member FDIC.
All investing involves risk, including the risk of losing the money you invest. Borrowing on margin can add to these risks, and you should review the margin account risk disclosuresbefore borrowing. M1 Margin Loans are available on margin accounts with at least $2,000 invested per account. Not all securities are available for M1 Margin Loans and the amount that may be borrowed against a security is subject to change without notice. Available margin amount(s) of M1 Margin Loans may require greater than $2,000 per Brokerage Account. Not available for Retirement or Custodial accounts. Margin rates may vary. Brokerage products and services are offered by M1 Finance LLC, Member FINRA / SIPC, and a wholly owned subsidiary of M1 Holdings, Inc.