Why rate chasing isn't worth it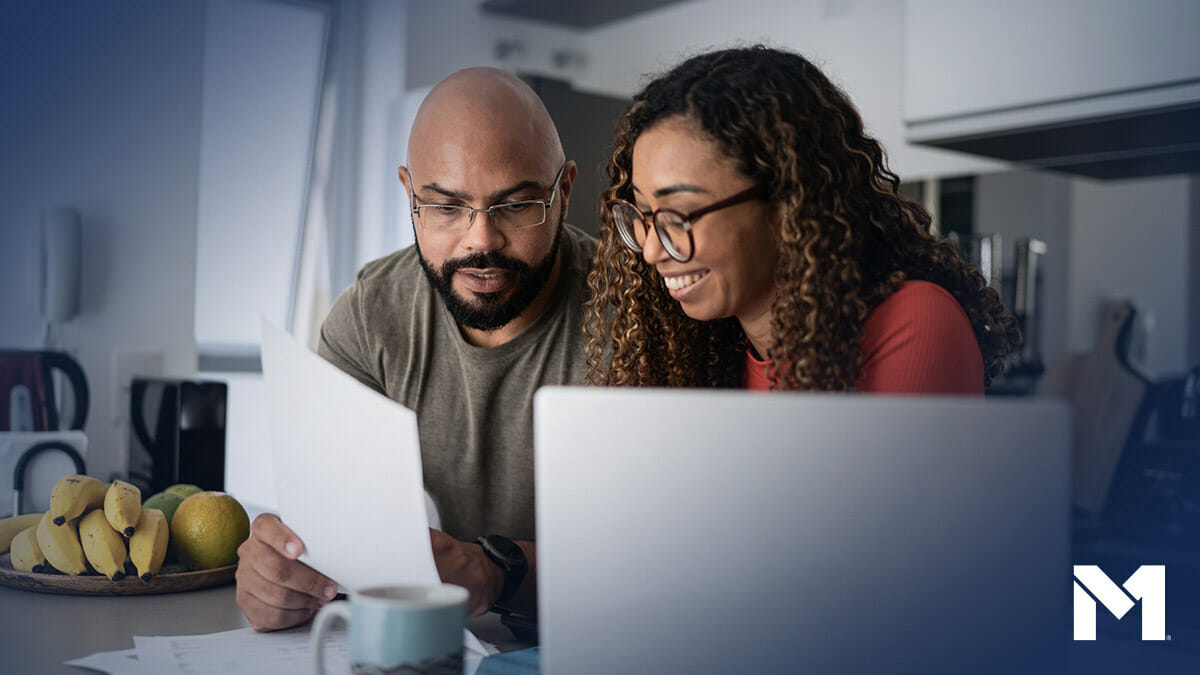 Interest rates hit rock bottom during the onset of the Covid-19 pandemic in March 2020. As inflation increased in 2021, the Federal Reserve raised interest rates to quell soaring prices.
Raising interest rates makes loans such as mortgages and auto loans become much more expensive. On the flip side, everyday consumers can benefit from this as banks and other financial institutions can offer higher interest rates on their deposit products. This has caused some to pull their funds out of volatile stocks and into high-interest, no-risk savings and money market accounts.
But there's also a subset of people who are eagerly moving their money around to different banks to earn the highest rate possible — also known as "rate chasing." However, when it all boils down, trying to squeeze every penny of interest probably isn't worth the time and effort. So that's why we're launching the high yield savings account with 5.00% APY* for M1 Plus members, furnished by B2 Bank NA, Member FDIC. This gives you peace of mind of industry-leading interest to avoid that hassle. With this account, you can maximize your return on your cash without having to jump elsewhere.
Here's what to consider when deciding on a high-yield savings account for you, and how to consider interest rates.
How high-yield savings accounts work
When you deposit money with a financial institution, there is typically an advertised interest rate that is designed to attract customers. But large banks have discovered that regardless of their interest rates, consumers aren't likely to move — so they keep rates quite low on traditional checking and savings accounts.
The difference with a high-yield savings account is that money isn't meant to be moved regularly, so banks award higher interest rates on those funds. These interest rates are calculated based on APY (annual percentage yield), and each account can earn interest differently. Depending on the bank, interest may compound daily, monthly, quarterly or annually.
How to calculate APY
Before you sign up for any HYSA, you should know that interest rates can change regularly. This is important to know for your budget and financial projections for the future. That's why we designed the HYSA to have a valuable return for our users. While the big banks play catch up, you'll be maximizing your financial growth.
To find out how much interest you can earn, you can use a calculator like this one to figure out how much interest you should earn over a determined period.
At a 5.00% APY (compounded monthly), here's what you can estimate to have over the course of a year if you deposit it and don't touch the balance:
| | |
| --- | --- |
| Initial Deposit | After one year, you will have… |
| $25,000 | $26,125 |
| $50,000 | $52,250 |
| $100,000 | $104,450 |
| $200,000 | $209,000 |
Here's another way to look at the potential interest you could earn from a high yield savings account, without the hassle of chasing the highest interest rate available.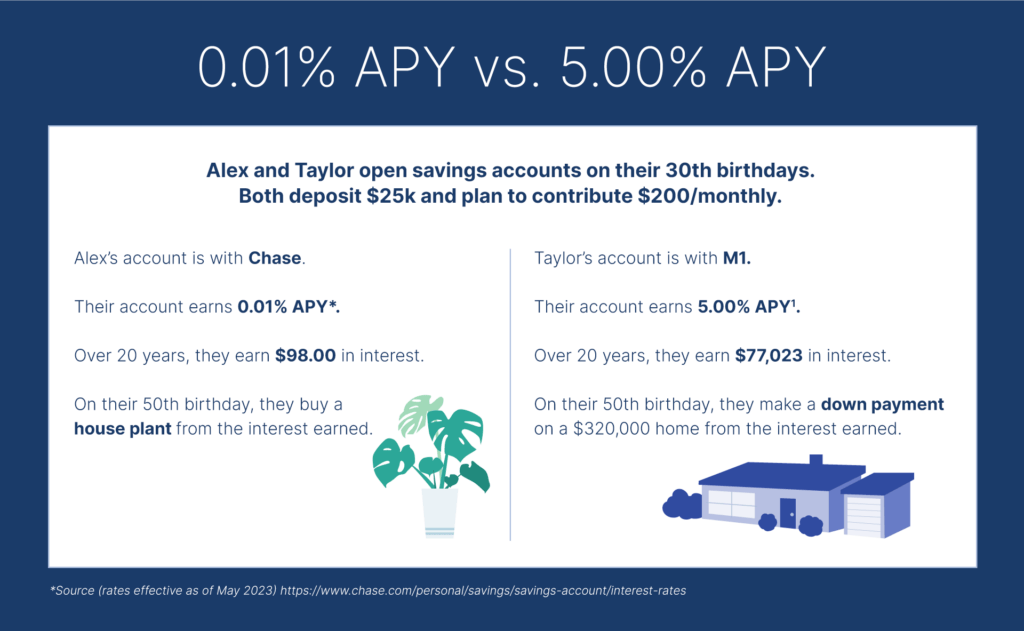 Why rate chasing isn't worth it
Now, let's say you find a 1% higher interest rate elsewhere and decide to move your money from one account to another. The overall net difference won't likely be a significant jump ahead, so the main consideration should be how your savings account works alongside your other financial tools. With M1, you can save money with a competitive interest rate, invest and most importantly — make your financial life simpler.
The M1 bottom line
Personal finance is boiled down to many simple concepts, but one rings true with high- yield savings accounts: pick one and stick with it. Rate chasing is an appealing concept, and I've been guilty of it in my life. But it's likely that your time is better used elsewhere like researching stocks or ETFs to purchase, rather than worrying about incremental increases in a HYSA interest rate — which you can all do with M1.
So as you're deciding about a HYSA that works for you, simply pick one that has a competitive interest rate, deposit your cash, and move on to your next financial goal or decision.
Disclosures:
Obtaining stated APY (annual percentage yield) or opening an account does not require a minimum account balance. Stated APY is valid from date of account opening. Account fees may reduce earnings. Higher APY rate subject to paid M1 Plus subscription. Rates are subject to change. Stated APY (annual percentage yield) for M1 Savings accounts is subject to change prior to product launch due to changing federal funds rate.
M1 is not a bank. M1 Spend is a wholly-owned operating subsidiary of M1 Holdings Inc. M1 Savings Accounts are furnished by B2 Bank, NA, Member FDIC.
20230414-2756100-9020066