M1 Borrow improvements: You asked for them and we made them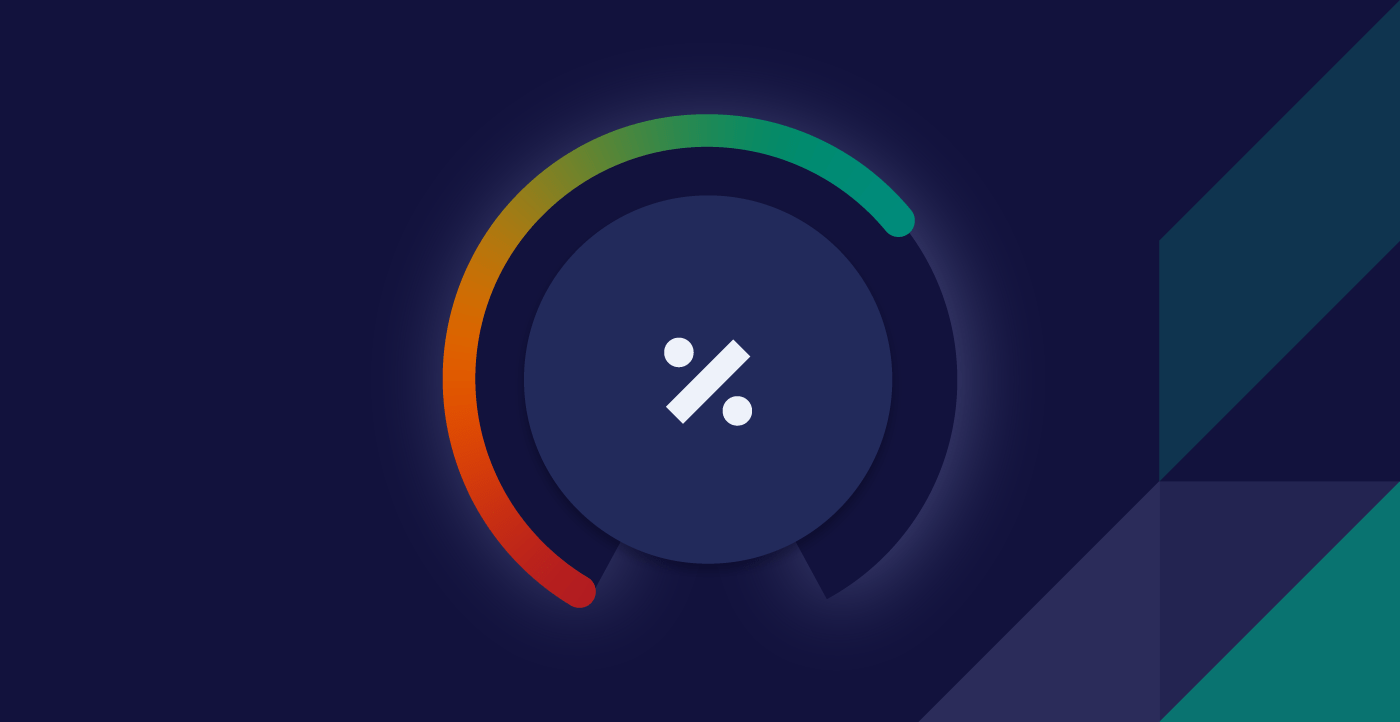 Today, we're excited to reveal some new features and upgrades coming to M1 Borrow.
For a quick recap on M1 Borrow:
It's a portfolio line of credit available to M1 investors at 7.25%–8.75%—some of the lowest interest rates available in the industry. 
You can get access to Borrow when you have an Invest account with $2,000+ of marginable securities. 
We originally designed this product as a way to add much-needed flexibility to your account and your investments. With the addition of Borrow, you can tap into your investments for anything you want. Use it as an alternative to other loan options (like HELOCs), refinance other high-interest debt, pay for large expenses like a wedding or tuition, add leverage to your portfolio, or even use it as an emergency fund. Whatever you need it for, it's there for you.
But with thousands of M1 clients using Borrow, and with millions of dollars (as of this writing, $24 million to be exact) extended through Borrow, we saw a need for some improvements. Here's what these changes mean for you:
Automated payback schedules. You can now pay down your Borrow balance on a schedule that works for you. We've also simplified the borrowing process, and you can direct loan proceeds anywhere you want.
Consolidated view of all your activities in one place. The Transfers screen is now truly the hub of all your money movements and activity in M1. Whereas before you could only see Borrow activity in the Borrow screen, now you'll also see it alongside your Invest activity and your Spend activity to get a better picture of your finances at M1.
Easier-to-understand layout for Borrow. The look and feel of the main Borrow screen changed to keep sections more organized and make it easier for you to understand what's happening.
---
The road to more automation
When you used Borrow in the past, your borrowed funds went into your Invest cash balance. From there, you could direct them to your Pie, to your Spend checking account, or to an external bank.
Now, we've made the process simpler, to make it easier for you to access your money and use your borrowed funds. You can still choose to send the funds from Borrow to Invest, but now you'll have more choice and control over where you send your borrowed funds. With this improvement, you can directly send borrowed funds to your Spend account or your external bank.
In the Borrow screen, just click on "Borrow" and you'll be prompted to choose what account you want your funds to go into: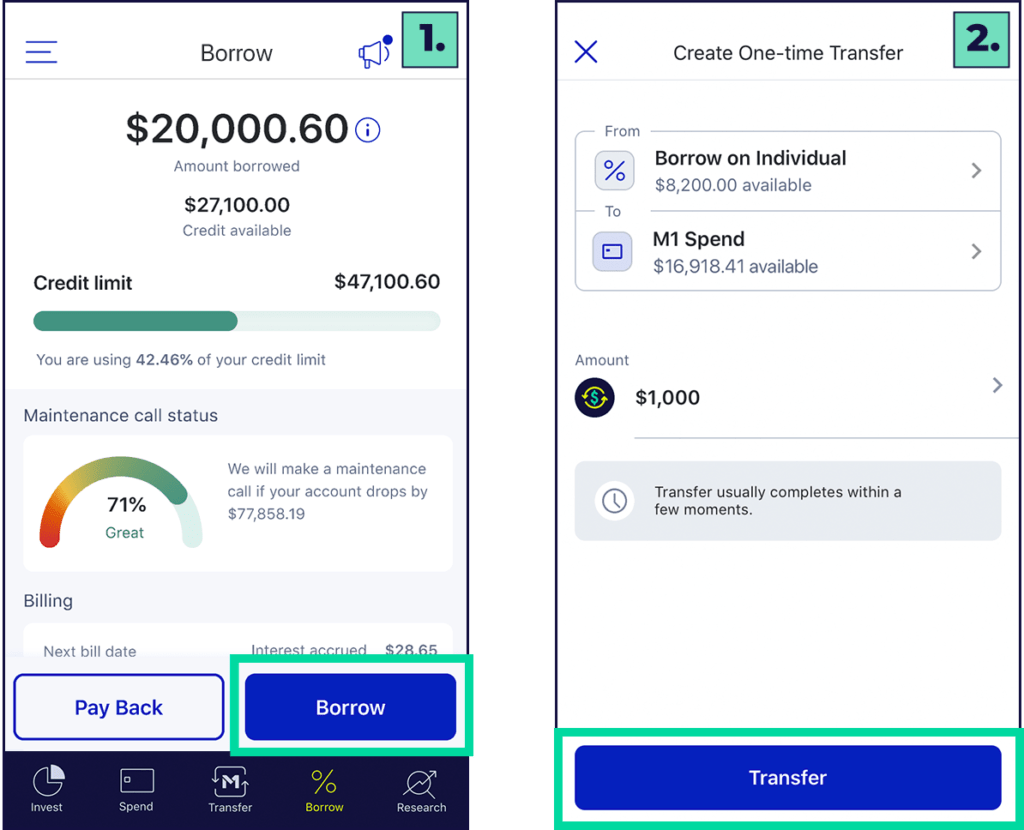 ---
You can also use your Transfers screen to move money from your Borrow account to any of your other accounts: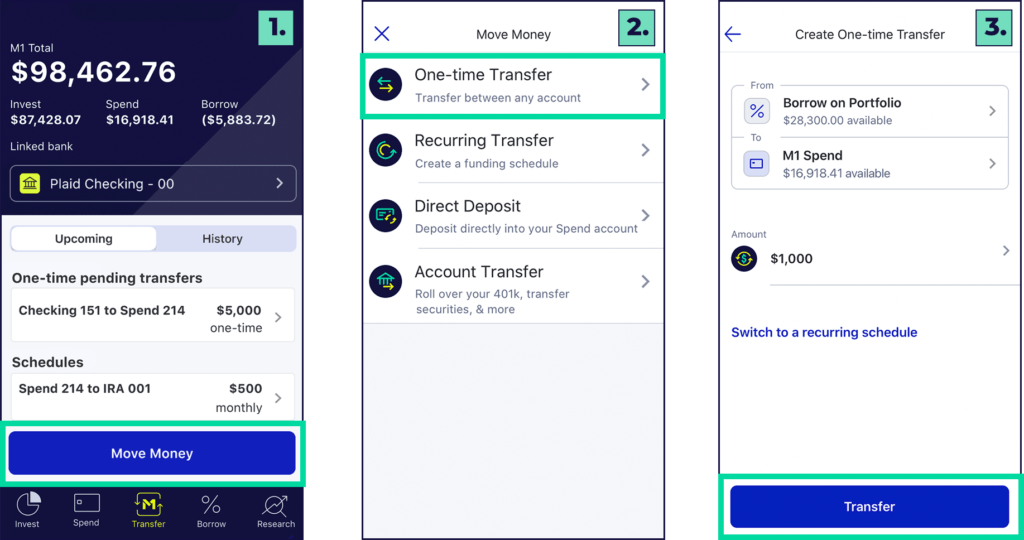 ---
When you want to pay back your loan, you have a few options as well. You can click on "Pay Back" on your Borrow screen to pay back your loan using your Invest cash balance:
---
And just like you can already automate your investments, now you can also automate your loan payments. Choose the "Recurring Transfer" option from the Transfers screen, or click on "Switch to a recurring schedule," to determine how much and how often you want to pay back: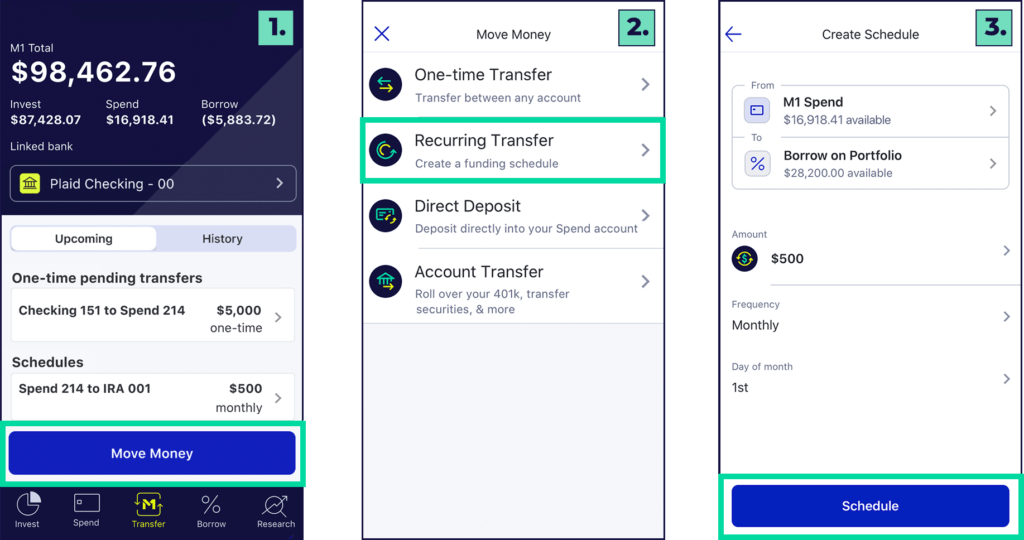 ---
This last point, scheduling your payments, was a frequently requested feature. We wanted to make this happen, and many of you wrote to us to let us know you wanted more automated features with Borrow. So, it made sense to add this capability. Plus, adding schedules to Borrow is a steppingstone to more automation in the future. More on this later.
And one last note on loan repayment, all these changes apply to the principal payments. Interest on your loan will still be billed automatically. If you need a refresher on how that works, check out our Support Center.
---
Transfer money in, transfer money out, and shake it all about
Part of making M1 an intuitive money management account means having a central hub where you can see everything and get a thousand-foot view of your finances in one place. This is where the Transfers screen comes in.
Here, you can already see your money movements to/from Invest and Spend. Now, you can also see money movements to/from Borrow.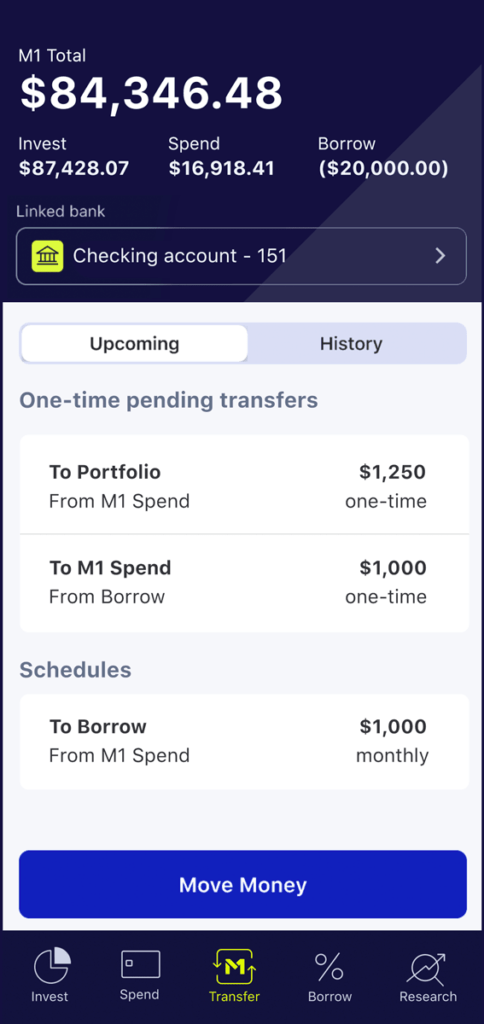 ---
A whole new, even easier to use Borrow
Did you see the updates to the Borrow screen? Check it out again: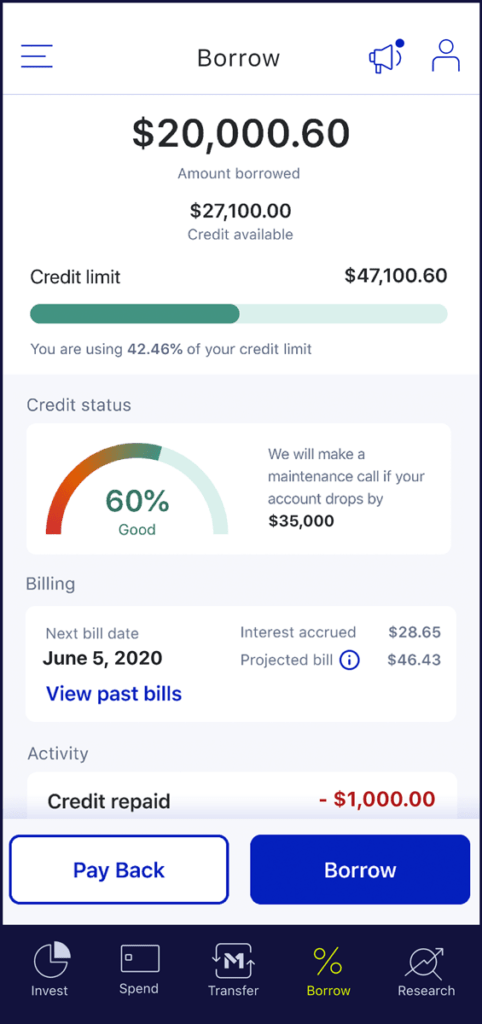 ---
We've completely redesigned it to give you a better idea of what's going on with your account and make it easier to understand. Now, you have two separate meters to give you a better sense of your credit limit and your credit status.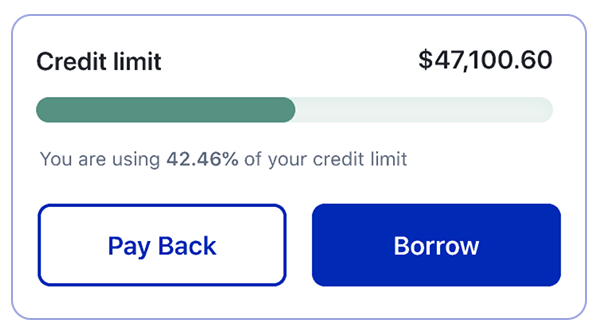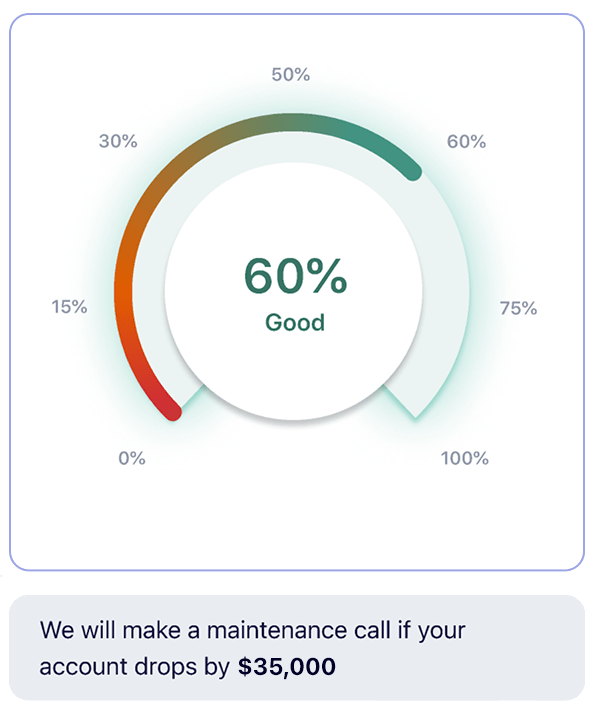 And just like before, you can see you interest accrued, your projected bill, and your Borrow activity.
---
What the future holds
Like we mentioned above, this update helps us build a foundation for future automation work.
Our goal is to provide you with a platform where you can plan and automate smart movements of your money throughout your M1 account.
We're starting with simpler automated rules that you can set for your accounts, like schedules. But in the future, we envision an account where you can automatically borrow a certain amount when your investments reach a predetermined threshold, or where you can use Borrow like a revolving line of credit and extend/pay back principal automatically, or even where your borrowed amount goes up/down if your investments go up/down.
Do you have feedback or any ideas for M1? We'd love to hear from you! Send us an email at hello@m1finance.com.
---