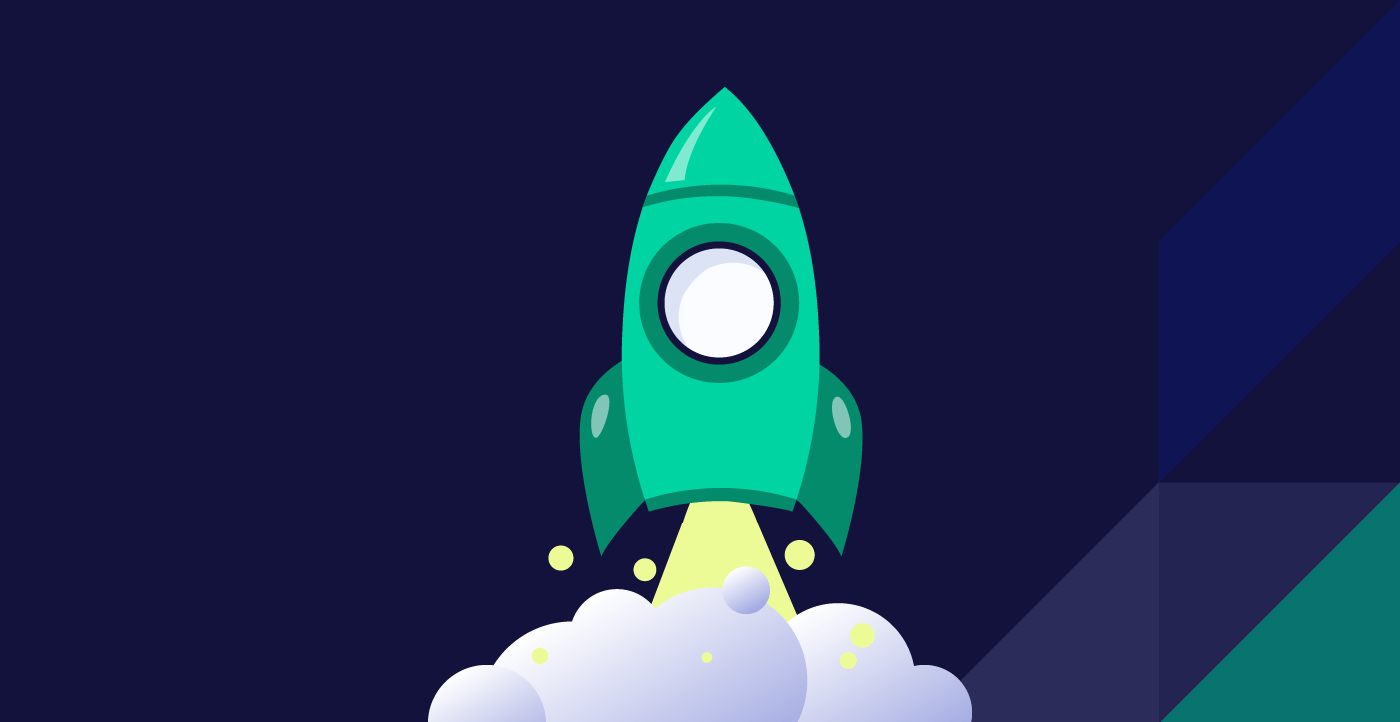 Today, we are grateful to announce a $33 million Series B funding. We are also excited to welcome phenomenal new partners1 to help us on our journey.
To put this round into perspective, M1 has previously raised a total of $21.5 million. With that money, we built a strong foundation for M1. We went from just an idea to a financial platform that combines commission-free automated investing, low cost borrowing, and an integrated checking account for spending. Several hundred thousand investors now use this platform to manage more than a billion dollars. This new funding round is more than 150% of all the money we've ever raised.  
This financing means more opportunities for M1 and a better platform for our clients.
---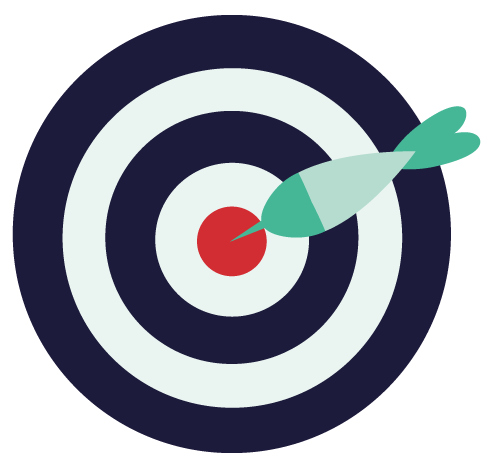 Our mission
We know that how people manage their money will have a significant impact on their quality of life. Building the tools to help people better manage and optimize their finances is motivating and rewarding work.
M1 is here to empower people to improve their financial well-being.
The money we raised will help us continue to live by this mission every day.
But this milestone is all thanks to clients like you. So, I want to share some thoughts on where we're going and what you can expect from the M1 team moving forward.
---
Where we're going
To execute on our mission, we are building a platform that offers personalized financial automation.
We start with "personalized" because your money is yours.
Your finances are unique to you. You have specific wants, needs, and goals with your money and your finances should reflect that. We put you in the driver seat because despite what other financial companies tell you, nobody cares as much about your money as you do.
When we say "financial," we mean all your finances.
How you invest, borrow, and spend is all intertwined. What you spend your money on determines how much is left over to invest. And how much you build up in investments will affect the amount and rate of your borrowings.
So, we're building a platform that offers all three aspects and smartly integrates them.
We embrace "automation" because we believe progress is achieved by doing more with less.
We believe you should be able to tell a platform, "this is how I want to manage my money." Then, every penny should be automatically and intelligently directed according to that custom plan.
By offering our platform solely through digital means, we cut expensive costs like retail locations and overpaid advisors so we can pass these savings onto you.
Embracing automation also lets computers and software do what they do best: execute the administrative aspects of your personalized plan. That way, you can spend the time setting your strategy, and the beneficial actions automatically happen by default.
You make your own decisions. We'll save you time.
---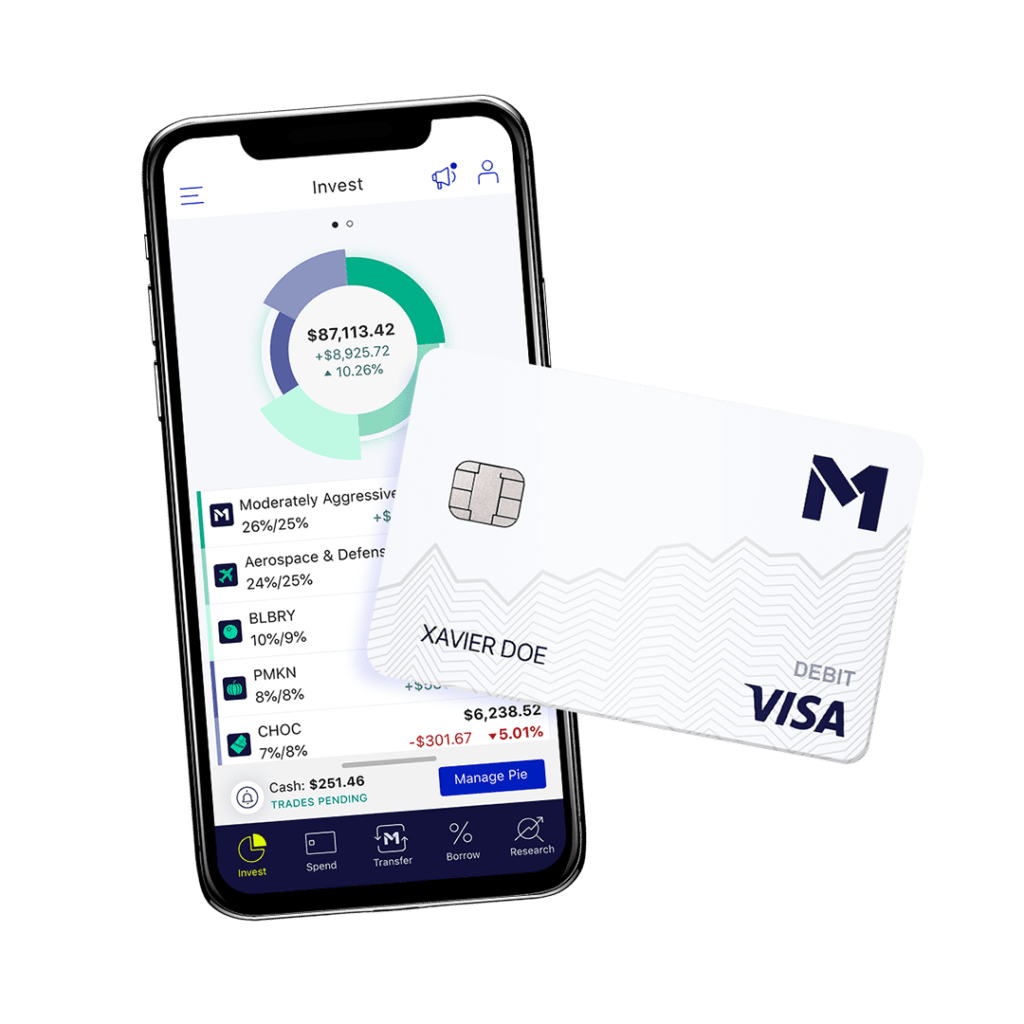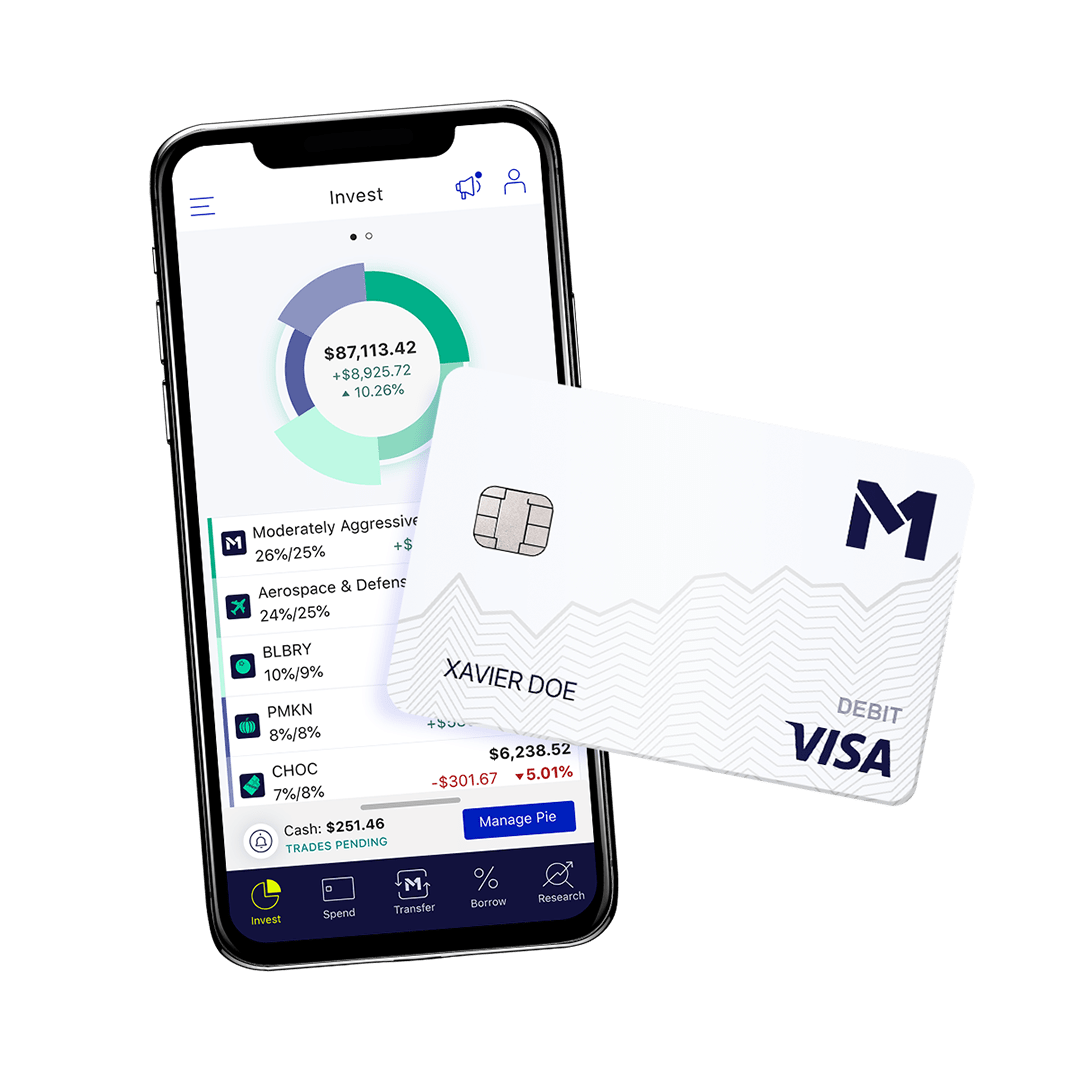 What you can expect
We've already built a strong foundation to support our financial platform:
You can invest for commission-free in a custom portfolio that dynamically rebalances with every cash flow according to your preferences.
We have a portfolio line of credit where you can borrow against your investments at rates as low as 7.25%2.
Finally, you can have an FDIC-insured checking account and debit card with available2 high-yield checking and cash back debit card.
This lets you replace your checking account, effortlessly sweep money into a custom portfolio of your choosing, and tap into low-interest credit whenever needed.
But we can improve on every single aspect of the M1 platform.
We are in the very beginning stages of personalized financial automation and have a long way to go. With this money, we'll be expanding on every aspect of the platform.
Without getting into too many product specifics, we have plans for the following:
More and higher quality information on stocks, ETFs, and the general market, so you can better evaluate and monitor your investments.
Alternatives for how you borrow money, always striving for flexibility and low rates.
Analysis on where your money is spent and ways to cut back, if saving more is your goal.
Additional automation across the platform.
Content that will make you think and aspire to become a smarter investor.
Improved usability and enjoyability of the platform.
Better communication through every touchpoint with M1.
Expanding our teams to help us make these improvements.
Our plans are laser focused on our mission of empowering people to improve their financial well-being, they push us closer to our vision of a personalized financial automation platform, and aim to help you potentially earn more while paying less.
---
Thanks
We know you have many options when it comes to your money. We're humbled you've chosen M1, and your support continues to inspire us every day.
Our team is committed to build the premier personal finance platform.
This money lets us expand on what we've done and deliver much, much more. We're proud of where we've come, but we're even more excited about our future.
I hope you share in our excitement. Thank you for joining us on this journey!
---
P.S. We want to use as many of our new funds as possible to build the best personal finance platform. Help us spread the word by sharing M1 with family and friends, leaving us a review, or following us on social.
Twitter • Instagram • Facebook
---
1 Our new investors include Left Lane Capital, Jump Capital, and Clocktower Technology Ventures. If you check out their sites, you'll realize why we're excited to have them on board.
2M1 Borrow base rate is 8.75%. A discounted rate of 7.25% is available to eligible M1 customers with an active M1 Plus subscription. Learn more about M1 Plus.
---
Disclosure: *Commission-free trading of stocks and ETFs refers to $0 commissions charged by M1 Finance LLC for self-directed brokerage accounts. Other fees may apply such as regulatory, M1 Plus membership, account closures and ADR fees. For complete list of fees, visit M1 Fee Schedule.