M1 Send Check: Behind the scenes of a physical product built in a digital world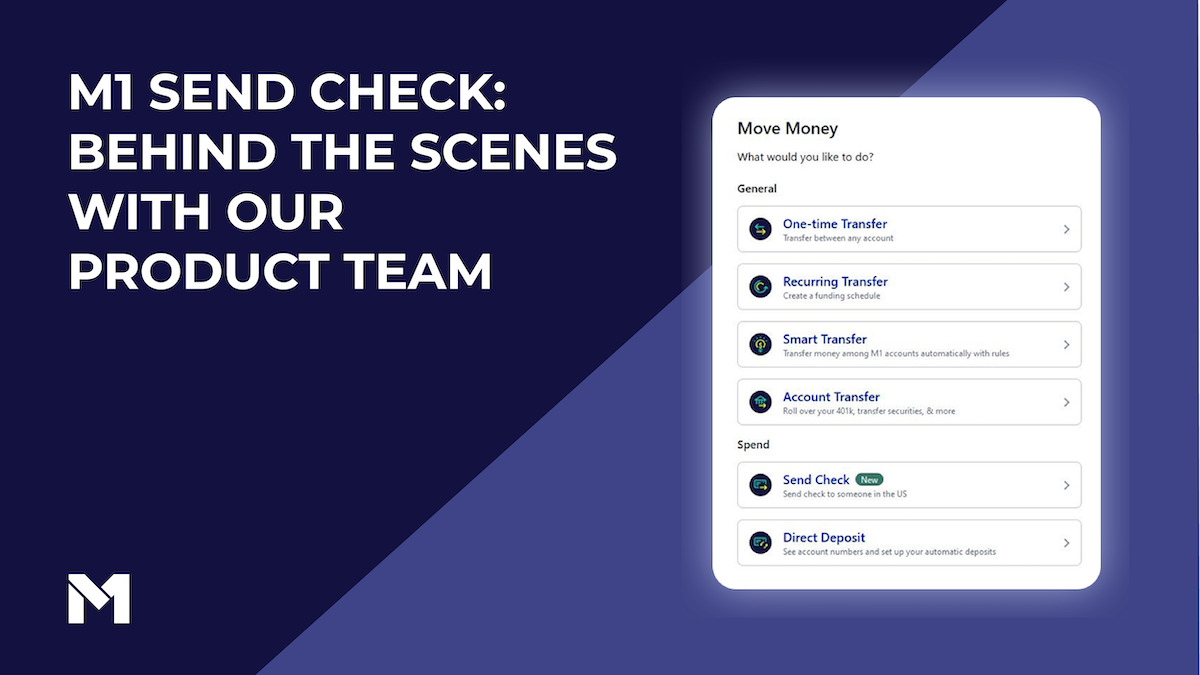 Allie Curry is a senior product manager at M1 Finance.
We've been building M1 for a few years now, growing our team, client assets, and platform. People always ask the Product team for a sneak peek into what we're building and how we're building it. The launch of our newest feature, Send Check, felt like the perfect time to give you a behind-the-scenes look.
This new feature, exclusively for M1 Plus members, will allow users to send physical checks from their M1 Spend accounts. Whether it's sending rent payments to your property manager, paying utility bills, or sending a birthday gift, Send Check lets you make the payments you need (even when you can't do it digitally).
Send Check has been months in the making. If you're wondering what it takes to launch a feature like this, the answer is:
• Thousands of Slack messages
• Testing, testing, and more testing
• Talking to clients about what they need
• A product team that's growing so fast that we might soon need name tags
So, as we launch Send Check, I felt inspired to share more about the process of developing and launching a new product at M1.
Product development at M1
Currently, I'm a senior product manager at M1, but I've been here for a while. I joined M1 in 2016 as the Lead Android Engineer after working as an engineer at several Chicago tech companies. Back then, there were just a dozen of us trying to build an easy-to-use platform that would help you manage your money, financial future, and well-being.
Since then, M1 has grown to over 200 employees, moved offices (a few times), gone remote in a pandemic, launched products like M1 Borrow, M1 Spend, M1 Plus, and made our platform free.
Our Product team has grown too, adding new product managers, engineers, designers, analysts, and a growing research team. Throughout launching Send Check, the Product team grew from 14 to 50+ people.
While a lot has changed at M1, one thing remains constant: we listen to our community of investors and build the products they need most.
How Send Check fits with our platform
Unlike many traditional banks, M1 is a single, seamless platform with multiple functions. It's not just a collection of financial products housed under one roof, M1 Spend. The whole of M1 is greater than the sum of its parts.
M1 Spend lets you manage your cash and transactions, integrating with M1 Invest and M1 Borrow to make money management even easier. Rather than having to set up appointments, make a trip down to the bank, and log in and out of several sites, you can simply log into M1 and handle your financial needs.
One of the critical questions we considered throughout developing Send Check was "How does Send Check relate to Spend?" The obvious answer is that you need a Spend Plus account to use Send Check, but we wanted to blend it seamlessly with the existing features. With Spend, the long-term goal has always been to present clients with a suitable replacement for a full-service bank. So, we had to prioritize getting a checking solution on our platform as soon as possible.

You needed physical checks from us
Our clients made it loud and clear: they needed physical checks. Our Client Success team heard this over the phone, we read it in reviews, and we even saw it from our clients on social media. While many people don't carry a checkbook anymore, physical checks are still a vital part of many people's financial lives—even in our increasingly digital world.
And there was external research to back this up. A few years ago, the Federal Reserve published a report estimating 14.5 billion check payments made in 2018.
Once we identified this need and decided to make Send Check a reality, it was time to put together a team of engineers and designers.
How we built Send Check
While we're innovating in an increasingly digital world, the physical world remains with a feature like Send Check.
Even though we haven't figured out a way to provide free lollipops every time you visit us (like a physical bank), we knew physical checks were a big part of working towards a full-featured banking product.

But paper checks presented a unique challenge for our team. 99% of the time, our team can test and resolve issues digitally. We always add plenty of time to test new features, products, and updates, but we added extra time for this launch.
---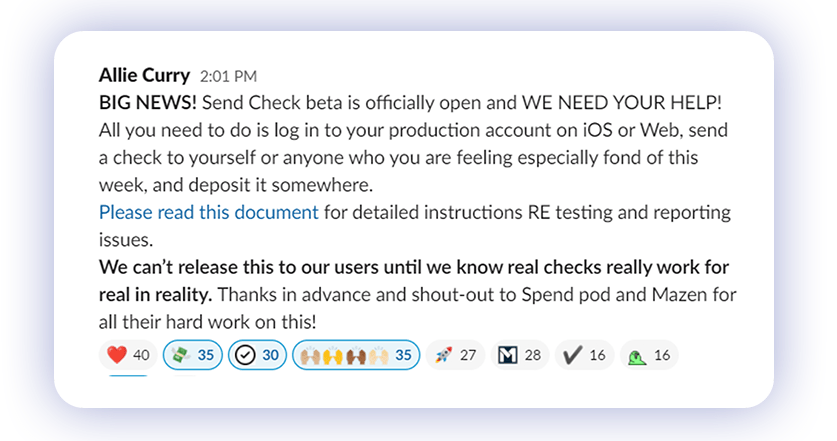 ---
We don't just build features and products and set them free. We actively use and improve them to make sure you get the highest quality experience possible.
The vision for Send Check
Another question we kept running into on this project was, "How can we be smart with automation?" So much of the M1 platform focuses on automation. This is evident in features like auto-invest, Smart Transfers, and dynamic rebalancing—Send Check won't be an exception.
In the future, you'll easily be able to pull up the information of the people you send checks to most often. We don't want you to have to look through old texts or address books. The information will be easily accessible in M1.
We also plan to add a recurring check feature within Send Check. This will allow you to set up a schedule and amount for any checks you regularly send. If you need to send rent to your property manager on the first day of every month, simply set up the rules on M1 and don't worry about forgetting a payment and racking up costly late fees.
The future of our platform
We're building a seamless, integrated personal finance platform that keeps wellness front and center. Being The Finance Super App™️ is about empowering our clients to take control of their financial future and wellness, so we're building the features and products that do just that.

While we've spent the past few months developing Send Check, it hasn't been our only platform initiative. Our Product team has been working on projects across our entire platform, including M1 Invest, M1 Borrow, M1 Spend, and our infrastructure. While I can't get into specifics yet, we'll share more updates soon.
It's all thanks to you
My favorite part of this job is seeing things that start as ideas in our Monday meetings grow into products you use to improve your financial well-being. It blows my mind to think about the growth of the M1 platform over the past few years.
This growth wouldn't have been possible without all of you. Your enthusiasm around M1 has led us from a handful of people trying to improve your finances and wellness to the most popular finance app in Illinois and Alaska.
Two states down, 48 to go. And in the meantime, Send Check is live!
---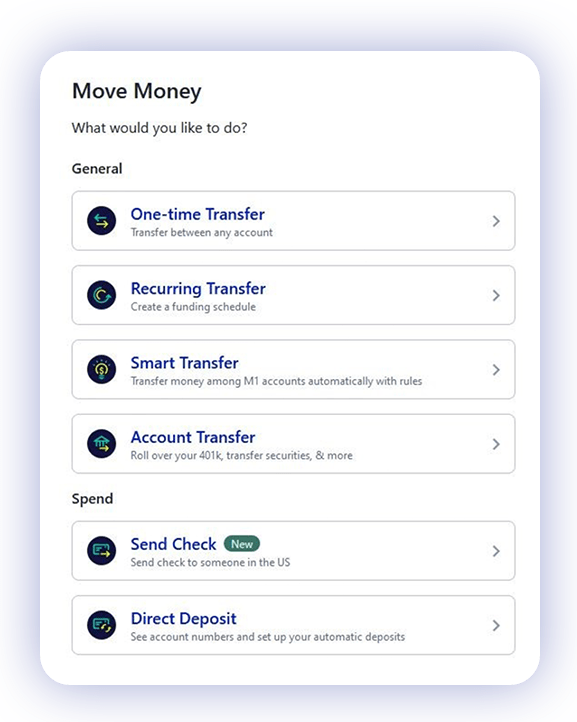 ---
M1 Plus members with Spend accounts can find Send Check under the "Transfers" tab by clicking the "Move Money" button.