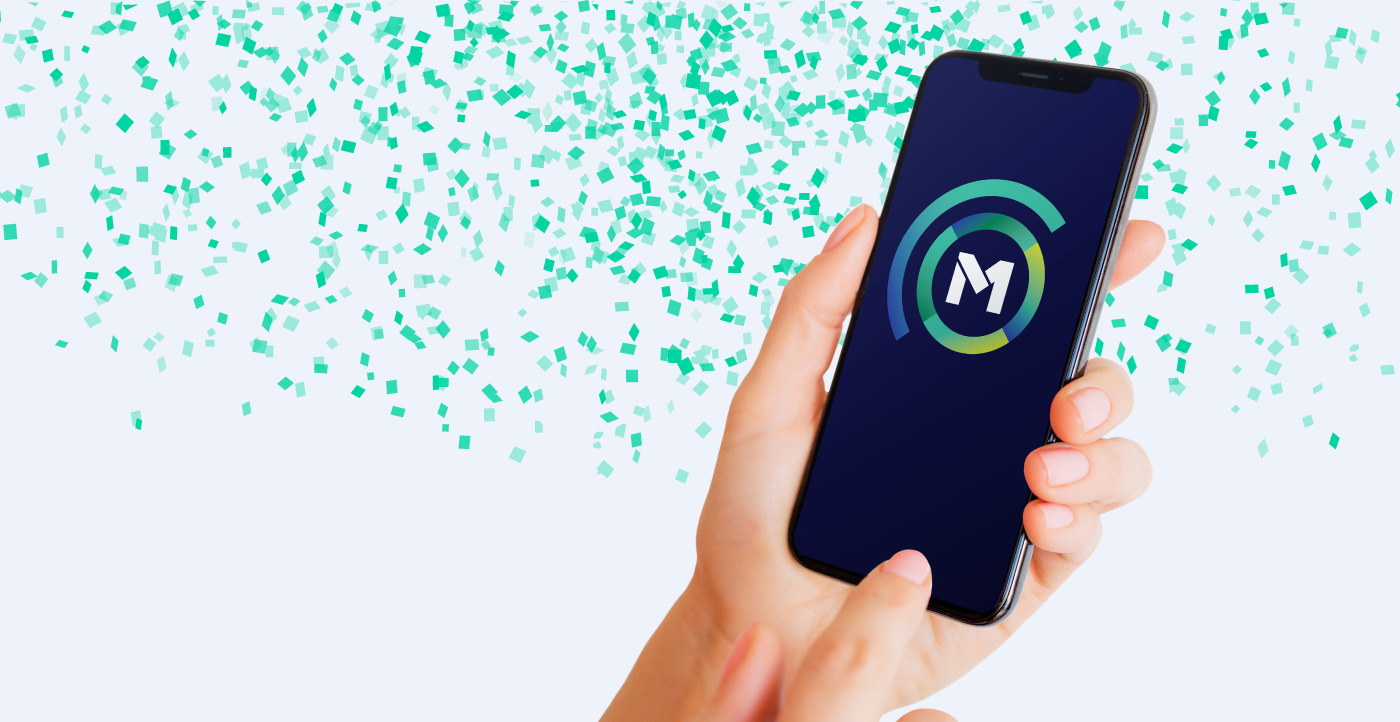 I'm happy to share that M1 recently passed an important milestone—our users now manage more than $1,000,000,000 on the M1 platform!
This $1B is made up of users like you entrusting M1 with your hard-earned dollars. We know you have many options on where to manage your money and are honored you've chosen us. Thank you for helping us reach this milestone.
Our journey here
Just a few years ago, M1 had exactly $0 on the platform and no one knew the brand. But we had two things: an audacious goal to create the best financial platform to help people manage and grow their money and a super talented team who believed they could make it happen.
Our first product was M1 Invest—a commission-free* automated investing platform. We combined the stock and ETF selection of an online brokerage with the automation and ease of a roboadvisor to create something better than either. And, we were commission-free* before it was cool. We then added M1 Borrow—a flexible and low-cost portfolio line of credit (something typically only available to the ultra-wealthy working with a high-priced advisor) to anyone with more than $10,000 in a taxable account. We are now rolling out M1 Spend—an integrated checking account with a high-yield and cash back on debit card purchases option to consolidate and simplify your finances.
The first dollar onto our platform was the hardest as we had to gain the trust of users in the midst of offerings from established industry giants. It took us over 18 months from launch for our users to add $100M; it took our users three weeks to add the latest $100M. This acceleration in our growth can be seen across our entire business. In January, a month of flat markets, our users' assets grew 21%. We also added more than 32,000 retail brokerage accounts in January, more than the ~25,000 E*TRADE opened during that month. Fun fact: E*TRADE spends more in marketing every five days than all the money we've spent in the lifetime of M1.
Getting to $1B puts us in an elite group of fintech peers that have hit this milestone, including Robinhood, Betterment, Wealthfront, Personal Capital, Acorns, and Stash. I'm especially proud to say that we reached this milestone with significantly less capital raised than all of them and in a shorter amount of time from launch than all except Robinhood. We are excited to grow alongside them as we challenge and disrupt the status quo of money management.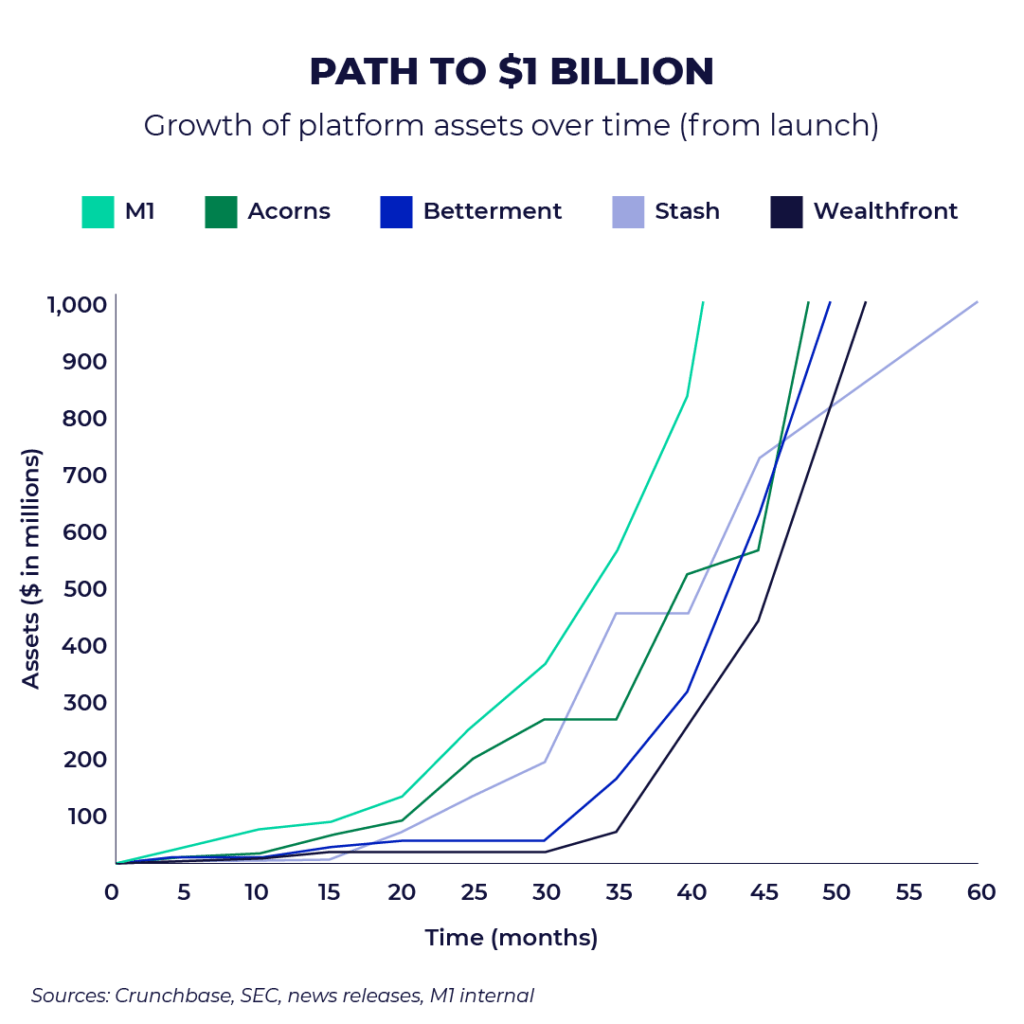 Where we go now
I'm incredibly proud of the M1 team and what they've accomplished, and I'm thankful for our users who use M1 to grow their wealth. But I'm even more excited for what the future holds. Getting to $1B is simply an early step towards something much larger and greater.
People in the US oversee tens of trillions of dollars of financial assets, the vast majority of which is held in outdated solutions that charge too much and return too little. Unfortunately, the signaling of the recent industry consolidation is the established firms stating, "innovation is done, all products will be identical, and the best we can do now is remove operational costs."
I wholeheartedly disagree with this perspective. I believe we are just at the cusp of what's possible with money management. Most consumer applications in nearly every facet of life are unbelievable. In personal finance, they're still underwhelming. Better options do exist, and at M1 we're excited to be building upon the premier next generation offering.
M1 will combine the best of digital investing, borrowing, and banking into an integrated platform where the whole is greater than the sum of the parts. By combining how you Invest, Borrow, and Spend money, M1 can help automate and optimize across your entire financial life. Over time, the M1 app should feel like there's an army of financial experts working in the background to understand your unique goals and automatically optimize for the ideal outcome. Yet, all of this should be delivered in an intuitive, enjoyable, and low-cost application in the palm of your hand.
We have been heads down building the foundation to enable that vision. We can now open the necessary regulated accounts that enable you to move money as needed. This is where things will get interesting, as we make the platform more intuitive to use, provide more analytics and insights to enable you to be even smarter with your money, and automate intelligent behavior as the default. Thanks to your usage and feedback, we have tons of ideas and plans on how to make the M1 platform more powerful and robust, while still remaining intuitive and enjoyable to use.
We are grateful you have joined us on this journey, and we're excited to continue it with you.
How you can help
We have an active fan base who often reach out asking how they can help. There are two ways:
The biggest endorsement is through your use of M1 to manage your money. If you have accounts held elsewhere, you can consolidate them on M1. If you only use Invest, try Borrow, Spend or consider a Plus membership.
Help spread the word of M1 by telling a friend. You can do this through sharing your referral link, sharing a Pie, or writing a positive review online or via the app stores. Or you can just tell them when you are talking to them.
Disclosure: *Commission-free trading of stocks and ETFs refers to $0 commissions charged by M1 Finance LLC for self-directed brokerage accounts. Other fees may apply such as regulatory, M1 Plus membership, account closures and ADR fees. For complete list of fees, visit M1 Fee Schedule.