Summary:
M1 Finance makes money in several ways even though we do not charge management fees or commissions. The ways we make money are common revenue streams for most financial services companies.
We make money from interest – earning interest on cash in different forms, earning interest on lending securities, and interest on margin loans (via M1 Borrow). We also make money when people use our soon-to-be-released card, from market makers who execute trades, and through the annual fee on our optional M1 Plus membership.
Most online brokerages only make 10-30% of their money from commissions and management fees. We decided to build our business exclusively on the other 70-90% and reduce our costs versus competitors with technology.
Because M1 offers free investing, we often get the question, "So, how do you make money?"
We love answering this question, as we've published here on our blog when we announced we were eliminating fees. But people like more detail, so we wrote this article to explain—in more depth—how we make enough money to support a growing and vibrant business (and why a lot of our competitors don't need to charge many of the fees they do).
Interest on cash
The first revenue stream is the easiest to understand. We make money in the same way retail banks make money. Banks take people's money as deposits in a checking or savings account. The banks then use this money to fund loans where they charge interest. The difference between what banks earn on their loans and what they pay on deposits is their revenue, called "net interest margin." For all U.S. banks, net interest margin currently averages 3.35%. Nowadays, an advisor charging 1% to manage your money is seen as unnecessarily high, but banks basically manage your cash for 3.35%.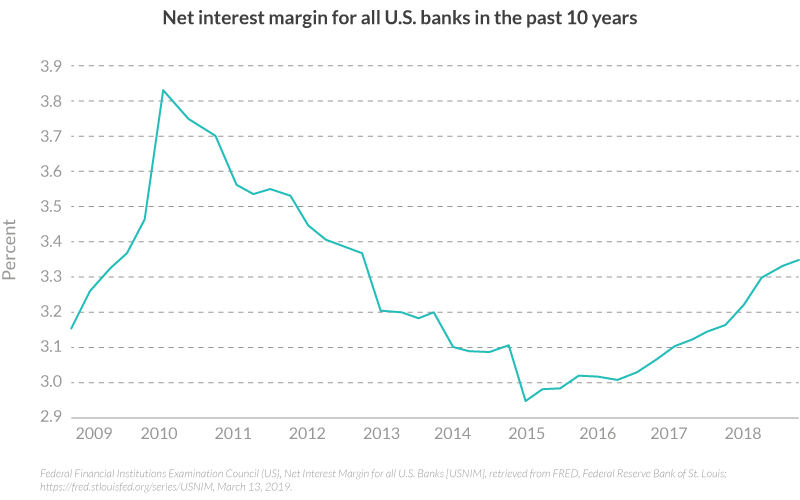 When M1 customers hold cash on our platform, we can lend it out. Since the cash needs to be available at a moment's notice to either withdraw or make investment purchases, we are primarily lending the cash to banks on an overnight basis. The amount we receive tracks the Federal Funds rate, the interest rate set and controlled by the Federal Reserve.
Our customers hold less cash on M1 than people typically do on competing brokerages for a couple reasons. First, we use fractional shares so money can more efficiently go into the investments our customers want. Second, the default option for M1 customers is to automatically invest cash anytime the balance goes above $10. But our customers do still hold cash a variety of reasons. They may be waiting to make an investment decision or are holding cash as an asset within their investment portfolio. We lend out this cash as one of our revenue streams.
Interest on lending securities
In addition to lending cash held on M1, we can also lend out securities owned on M1. Brokerages, like M1, lend out securities to enable short selling. To short a security, a short seller must first borrow the security and then sell it on the open market. When they want to close out their position, they'll buy the security on the open market and return the shares to the lender. This investment strategy has created a large marketplace to lend and borrow securities and is quite common.
When lending the security, the lender still owns the security outright. They own all economic interest, both from the movement in stock price and through dividend payments. Furthermore, the lender can reclaim the security at any time. This means lenders do not lose the ability to sell whenever they want.
When M1 lends out securities, we can make money in two different ways:
The borrower must pay a certain interest rate on the value of securities they borrow. This interest rate is highly variable and fluctuates daily based on any given security's demand for borrowing and the supply available.
To reduce the lender's risk, the borrower must give the lender 102% of the value they borrow in cash to collateralize the loan. This amount is reestablished nightly so if the security price goes up, the borrower must increase the amount of cash to continue borrowing. We can make interest on this cash in the same way as described above.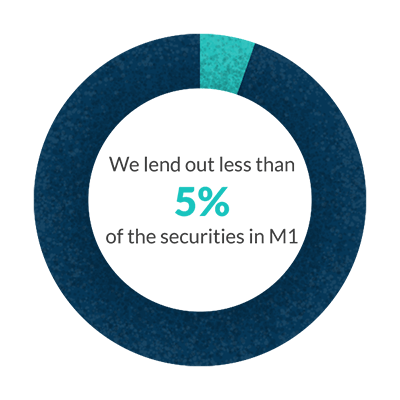 In reality, only securities in high demand are lent out and they account for less than 5% of the total amount we have on the M1 platform. But there are market participants willing to pay attractive interest rates to borrow these securities on a short-term basis. We make use of this fact and lend out a portion of securities held on M1.
M1 Borrow: Lending
M1 Borrow gives you access to a flexible and low-cost line of credit. You can borrow using your portfolio as collateral, letting you tap into the liquidity of your money while staying invested, also known as portfolio margining.  
This is a tax advantaged way to borrow money; you do not have to sell any securities and pay taxes on any capital gains you may have. Also, you can often deduct the interest expenses against your investment income on your personal taxes1. The other advantage for customers is that there's no additional paperwork, credit check, or approval process—the money is available on demand.
The current rate for M1 Borrow is 3.50%—subject to change as short-term interest rates change—which is the rate a customer pays us back for every dollar they borrow, and customers can borrow up to about a third of their total assets (the sum of all their stocks, funds and cash) without any lengthy process or paperwork2. This rate is lower than most mortgages, HELOC (home equity line of credit), auto loans, and nearly every other type of loan out there. Despite being a low rate, we are still able to make money as it is more than our cost to provide this capital.
M1 Spend: Cash and interchange
M1 Spend is a checking account and debit card integrated into the M1 Finance app. With it, you'll be able to direct deposit into M1, pay bills from M1, and use the M1 Visa® Debit card anywhere Visa is accepted.
When M1 Spend launches in 2019, we will have two additional revenue streams available to us:
Interest from cash balances. People will hold cash within the M1 Spend account to cover day-to-day purchases, something we can monetize in exactly the same way we do cash in the M1 Invest account.
Interchange fees. We receive a small percentage of the transaction value, called interchange, anytime you use your M1 Visa® Debit card. The fees are paid to M1's bank to cover handling costs, fraud and bad debt costs and the risk involved in approving each payment.
Payment for order flow
When we buy or sell a security on behalf of our customers, we have choices where to send the order to find someone for the other side of the trade.
The major exchanges make a market for the securities and publish the highest price someone would be willing to pay for the security (the bid) and the lowest price someone would be willing to sell a security for (the ask).
The bid is lower than the ask and the price difference between the two is called the spread.
Exchanges make money in part through matching buyers and sellers at the ask and bid respectively and pocketing the spread.
There are alternative, off-exchange markets that specialize in electronic market making. These players try to match buyers and sellers between the bid and the ask, effectively lowering the spread. By doing so, they'll make less than the spread but it's still a small amount on every transaction they match. Since they only make a small amount, they want to get a significant amount of volume. Volume also increases the chance they'll be able to match orders.
As a result, these players pay brokerages like M1 a tiny amount per share to execute using their services rather than other exchanges. In return, they'll provide better pricing for our end customer and make a small amount for the effort. These exchanges actually compete in the amount of price improvement they give over the best bid and ask available.
This revenue stream is a bit of a bogeyman in our industry, but unnecessarily so. These players add substantial liquidity to the market, making it much more likely you'll be able to buy or sell exactly when you want. Also, since they came around, spreads have decreased substantially. While most people don't see the spread as an outright fee they're charged, it is an implicit cost anytime you buy and then sell a security. Smaller spreads mean your trading costs are lower. Overall, we view this structure as a net win for the customer and we do take this payment, which averages roughly $0.002 per share.
M1 Plus: Membership fee
When we announced M1 Spend, we also announced M1 Plus. M1 Plus is a membership program that gives you benefits across M1 Invest, M1 Borrow, and M1 Spend. You'll get additional trading options, a discount on M1 Borrow, 1.5% interest on cash in your M1 Spend account, and 1% cash back on your M1 Visa® Debit card. The idea is that for an annual fee, we will effectively rebate the majority of money we make from all of our services. Anyone who uses the entirety of the M1 service to a modest degree will save significantly more than the cost of the annual membership. This membership fee is another way we make money.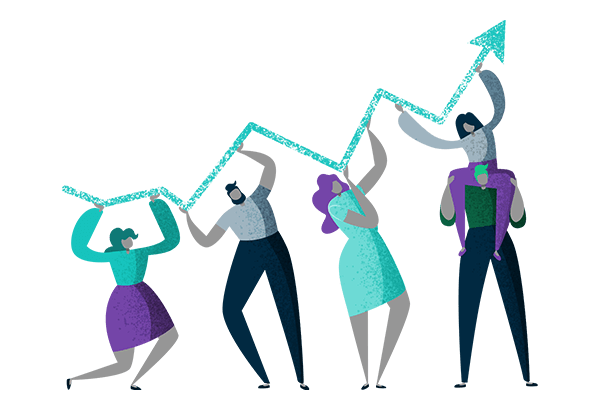 The takeaway
We make money in a handful of ways that add up to support our growing company without relying on customers to pay management fees or commissions. Nearly every financial service company makes money in all the ways outlined above, whether they charge or not. We simply decided these revenue streams were enough and we don't need to charge you as well.
We have no problem with a company looking to make money. Consumers pay for things when they get more value than it costs, and companies generate revenue from the difference between what they charge and what it costs to produce. It's a symbiotic relationship between companies and their customers. Things tend to ebb and flow between who gets the better end of the deal.
We believe in financial services, the pendulum has swung too far in the benefit of financial services companies who have maintained high profit margins for a very long time. We think it's about time things swung back towards the consumer. To this idea, Jeff Bezos famously said, "your margin is my opportunity."
Progress is driven by some combination of a better product at the same price or the same product at a better price. At M1, we strive to offer a better product at a better price. As a result, we removed the fees customers pay and decided to build our entire business on other revenue streams. We'll make up for this loss in potential revenue by making our business far more efficient and lowering the costs of operating the business. We'll do this by replacing high salaried financial personnel with the latest and greatest in technology and automation. As a result, you will get a better service at a lower cost and M1 will grow on the revenue streams mentioned above.
For more insights into M1 as a company, read the letter sent to all M1 customers, "Our Free Anniversary"

Brian Barnes
Founder and CEO, M1 Finance
---
Consult your financial, tax, or other adviser to learn more about how these benefits (or any limitations) would apply to your specific circumstances.The availability of tax or other benefits may be contingent on meeting other requirements.
To qualify, customers need a taxable account (IRAs do not qualify) and a minimum of $10,000 total account value. For more information, read our FAQs.