5 ways M1 changed since our first billion in client assets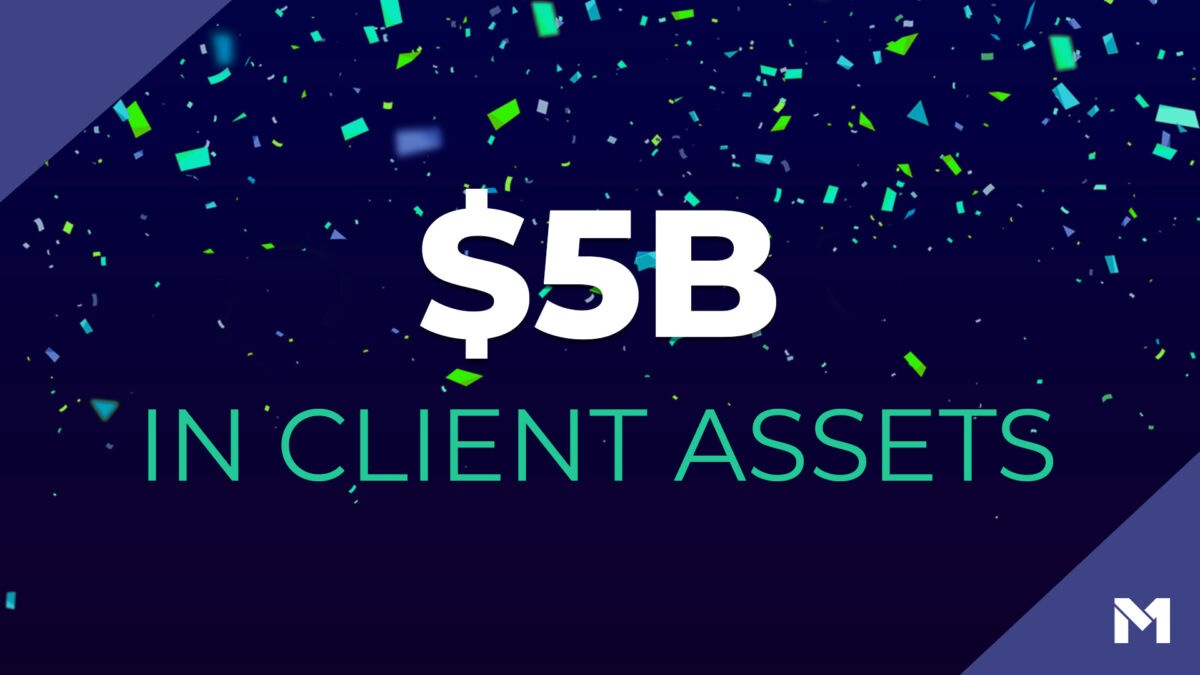 In February of 2020, we hit $1 billion in client assets. Today, we hit $5 billion.
With the support of clients, investors, and a growing team, we've come a long way since our first billion. So, to celebrate, we wanted to share the five ways M1 changed over the past year and a half:
We redesigned our platform.
We launched new products and features.
We increased our funding.
We grew our team and invested in infrastructure.
We doubled down on financial education and wellness.
---
1. We redesigned our platform.
After our first billion, our team gave the M1 platform a makeover. The design overhaul introduced improved accessibility, dark mode, streamlined workflows, and a cleaner interface.
---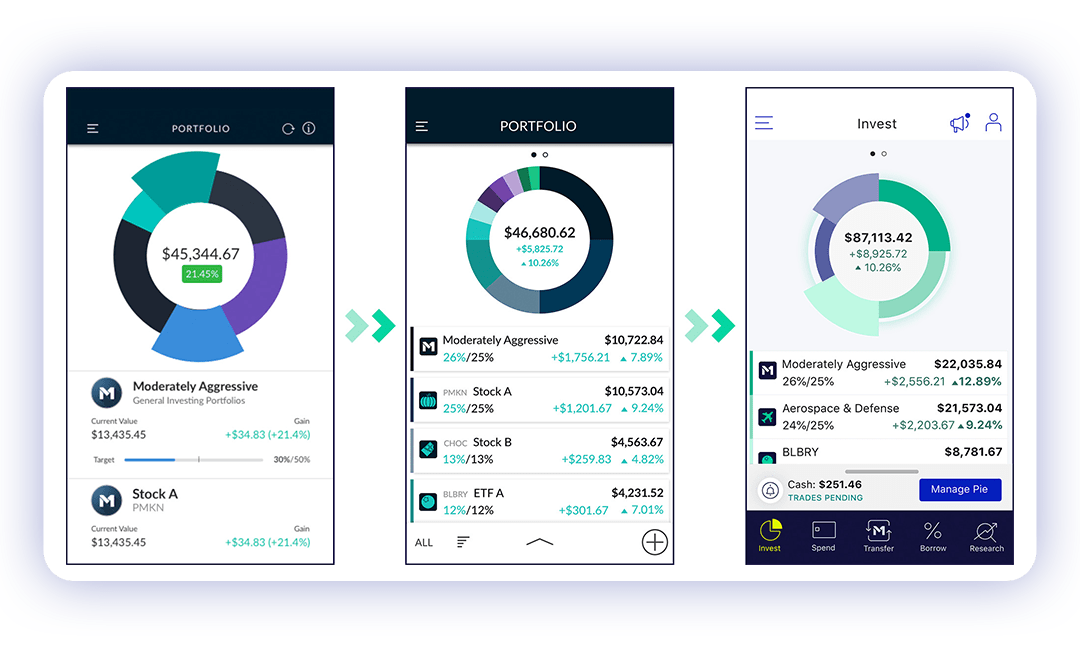 ---
Since the beginning, we wanted to create an experience that made it easy for our clients to track and update their portfolios, manage their finances, and tap into the credit available to them. With our re-design, we did just that by making M1 the first truly investing-friendly app.
---
2. We launched new products and features.
Our goal has always been to be the smartest all-in-one solution for your finances. We challenge ourselves to bring you the private banking experience with fewer fees, less stress, and more control. As we grew from $1 billion in client assets to $5 billion, we developed new features and products that pushed us closer to that goal.
---
M1 Borrow improvements
After our first billion, we made three major changes to M1 Borrow, our low-cost portfolio line of credit. We added automated payback schedules and simplified the borrowing process so you can direct loan proceeds wherever you want.
And we reorganized. We updated the look and feel of the Borrow tab to make it easier to navigate, and we consolidated the Transfers tab so you could see all your money movements in M1.
---
Launched M1 Spend
After releasing our Borrow improvements, we officially released M1 Spend from beta. The FDIC-insured checking account meant more flexibility for our clients when it comes to managing and growing their wealth.
For M1 Plus members, it meant high-yield checking with a 3.30% APY* and 1% cash back on qualifying purchases with the M1 Spend Visa® debit card.
---
Upgraded M1 Plus
Introduced Smart Transfers
After doubling our client assets to $2 billion, we introduced Smart Transfers. We know how much our users value their time. Smart Transfers save time and stress through automation. They let M1 Plus members automate their money movements according to their needs, with threshold-based rules connecting M1 accounts.
---
---
Launched Send Check
Our engineers and operations associates were also hard at work creating Send Check. This feature, exclusively for M1 Plus members, allows users to send physical checks from their M1 Spend accounts. Whether it's sending rent payments to your property manager, paying utility bills, or sending a birthday gift, Send Check lets you make the payments you need (even when you can't do it digitally).
---
Added Custodial Accounts
We believe in building healthy habits at an early age. That's why we added Custodial Accounts to our product suite last February. With Custodial Accounts, our clients could open an Invest account for their child, grandchild, or any other minor they wanted to help kickstart their financial journey. Exclusively for M1 Plus members.
---
Announced the Owner's Rewards Card by M1
Most recently, we announced our newest product: the Owner's Rewards Card by M1, the credit card designed for investors. Designed with our values in mind, the Owner's Rewards card lets you earn like an owner. Earn 10%, 5%, or 2.5% cash back on purchases** with select brands in your eligible portfolios—and 1.5% cash back on everything else.
Using M1 automation, your cash back can be reinvested into your portfolio for continued growth. Applications for the Owner's Rewards Card launch this fall.
---
---
3. We increased our funding.
We didn't only launch products and features since hitting our first billion in client assets—we ran through the alphabet raising series B, C, D, and E rounds of funding.
Over the last year and a half, we've been fortunate to raise over $300 million from top-tier investors like Left Lane Capital, Coatue, and Softbank. These investors believe in our mission to help people improve their financial well-being. The growth has been surreal.
But raising money has never been the end goal. It's what we do with it that matters most. That's why we immediately reinvested it into growing our team and building out our infrastructure.
---
4. We grew our team and invested in infrastructure.
We have added new team members almost every week, scaling our Client Success (support), Engineering, Compliance, Product, Operations, Business, and Marketing teams. And, we committed to stronger diversity, equity, and inclusion efforts while doing so.
With a larger team, we've built more features, improved our tools, and better served our clients. Our engineers improved our internal infrastructure, our Product team addressed more client needs, and our Operations associates improved dozens of processes.
We stand for extreme ownership, integrity, and a growth mindset. Keeping with our values, we listened to client experiences and improved them. We tripled our Client Success team, launched our 24/7 Instant Help chatbot, and completely overhauled our Help Center.
With our over $300 million in funding, we have aggressively reinvested back into the company. Every dollar has gone towards improving our products and the client experience.
---
5. We doubled down on financial education and wellness.
Our mission has always been to help people improve their financial well-being. Alongside our platform improvements and fundraising, we've created more resources to help self-directed investors learn and grow their wealth, no matter where they are in their financial journey.
We launched a weekly client-exclusive newsletter, wrote dozens of informational blog posts, and partnered with known financial educators and personalities.
---
Our next $5 billion
From the start to our first billion and now our fifth, we have always remained focused on our end goal: to help people improve their financial wellness and become The Finance Super App.
So, our work doesn't end here. We're actively developing new features and improving existing ones. While we've made a meaningful dent in our mission, we know there's much more to do.
Thank you for the support and feedback. $5 billion in client assets is a massive milestone, and we're excited to continue reaching many more. Be on the lookout for more M1 news as we continue to grow and improve.
---
*No minimum balance to open account. No minimum balance to obtain APY (annual percentage yield).
**Credit Card not available for US Territory Residents. Review card disclosures for details, disclosures will be accessible once credit card applications are made available and are subject to change. The Owner's Rewards Card by M1 is a credit card Powered by Deserve and issued by Celtic Bank, a Utah-Chartered Industrial Bank, Member FDIC.