Behind our Series C: how a passion for personal finance led to the next-gen fintech platform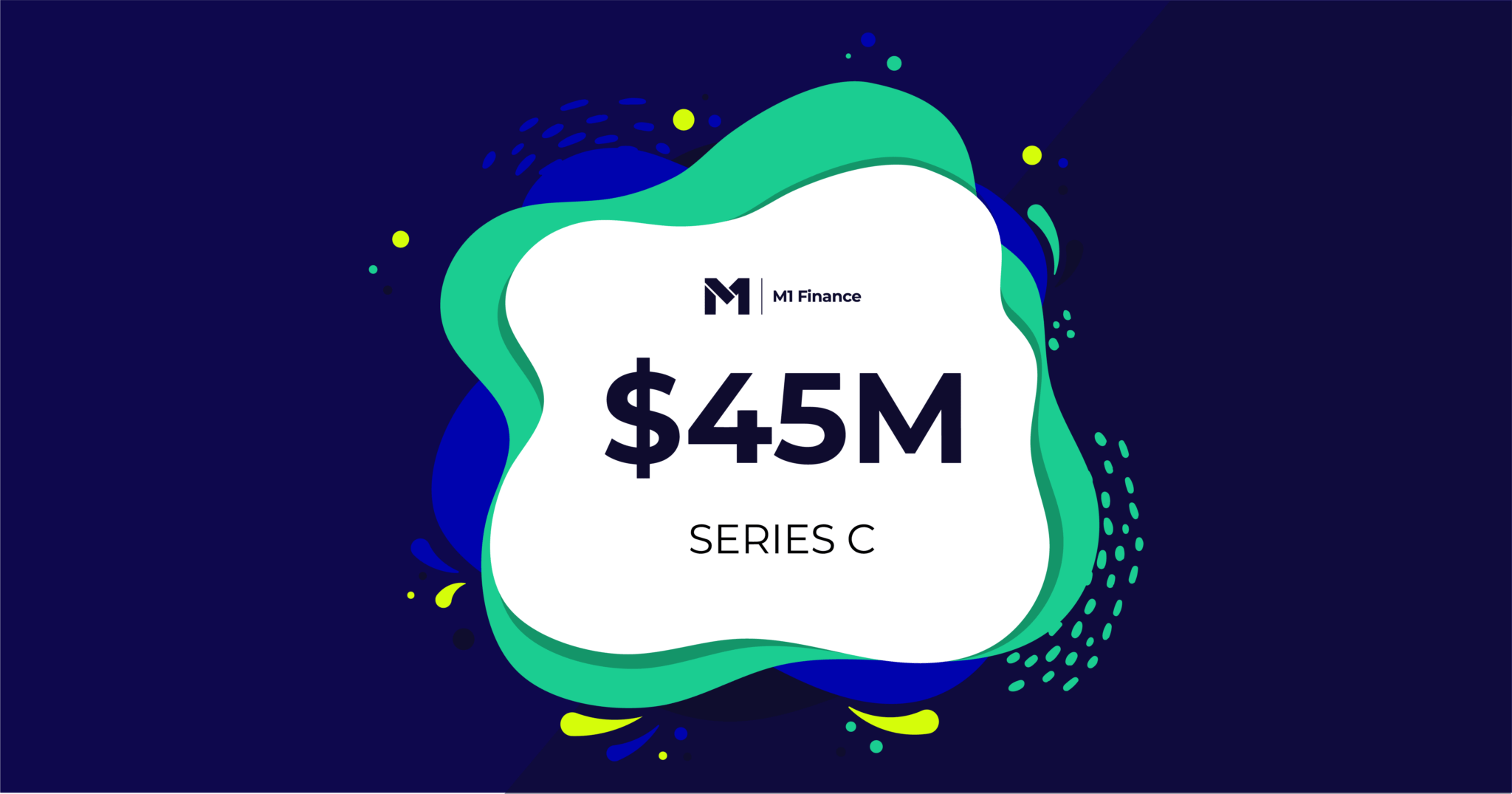 We raised our Series C: a $45 million round of funding led by Left Lane Capital. You can read the full press release here if you're into those. But I wanted to share what this means for you, our future, and the future of personal finance.
I've been a personal finance nerd since I was young.
It started when my parents showed me a brokerage account and introduced me to investing. They taught me that behind every ticker was a company that operated in our complex world.
It was my job as an investor to project how a company would perform. If I solved this fuzzy puzzle, I could make money.
I was hooked.
Investing became a hobby, and I soon realized it was only one aspect of money management. You also need to earn it, may need to borrow it, and you'll ultimately need to spend it.
I loved thinking about all aspects of money management. And, I was learning about it early.
---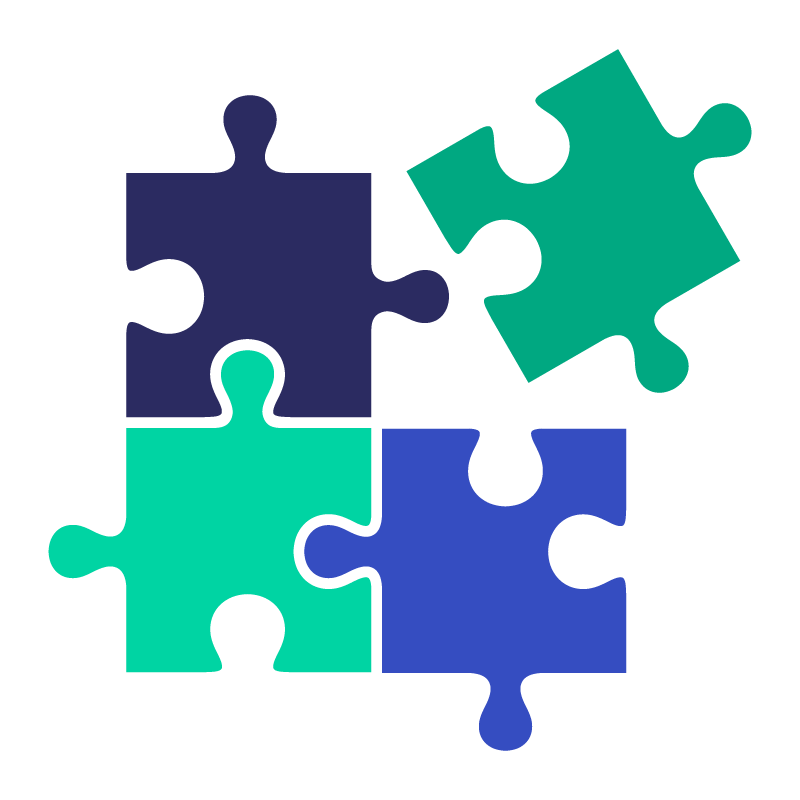 ---
Financial well-being is fundamental to overall well-being
My passion for personal finance led me to realize something I think about daily: your finances are a big deal.
But there's this misconception that the money itself matters. It doesn't.
Money is solely a means to an end. It's about providing comfort, safety, and happiness – your well-being. This doesn't just happen at the Warren Buffet level.
I picture financial well-being through a model like Maslow's Hierarchy of Needs, which is a theory in psychology about well-being. The theory says needs lower down in the hierarchy must be satisfied before people can address anything higher up.
This is the pyramid we keep in mind at M1:
---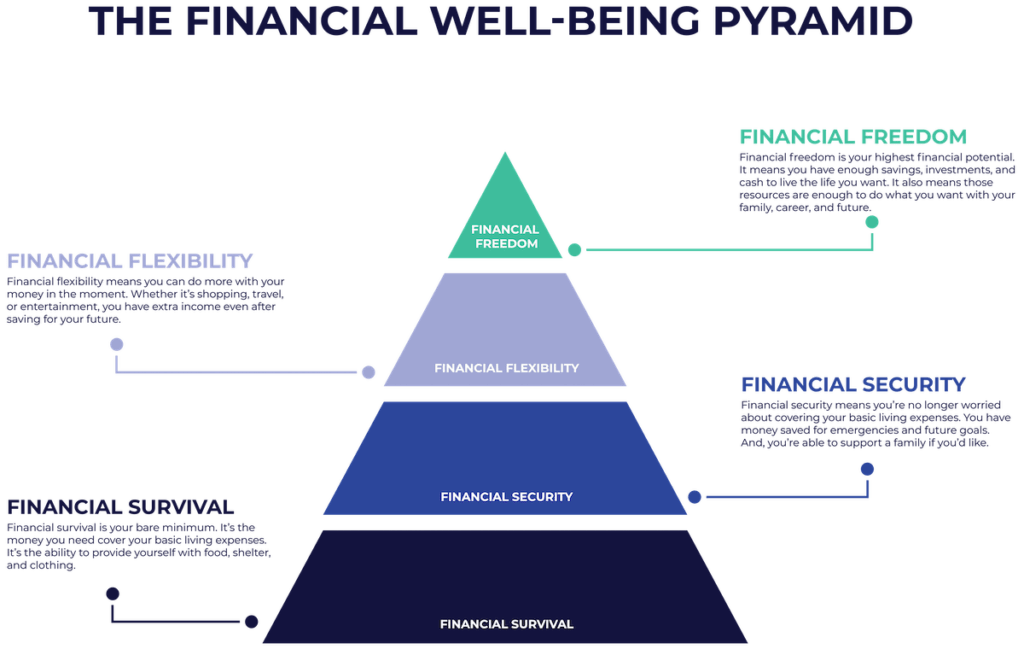 ---
At the most basic level, you exchange your time, skills, experience, energy, and creativity for money and benefits (and hopefully, personal fulfillment). This is the contract you enter with your employer or clients. Then, you use that money to fill your needs in order.
Financial survival
Financial survival is your bare minimum. It's the money you need to cover your basic living expenses. It's the ability to provide yourself with food, shelter, and clothing.
Financial security
Financial security means you're no longer worried about covering your basic living expenses. You have money saved for emergencies and future financial goals. And, you're able to support a family if you'd like.
Financial flexibility
Financial flexibility means you can do more with your money at the moment. Whether it's shopping, travel, or entertainment, you have extra to enjoy even after saving for your future.
Financial freedom
Financial freedom is your highest financial potential. It means you have enough savings, investments, and cash to live the life you want. It also means those resources are enough to do what you want with your family, career, and future.
Your finances touch every aspect of your life. They influence your experiences, your relationships, your future.
Improving your finances means improving your life.
---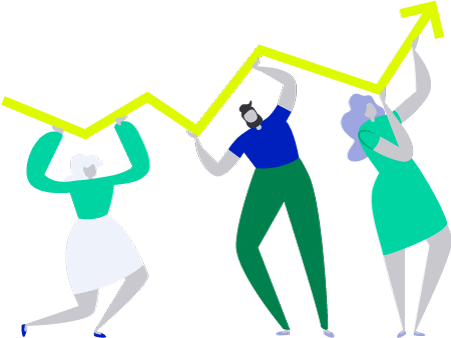 ---
The rise of The Finance Super App
That pyramid is why I started M1: to empower people to improve their financial well-being. That, and make personal finance easier, simpler, and smarter.
We're doing this by building The Finance Super App. We've come a long way, and it all started with M1 Invest.
When we launched M1 Invest in 2015, smart investors noticed.
Instead of trying to control headaches from complicated interfaces, investors could control their money the way they wanted through Pies. It was an intuitive, new way to visualize your portfolio.
From day one, we let investors build custom portfolios of stocks and ETFs down to the fractional share. With advanced automation, investors could automatically make their money work for them.
As we grew, so did our perspective on what it meant to empower you to manage your money.
So, we made our platform free. It started a race as other brokerages rushed to do the same.
We moved quickly. In 2018, we introduced M1 Borrow, our low cost, flexible portfolio line of credit. From there, we launched cash management (M1 Spend) and unleashed our premium membership, M1 Plus, so we could offer even more perks.
Investors were making the most of their money, moving millions on our platform each day.
Others were making the switch to M1, coming from brokerages like Charles Schwab, Fidelity, Wealthfront, and Betterment*:
"I tried a number of different brokerages, but it wasn't until I found M1 Finance that I truly felt I had found a platform that really fit my needs." – Alex G., NY
"M1 Finance does everything I want, and then some. Every time I open the app, I am blown away at the fact that an app can have such an effect on one's life." – Quinten L.W., WA
Smart investors continued to join by the thousands. Many even saw the light: they left day trading behind and incorporated long-term investing into their personal finance stacks.
We hit our $1 billion in assets under management (AUM) in February of 2020. We raised our $33 million Series B, continued to build, and six months later, we hit $2 billion in AUM.
Weeks later, we introduced Smart Transfers, a new capability that lets you put every available dollar to work how you want by setting threshold-based rules in your various M1 accounts.
Today, we're proud to empower over 500,000 self-directed investors in their wealth-building journey.
---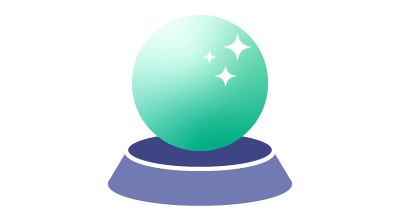 ---
The future of M1
With memory lane behind us, you may be wondering why we raised a Series C so close to our Series B.
Left Lane Capital officially partnered with us in June, when our Series B closed. After joining, their excitement for our mission and vision grew – and so did our platform.
Left Lane Capital saw what we were doing with our Series B funds and decided to help us pursue our goals in a bigger, better, and faster manner.
We're here to empower a new world of personal financial well-being through a simpler, smarter, stronger platform. With more funds and the opportunity to continue working with people we know and trust, we can expand what we do for you and your money.
We're not just stepping on the gas; we're now on a rocket ship. Here's what you can expect:
1. It's all about the client experience.
When we say we're here to empower you, we're serious. We're focused on improving the M1 experience. That means investing in things like client support, client success, content, and other programs to help you make the most of your money.
2. More products, more features, more power in your pocket.
If the timeline above felt like a whirlwind, we'll have plenty more to share in the coming months. Although we don't publicly publish our roadmaps, we'll give you a hint: it starts with even more capability with Smart Transfers.
3. Double the team.
Our Chicago-based team will double in the next 12 months! Each department will welcome new faces from different backgrounds as we work towards our mission.
---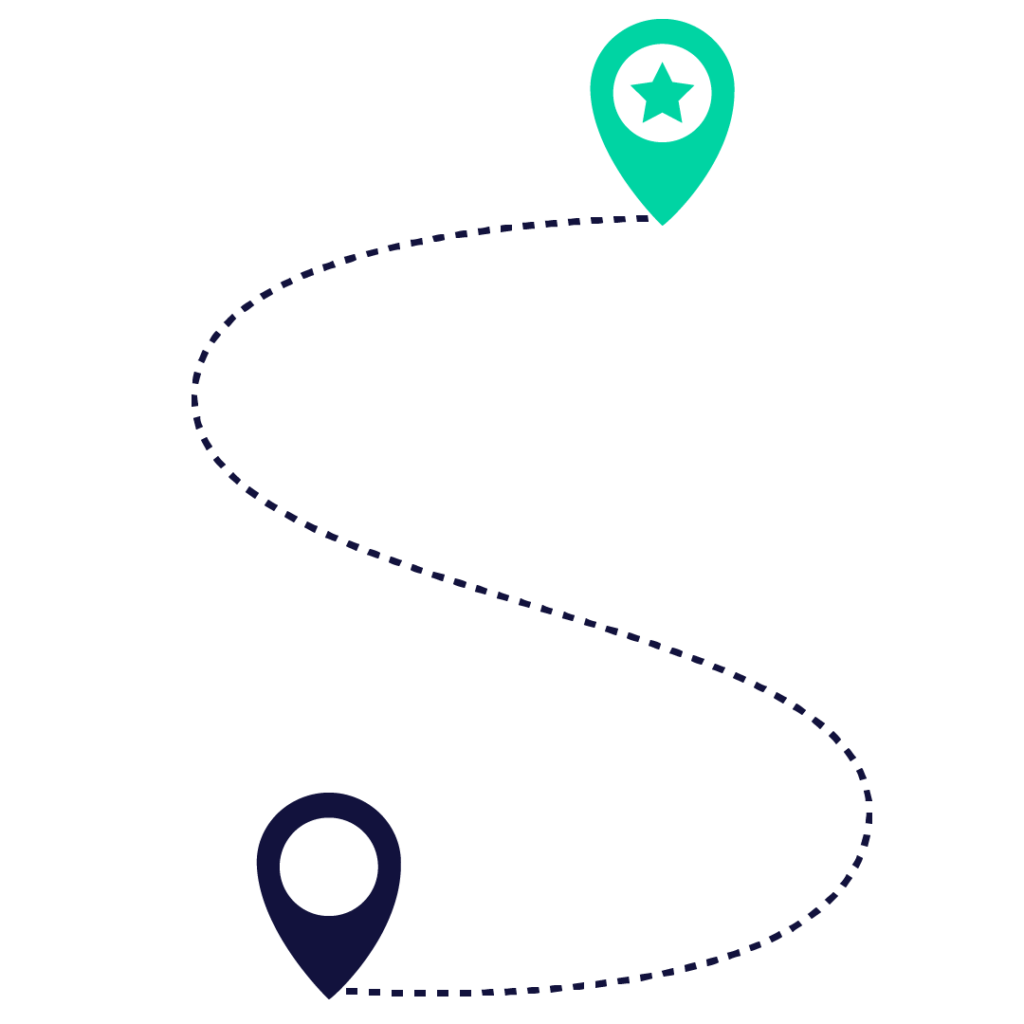 ---
The road ahead
Our path forward is intentional. We're investing every dollar into improving and building the future of personal finance.
But we wouldn't be raising a Series C without your support. We know it'll help us realize the full potential of our platform. A huge thank you to our investors, advisors, team, and clients.
We're focused on you — enabling you to build your wealth and reach the goals that are important to you.
Whatever you want to achieve, it's yours to build.
*Testimonials may not be representative of the experience of other customers and should not be considered a guarantee of future performance.
---